Carolina's Futurity Live Stallion Auction To Take Place This Saturday Night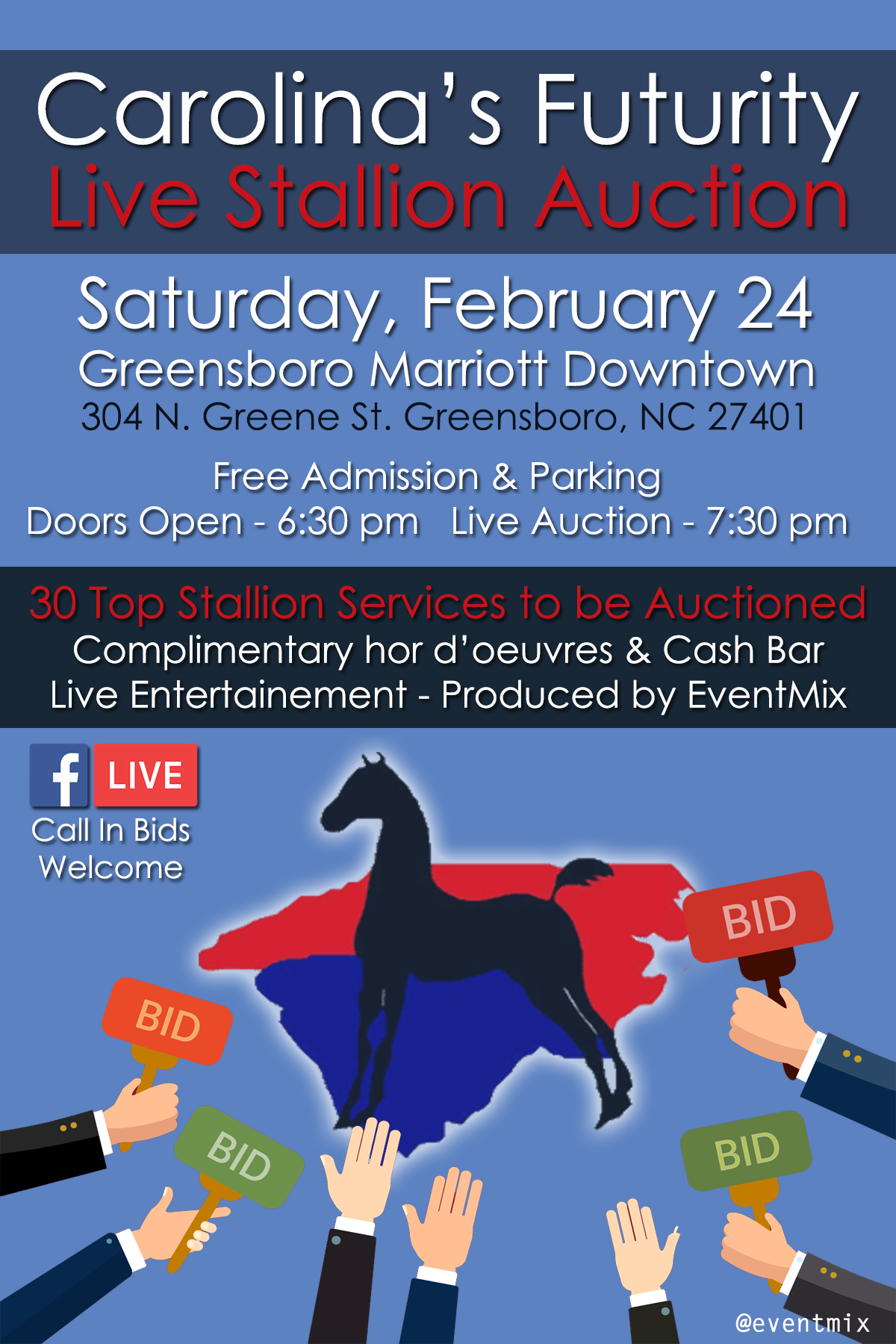 The Carolinas Futurity will hold their live stallion auction event this Saturday, February 24, at the Marriott in Downtown Greensboro, N.C., located at 304 N Greene Street. The event is free and open to the public! Doors open at 6:30 p.m. and the live auction will start at 7:30 p.m.. Guests will be treated to live entertainment and complimentary hors d'ouerves. A cash bar will be available. The event is produced by EventMix, John and Erin Fann.
The auction has a great lineup of over twenty five stallions and will feature guest auctioneer Larry Hodge. Phone bids will be accepted – contact Sheila Wingler (336) 469-5415, Matt Shiflet (336) 588-1116, Carol Addison (828) 429-3404, Evan Orr (336) 577-0490, or Whitney Shiflet (304) 952-1201. The auction will also be available on Facebook Live - see EventMix and Carolina's Futurity pages for the stream.
This event supports the winning payouts through The Carolina's Futurity, as the payout in 2017 was over $48,000! All sponsorships are tax deductible through The Carolina's Futurity. Thanks to 2018 event sponsors: Annette Greene, Carol Addison – Summer Chase Farm, Becker Brothers, Carolina Equine, Currie Horse Transport, Matt Shiflet Stables, Dr. John Cummins DVM, Dr. Brian Garrett DVM – Winsor Farm, Equidae Insurance – Stacey Halloran, EventMix, Gallant Stables, and High Caliber Stables.
For updated information, follow The Carolina's Futurity Facebook and Instagram pages. For anyone with questions or those interested in sponsoring the event, contact Matt Shiflet at (336) 588-1116.