Equine Sports Council Presents $2,500 to Monarch National Championship
The Equine Sports Council presented a $2,500 check to the Monarch National Championship horse show at the UPHA Convention in Orlando, Fla. last week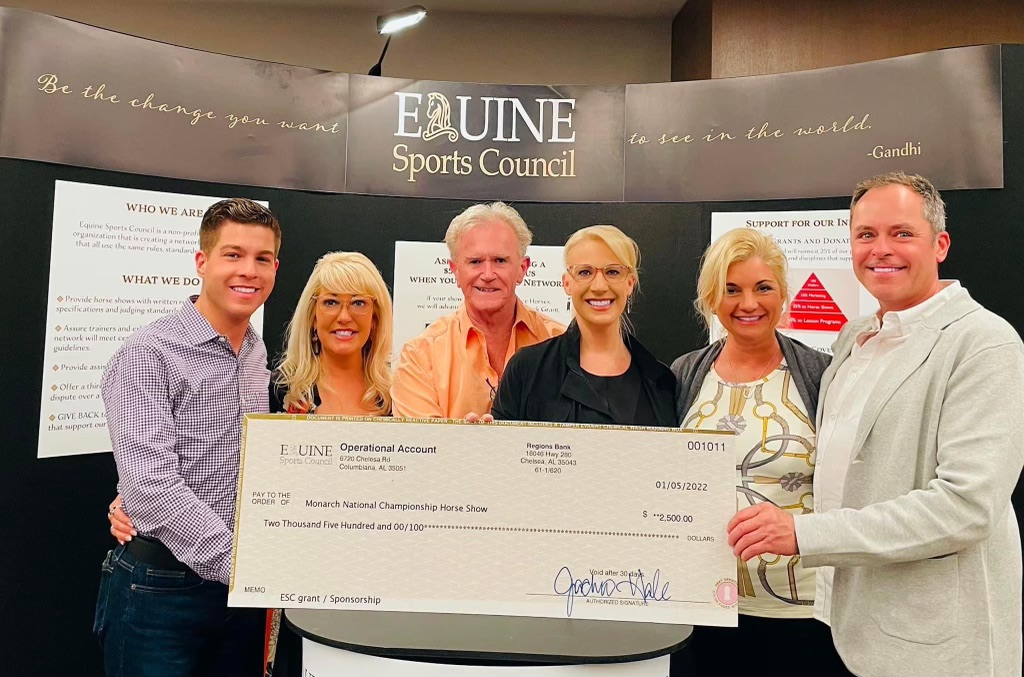 Andrew Slater, Donna Pettry-Smith, Kevin Michael, Kristen Pettry, Jackie Hale and Shane Darnell posed with the $2,500 check from the Equine Sports Council. Photo by Leanne Mione.. These funds are part of the GiveBack Program that the organization was founded on, returning 25% of the ESC network participation fees collected at horse shows back to the shows to use for promotion, marketing, or to better the horse industry in their area.
"We've paid out over $12,000 since our formation in late 2019," said Shane Darnell, co-founder of ESC. "Those funds are making a big difference to grassroots shows, lesson programs and rescue groups in our show horse industry."
This year ESC is offering a $500 sign-on grant for new shows that join their Network.
"Horse shows that expect to have 150 performance horses, or a significant academy turnout, can receive an advance on their 25% payback," said Jackie Hale. "They can use this grant to help with start-up expenses, such as the deposit on a facility, ribbons and trophies, or advertising and promotion."
Equine Sports Council is a not-for-profit, non-member organization that supports local, grassroots shows. It offers general rules and standards, guidelines and class specifications, an unbiased third-party dispute resolution process, and help collecting bad debt, among other benefits.
"We also give trainers and exhibitors the reassurance that a show within our Network will be well-organized, and participants will be treated fairly," Jackie said.
For more information about the network, or to register your show, visit EquineSportsCouncil.org or call (855) 378-4631.