8 Tips for Getting the Most Out of Your Riding Lesson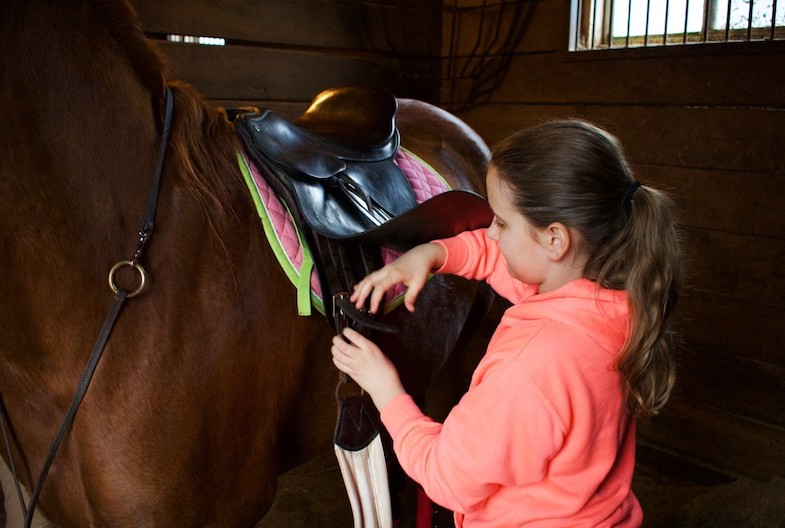 Lesson horses come in all shapes and sizes so it's important to know what size girth your mount requires. // Photo by Emma Bohaboy
If you're anything like me, your lesson day is your favorite day of the week. You spend the day anxiously sitting through school or work and waiting for the time when you get to head out to the barn for your lesson. Here are some tips to help you make your lesson time productive, safe, and fun!
1) Make sure you have proper riding attire.
Having proper riding attire does more than make you look the part. It plays a big role in keeping you safe while you're riding. At most barns, this includes jodhpurs or breeches, boots with heels, a helmet, and gloves (optional). Make sure you talk to your instructor to make sure you have everything that your barn wants you to have in terms of attire.
2) Show up to the barn at least 30 minutes before your allotted lesson time.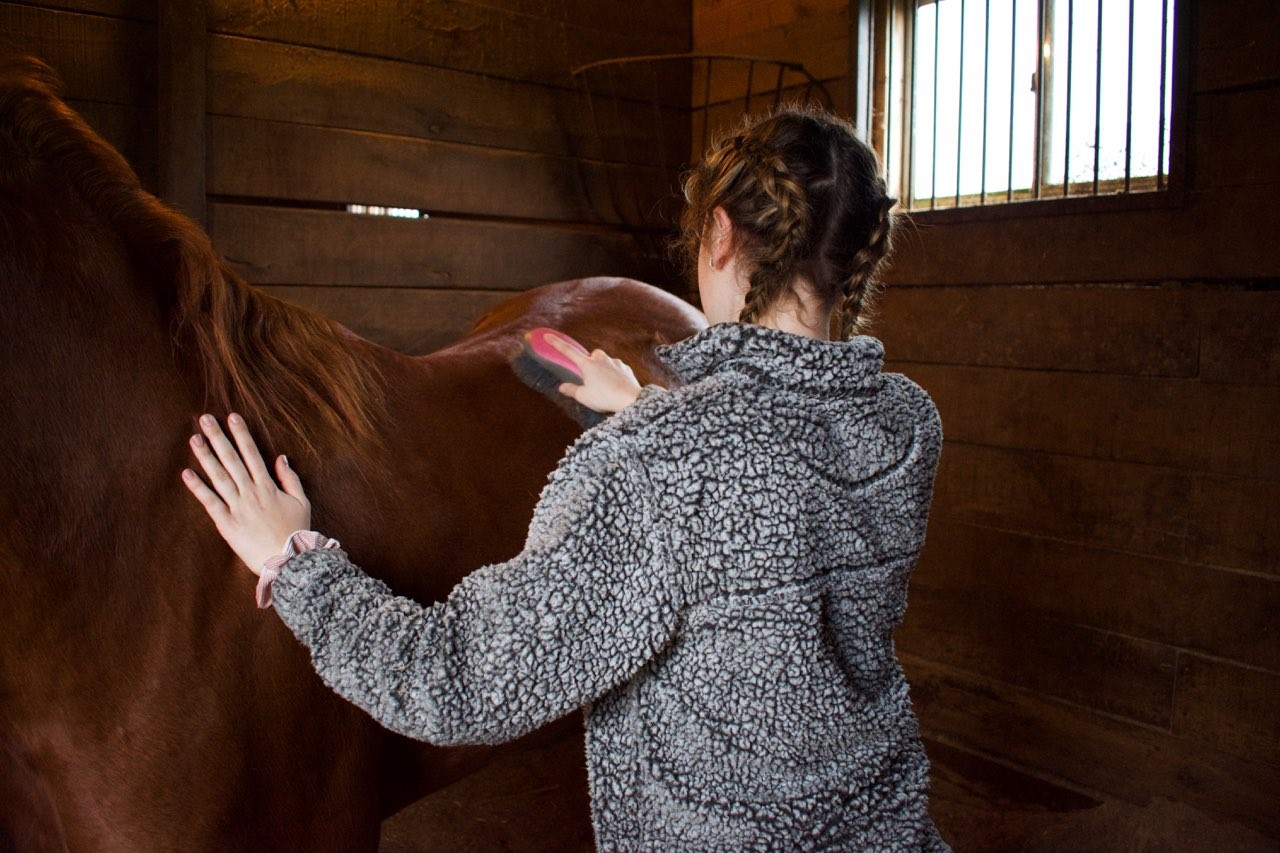 Giving your horse a good grooming before you tack up ensures that he will be comfortable, you'll look professional, and it's good bonding time for you and your horse as well. // Photo by Emma BohaboyThis will allow you plenty of time to get your horse and yourself ready for your lesson. You'll become so much more comfortable when you do it yourself, plus, who's going to complain about some extra quality horse time? During these 30 minutes, you can grab all the tack and grooming supplies you need and get to work cleaning up that dirty horse!
3) Make sure you have all the tack that your lesson horse for the day wears.
It's important that you put the correct tack on your horse so that you can have a safe and fun lesson experience with them. Some things to think about could be what kind of bridle they wear, what size girth they use, if they wear polo wraps or boots, etc. If you don't already know what tack your lesson horse wears, be sure to ask your instructor to help you out.
4) Be sure that your horse is completely clean when you bring them out for your lesson.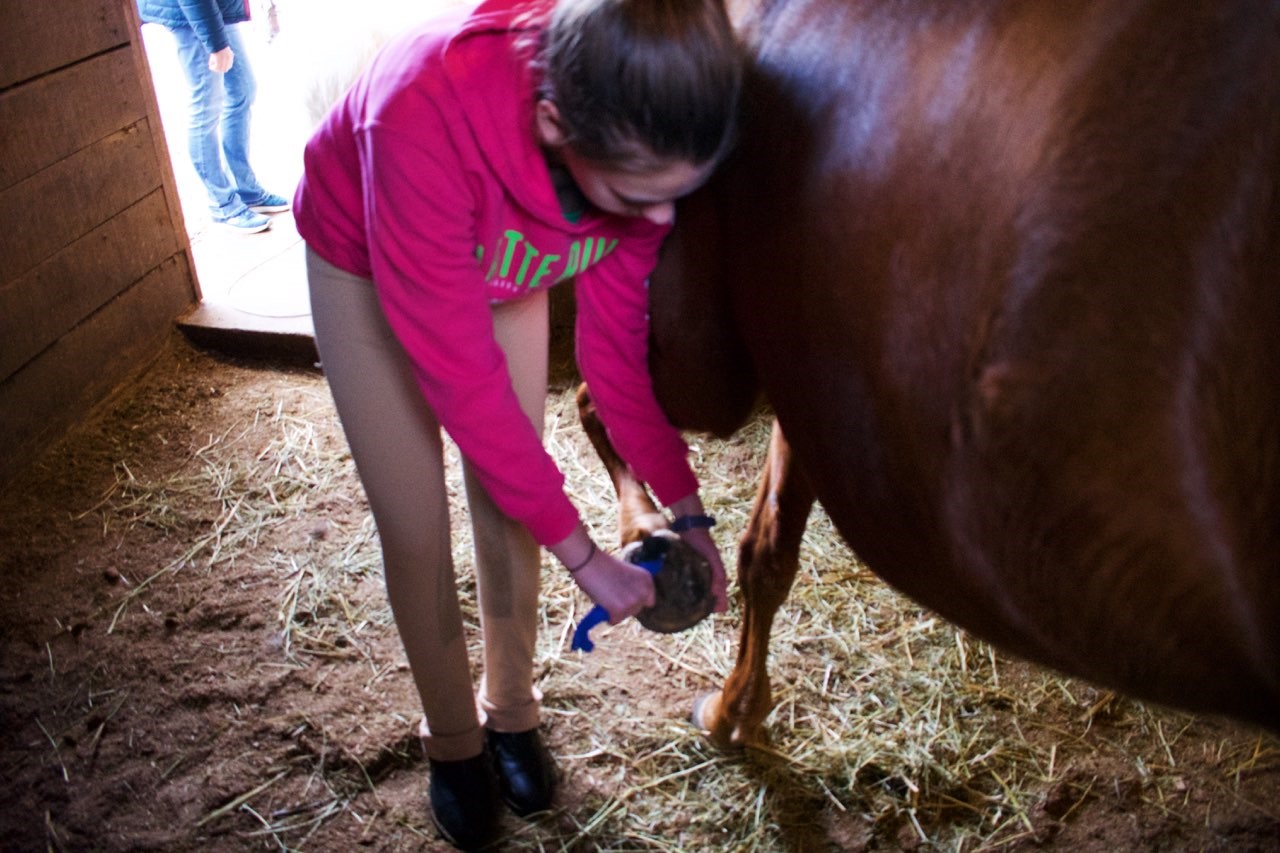 Picking your horse's hooves out before your ride is important for his comfort and safety. // Photo. by Emma BohaboyThis step is important not only for you and your horse to look professional together, but it also keeps your horse comfortable, as dirt underneath the saddle or girth can irritate your horse's skin. And of course, grooming makes the horse feel good! Most horses love to be groomed and pampered, so if you can, spend some time giving your horse a little extra attention with that curry comb. It's also important to groom your horse thoroughly after your ride. When you put your horse away at the end of the lesson, it should look like you never even rode!
5) Don't forget to pick out your horse's feet before your ride.
Picking out a horse's feet helps keep them safe during your ride. Although it may not always be a favorite part of grooming, it will be worth it to your horse that you take the time to make sure they are safe. If all the dirt and rocks aren't removed from a horse's foot before a ride, all their movement during the lesson could cause them to get hurt.
6) Make sure you have your helmet and gloves with you when you bridle.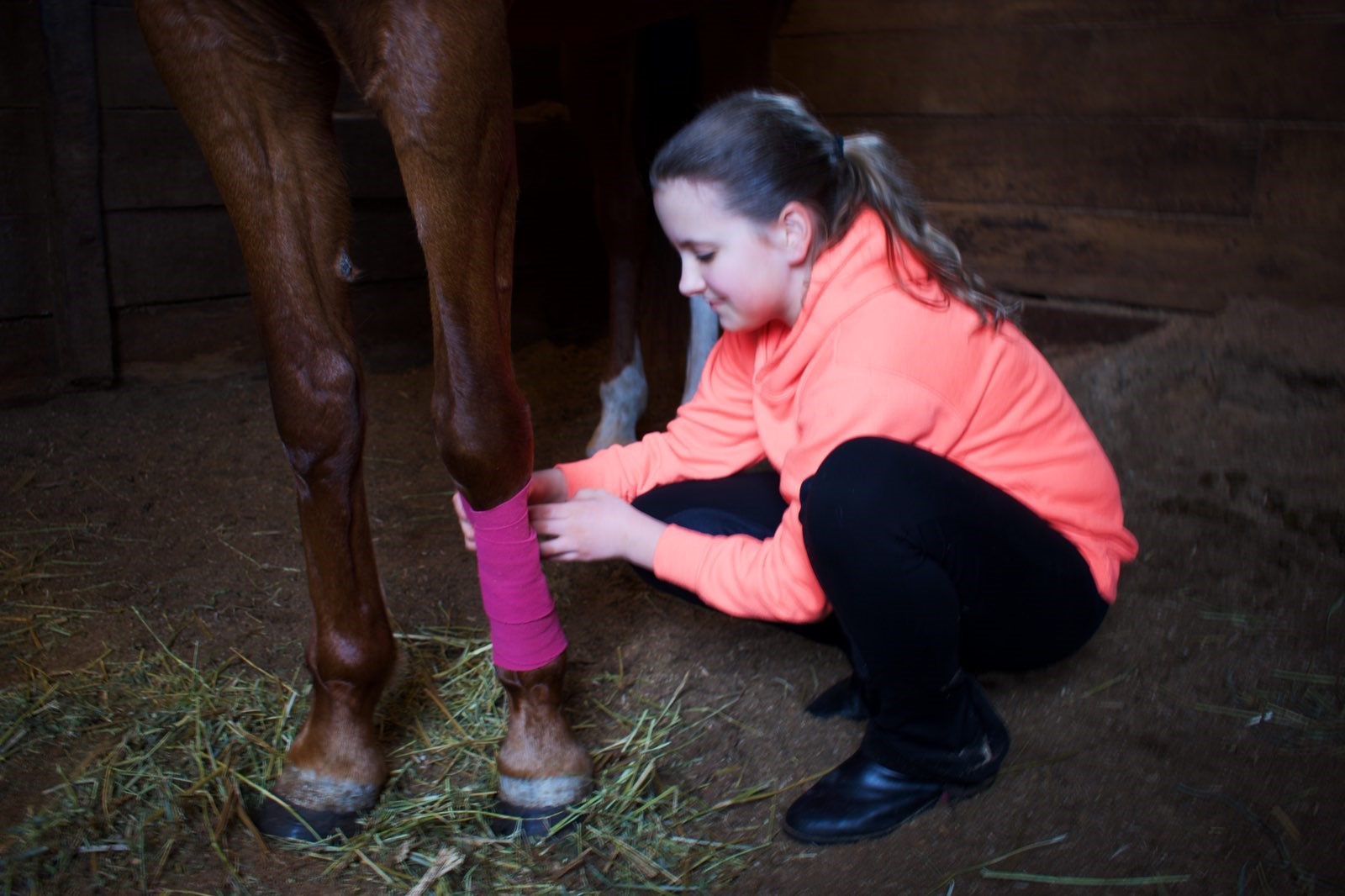 It's important to know what equipment your lesson horse uses. Some horses need leg wraps, boots or a certain type of bridle or martingale. // Photo by Emma BohaboyIt's always a good idea to have everything you need to ride with you when you bridle your horse. This way, you won't be asking a barn mate to hold your horse while you run around trying to gather everything you need before you get on. Being prepared with all your gear will help you transition into your lesson more smoothly.
7) Bridle your lesson horse 5-10 minutes before your allotted lesson time.
Bridling your horse early will allow for any unexpected issues when bridling (we all know that one horse who will just not put his head down far enough) and allow for you to get yourself and the horse completely ready to go on time. These extra 5-10 minutes help make sure your lesson can get started right on time, which means more time in the saddle!
8) Bring an open mind, a strong work ethic, and have fun!
Lesson days are some of the best days at the barn. To get the most out of your ride, make sure you are always ready to learn. The harder you work, the better you will get, and lessons days are the time to put in that hard work. You will be so proud of yourself when all your hard work begins to pay off. And, as always, don't forget to have fun! Whether you are gearing up for a horse show or just out to spend quality time with some horses, having fun should always be on the agenda. We all started riding horses because we love them, and each new lesson is a chance to celebrate this love.
Remember; don't be nervous if you don't know how to do some of these steps, and don't be afraid to ask for help when needed. Odds are everyone at your barn wants you to have a safe and enjoyable time there, so they'll want you to ask questions when you are unsure about what to do. If you are prepared, work hard, and are open to learning new things, you will get the most out of your lesson each week and have a great time!