By Allie Layos and Meredithe Steinhauer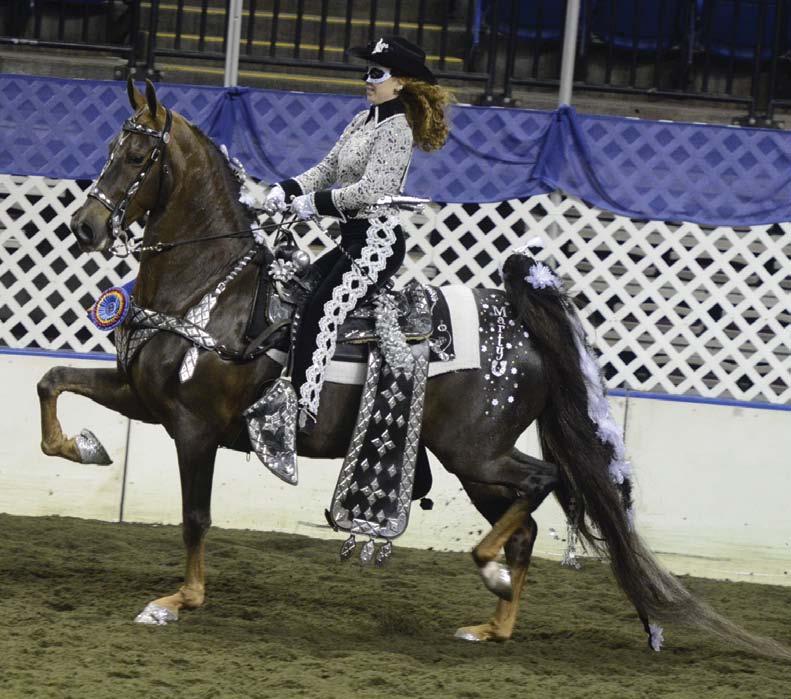 It snowed. That is one of the first things attendees will recall about this year's American Royal. However, it certainly didn't define the show. There was strong competition, a live band that played during each session, the Fiesta Exhibitors' party and additional events like the 2014 UPHA Jackpot Sale where MBA's Blue Stone topped the sale at $24,000, and a total of eight horses sold for a cumulative sales price of $107,000, and the new UPHA Open Gate Learning Center, where 18 junior exhibitors put in over 80 hours of study time during the horse show and kept up on their homework with the help of tutor Debra Murphy. Yes, it snowed, but the Royal is the Royal regardless of the weather, and there was much to warm a person on the inside.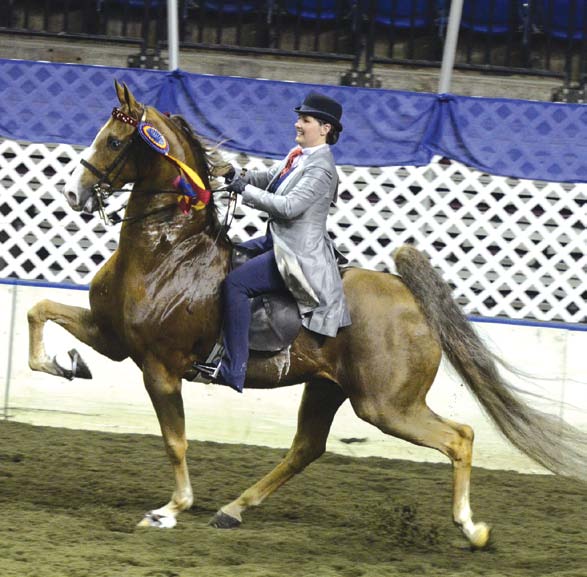 Endings and beginnings
Louisville is important — it's the Green Shavings, the World's Championship titles, the roses — but even exiting the gate in Freedom Hall the entire fall campaign still stretches before you. But for most in the show world, the Royal is it. It's the last stop, the final hurrah. It's a place of endings, and perhaps even more significant for the finality. This year's Royal was no exception; two incredible show horses were retired in beautiful center-ring ceremonies, while another two made their final show ring appearances, and championship rider McGee Bosworth left the ring as a junior exhibitor for the last time.
The retirement of VHF Belle Époque, or "Sweet Pea" took place on Friday night. Sweet Pea won at least once at every show she attended, including a World's Championship honor in the Three-Gaited 15.2 & Under Stake at Louisville in 2009 with Robert Gardiner in the irons. She won numerous times at the Royal with Robert, but she really made herself legendary there in 2012 when she threw one of her classic Sweet Pea moves into her victory pass — leaping and launching and causing Robert to perform an emergency dismount, amazingly still holding the reins.
The video, titled "Rodeo Robert," became a YouTube sensation across the show world. So when a video presentation was played on the overhead screens before the retirement ceremony, it was nice to watch Sweet Pea's many victory passes (perfect headset and motion, marching down the rail) set to background music of "Chances" by Five For Fighting, but in the back of everyone's minds they all knew they were hoping for something else. The video ended and the screen went black, and just when everyone was about to turn their eyes away from the screen and to the in-gate, it flipped back on to the first strains of "Wild One" by Flo Rida: "Hey, I heard you were a wild one –oooh …" And everyone breathed a sigh of relief, realizing that this was what they had been waiting for, as what followed was a compilation of the many times Sweet Pea's antics were caught on video in the ring. And yes, it included Rodeo Robert.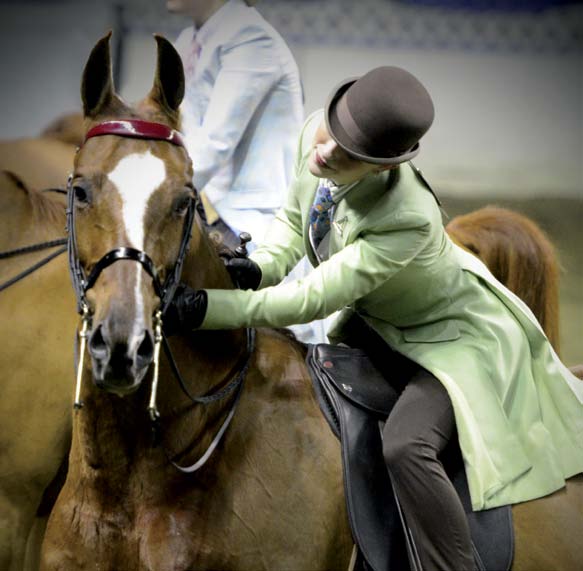 It was important because this is what the mare was — brilliant, but complicated, and no video tribute that showed only one side of her could do her justice. The crowd knew it, and appreciated it, sending Sweet Pea out of the ring for the final time to thunderous applause.
Saturday night saw the retirement of another sensational three-gaited horse when CH An Heir About Her was honored for her many accomplishments. The 2002 — 2004 Three-Gaited World's Grand Champion with Chris Reiser, "Ahah," as she was called, became a hometown Kansas City girl when she was purchased by the Rowland family's Ever Glades Farm in 2004. She went on to carry Sarah Rowland, Marjorie Townsend, Alice Rowland, and Harriet Townsend into the winner's circle in the amateur and junior exhibitor three-gaited divisions, and passed her legacy on to a number of wonderful get such as St. Nick EGF, The Outlier, Ever Glades' Summer Heir, Undulata's Heir Apparent and Pola Negri, some of which were presented during the ceremony.
A third three-gaited star made his final appearance when CH The Proof Is In The Heir left the ring with his young partner Alex Rudder as the Junior Exhibitor Three-Gaited 13 & Under Grand Champions. This star-studded team has dominated their division since 2012 with wins at shows like Kentucky Spring, Shelby County, Mercer County, Kentucky Fall, All American, All-Tech, Rock Creek, Lexington, Louisville and the Royal. They finished out this final year with blues at every show they attended.
A star of a very different division made his last trip around the show ring as well; in four show seasons CH The Evangelist, or "Luke," has truly changed the face of Western Country Pleasure. Along with his partner Liz Schultz, this former five-gaited mount has shown the world what it means to work off a loose rein, and that a lope doesn't need to be tiny and short-striding as long as it's relaxed and smooth. And, perhaps more than anything, he's proven that Saddlebreds can do anything, from winning at Louisville as a five-gaited horse to winning there in 2013 in the western division.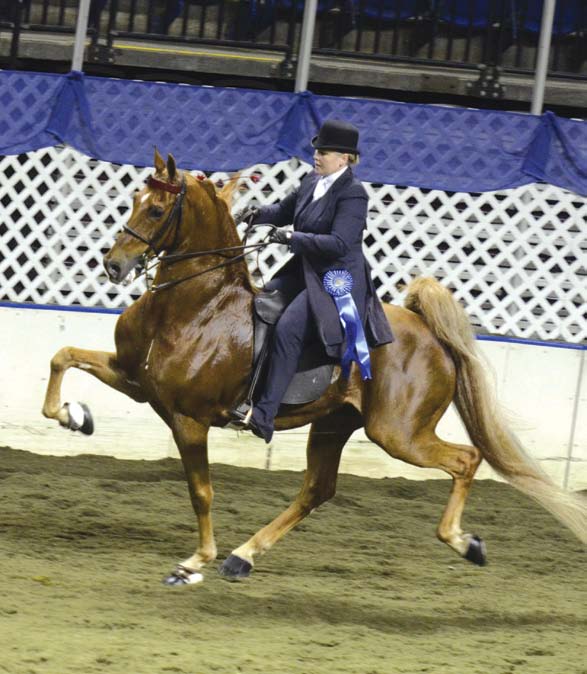 "We decided it was a good time to end it," Liz said of his final show ring appearance at the Royal. "We wanted him to end on top and doing well."
And he has done well; the pair has accumulated countless blues at shows across the country. In their first year in the division they took reserve in Saddle & Bridle's Shatner Western Pleasure World's Championship. They would return to win the class the following year, and in 2013 they would take the Western Country Pleasure World's Champion and World's Champion Of Champions honors at Louisville. Their Western Country Pleasure Reserve National Champion honor at the Royal this year was a fitting end to an extraordinary journey together, and it's sometimes more than Liz can process.
"When you're in the middle of it you just keep looking ahead to the next ride and next class and don't look at it as a whole," she said. "But when it's the last time and it's not going to happen anymore you kind of realize how big of a deal it is."
Finally, McGee Bosworth made her last victory pass as a junior exhibitor Saturday night with Moonlight Memories. We have undoubtedly not seen the last of McGee, but stepping from the junior exhibitor to amateur ranks is always a big and important change for riders, and McGee made it a show to remember, winning with all three of her horses — Moonlight Memories, CH Let's Talk and CH I'm Something Wicked.
The untouchables
It's difficult to achieve an undefeated season, and usually when a horse or pony does, if you take the time to look it up, it turns out they didn't actually do much showing.
CH Callaway's Cumulus had an undefeated 2014 season showing 16 times, and not just at any old shows but many of the country's biggest and best — Des Moines Springfest, UPHA Chapter Five, Tanbark, Central States, Louisville, St. Louis, Mane Event and the Royal. And what's more, he was unanimous with each and every win.
Owner Susan Aschenbrenner knows "Jack," as he is called, is special, and she always wants to put on the best performance possible with him. She knew they had been undefeated, but it was about halfway through the season that she did some research and realized they had been unanimous every time out as well.
"When we won Louisville unanimously I really knew I had to focus if I wanted to finish the season that way," Susan said.
Heartland Stables trainer Amanda Simpson worked hard to help Susan correct any weak areas in her driving and keep Jack in tiptop shape. Show after show the pair kept rolling, right up to their final appearance of the season, the Royal, where Jack and Susan put in two more exceptional drives to take the Country Pleasure Driving Champion and Grand Champion honors for the fifth year in a row.
"He, of course, loves it when he gets a crowd reaction and it was as if he knew we needed to be exceptional," Susan said. "He kept getting stronger through the fall but for him to be so competitive after this many years in the ring — six with me — is just amazing. He is truly a great champion and I am the luckiest person in the world to own and show him!"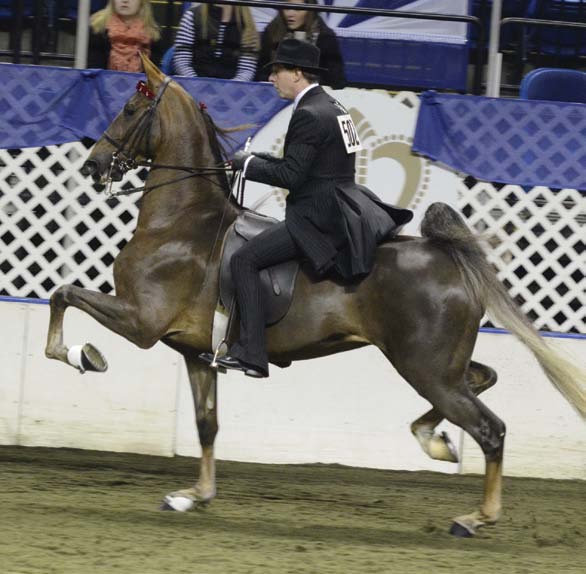 Equitation excellence
The USEF Medal is considered the highest honor offered to saddle seat equitation riders. It is fitting, then, that the pattern in the final phase tested every aspect of what it means to ride equitation — not just the physical mechanics of it (heels down, shoulders back) or the figures (straight lines, circles, serpentines), but the mental part of it, too.
The riders were tested individually during both phases, and the pattern in Phase 2 required them to enter the ring to the left at a trot and trot down the rail with two changes of diagonal, beginning on the left diagonal and continuing to the midpoint of the far turn. Without stopping, they were asked to continue into a large circle to the right and immediately continue into a normal-sized circle to the right, halt, pivot right and halt again. Down the centerline, they were to canter halfway to the judge's stand on the left lead, canter a circle to the left and halt. They were then asked to canter a circle to the right and continue cantering the remaining distance to the judge's stand on the right lead and halt. Then came perhaps the most interesting part of the pattern — the final instruction, and the one that offered the best saddle seat equitation riders in the world the opportunity to add some individuality to their tests: "exit the ring as you choose."
While all the riders exited at the trot, they each did it differently. Some pivoted, walked, pivoted and trotted out, some pivoted and picked up a trot right away, and some dropped their irons before trotting down the rail and out of the ring. That last is what Cape Cod rider Aleia Brown did … and she won.
After Aleia took home the NHS Good Hands Finals at Mane Event in October, her plan was just to keep working hard with her partner Madeira's Fame, or "Thomas," and it seems that work paid off. When the Good Hands Finals were complete, she was tearful and amazed, but animated and talkative. When the Medal Finals were over, however, she was almost speechless, and there was just one word she was able to utter in response to how it all felt: "Awesome."
The UPHA Challenge Cup classes were equally exciting. It was Cameron Kay who took home the blue in the UPHA Senior Challenge Cup, in just her first year showing a Saddlebred. Cameron had long been a successful equitation rider in the Morgan world, and after winning two of the three Morgan equitation finals last year she wasn't sure what to challenge herself with next.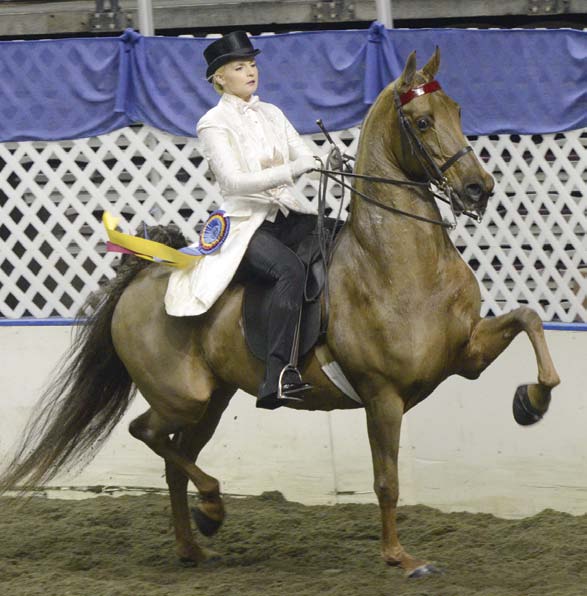 "I had been taking lessons at DeLovely for years, so we called Todd up and said, 'So what do you think the chances are of finding a Saddlebred?'"
It turns out they were pretty good — Todd found "Reed."
Riding Reed, or Reedann's Heir To Glory, was a big change for Cameron; he carried his head in her lap, and had a lot more power than she was used to. And of course, he didn't yet know his pattern work.
"Reed was completely un-equitated when we got him," Cameron said. "The goal this year was just to go in and see how it goes. I've had so much success so far that if I never win another class that's fine. I've just been trying to become one with my horse this year."
Cameron felt really good upon reading the UPHA Challenge Cup workout, which involved dropping your irons; riding without stirrups has always been one of her strongest points.
"I would pull no stirrups on any horse before riding with stirrups," she said. "The hardest thing in that pattern for Reed and I was doing the canters. You just hope and pray you're going to pick up a lead, much less the correct lead."
But she and Reed aced it all.
Next year will be Cameron's final season as a junior exhibitor, and her plan is to focus not on the end, but on the journey with her wonderful Saddlebred partner.
"He is so powerful every time I get on him I want to smile; I want to keep that and have fun my last year," she said. "Everybody gets so 'This is my last year.' I've been stressing about that for years now but now I just think, 'I get to ride this really fun horse and go have fun with him.'"
UPHA Junior Challenge Cup National Champion Ainsley Budzinski definitely had fun, riding her partner CH-EQ Oh What A Feeling, or "Cartman." Ainsley has had a truly incredible 2014 season, being named the Kentucky State Fair Junior Equitation Reserve World's Champion Of Champions, winning the National Pleasure Equitation Junior Olympics and taking reserve in Saddle & Bridle's Pleasure Equitation Junior Medallion Finals under the Knollwood banner before putting in the performance of a lifetime at the Royal. In addition to her Junior Challenge Cup win, she also took the blue in the Saddle Seat Equitation 13 & Under class before going on to win the combined Saddle Seat Equitation Championship.
An appropriate addition
Eight entries took to the ring in the first-ever Walk/Trot Show Pleasure 12 & Under class at the Royal. The brainchild of longtime Saddlebred competitor Sally Jackson, the class was added in an effort to help transition more young riders out of the academy division, and it was a big success.
It meant so much to her that Sally made a $12,000 total sponsorship to cover both the qualifier and stake, and her own granddaughter, Nicole Jackson, showed in — and subsequently won — both the classes aboard her mount Cuttin' Up.
It was a big week for Nicole, who also drove Cuttin' Up to win the ASHA Junior Exhibitor Show Pleasure Driving Challenge Final, and guided the Hackney pony, Once Upon A Time, to the Hackney Pleasure Pony Under Saddle blue, all under the guidance of Autumn Hills Farm.
Sally was pleased with the turnout of the Walk/Trot Pleasure class and hopes the trend continues next year.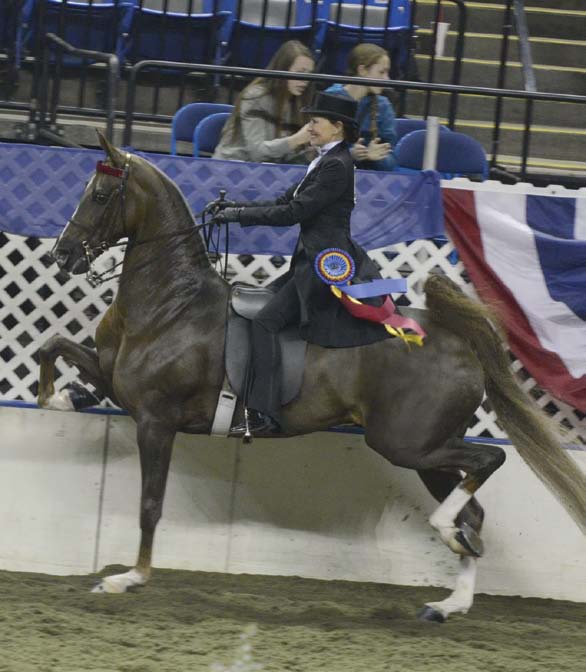 The King of Park
Bob Brison dominated the park division at the Royal, riding three horses to the top of their respective classes and earning himself the nickname, "The King Of Park."
He rode Kris Naros's bold and exciting Designed By You to the Open Three- Gaited Park and Three-Gaited Park Championship, the Carol Carlson-owned Sweatin' Bullets to the Missouri/Kansas Three-Gaited Park blue, and his own Crack A Smile to the Junior Three-Gaited Park win.
Daughter Morgan Brison lays claim to Crack A Smile, who she calls Lindsey. They got Lindsey on a trade in 2011, and she spent a long time out in the field. When Bob finally brought her in to start working her, it was Morgan who first saw something special in her.
"When she came in and started working — just long lining and doing the basics — I said, 'I want that one,'" Morgan said. "My dad said, 'Sure you can have her,' not thinking anything of it or that she would turn out."
He began letting Morgan ride the four-year-old by Undulata's Nutcracker.
"It was just her expression with everything," Morgan said, when asked what it was that drew her to the mare. "She's really sweet and loves attention, and when you ride her she sits right back in your lap."
Lindsey made a lot of progress quickly, and when it became apparent that she was going to turn into something pretty exciting, Bob took over again and began teaching her to wear the double bridle; the Royal was only her fourth show. The tentative plan is to prepare her for Morgan to show next season.
"He likes riding her so I don't know if he really wants to hand her over," Morgan laughed. "But he says next year hopefully I'll get to show her." And yes, for now at least, they plan to continue in park.
Marty and Toni parade on
Marty McFly isn't a parade horse, but maybe he is after all, as he took the Parade qualifier and championship at the Royal — the championship win being a repeat of his 2013 victory.
The nine-year-old chestnut gelding started his career as a five-gaited horse before switching to the park, park pleasure, show pleasure driving and then country pleasure driving divisions, and finding success in all of them. It was last year at the Royal that he made his first appearance in the parade horse division, taking second in the qualifier and coming back to claim the tricolor in the championship.
"We started thinking that he kind of has that hesitation way of going," Toni said. "I'm very flashy and they had put the parade division back at the Royal, so we entered him. We had no idea what we were doing; we just did it for fun."
Because she and husband Mark had never participated in the parade division before, they began asking for advice from parade experts such as Michele Macfarlane. By the time "Marty" made his appearance at last year's Royal, he and Toni looked every bit the part; this year, after a season of competing in country pleasure driving with owner Deborah Jahn, he and Toni returned to Kemper Arena, decked out in their parade gear once more.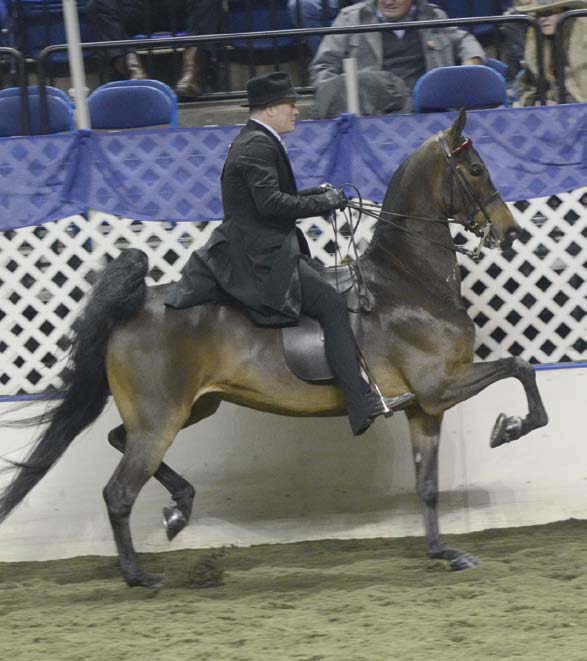 While she claims she is not crafty, Toni's outfits and Marty's decorations are a hodgepodge of items from different places, from Hobby Lobby to Halloween stores, and she combines them beautifully. The saddle is on loan from LaFleur Stables; the sparkles are attached with Elmer's glue.
"You wouldn't think it would stick that well but it does," Toni said. "The glitter on his feet will be there for weeks, and we'll be calling him Twinkle Toes."
The other grey horse
It's true that grey horses stand out in the ring but, like an equitation rider wearing white gloves, the light color can be a curse or a blessing depending on who is wearing it. A horse can stand out in a bad way, or it can stand out in a good way; Preferred's Gray Miracle is a grey standout, and it's in a very good way.
The horse called "Ari" was campaigned very lightly his first two years in the show ring; it was just last year during the 2013 season that 7 Wonders Stables trainer Isaac Deurloo began to really show him off in the park division. Abby Mutrux began showing him when he was moved to trainer Billy Greenwell's, riding him to two blues at Calvary Episcopal Charity and a strong third place finish at St. Louis for owner Truman Volkart.
When Ari returned to his previous home at 7 Wonders Stables in Iowa, Isaac asked Abby to finish off the season with him at the Royal. She was thrilled.
"He was really light in the bridle here and easy to maneuver," Abby said of his performances at the Royal. "He's very solid and always right underneath you. He's very comfortable to ride and I never have to worry about his ears because he's so bright."
Together Abby and Ari took the Missouri/Kansas Three-Gaited Show Pleasure Section A blue and then went on to take the Missouri/Kansas Three-Gaited Show Pleasure Championship.
Abby thinks it is his build and his ability to march down a straightaway, coupled with his "ears up" philosophy, that makes him so special and commanding in a ring. And she always loves a catch-ride.
"I always try to go in and do the best I can but I feel bad if I feel like there's something I could've prevented or done differently," Abby said. "But everyone just tells me to go in and have a good time."
She believes she might enjoy catch-riding even more than having her own horse because it gives her the opportunity to learn from a number of different trainers.
"It kind of makes me think I want to stay in the horses and maybe train after school," she said. "Everyone has been really supportive about it, too."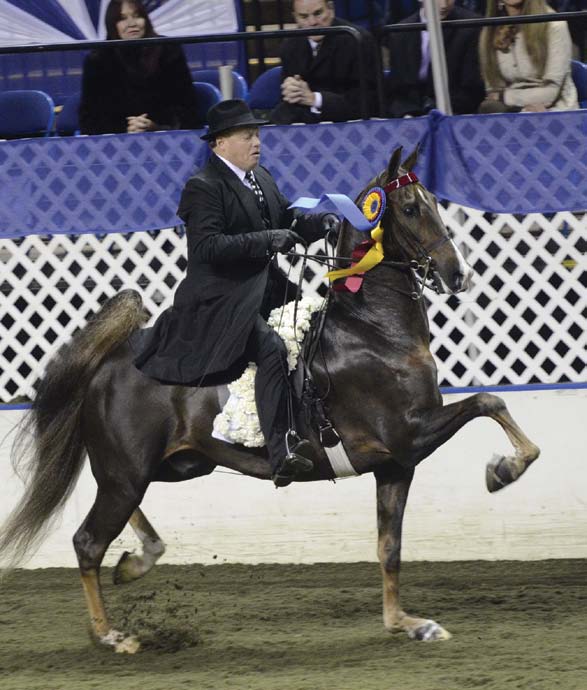 When horse trainers ride donkeys
When UPHA Young Professionals committee-co-chair Brittany Logan decided to organize the Friday night Donkey Races she didn't intend for them to be educational. However, it would probably be fair to say that both contestants and viewers learned one very important thing — donkeys are not horses.
Brittany wanted to organize a fundraiser during the Royal that would bring some excitement back to horse shows. She had heard of companies renting donkeys out for high school basketball fundraisers and decided to research it.
"I Googled it and saw they had donkey races," she said. "I thought we would be a little more coordinated doing races than basketball."
A big crowd came to watch the event in Hale Arena, and after witnessing the race chaos it would be hard to imagine throwing a basketball into the mix: there were donkeys laying down, donkeys wandering around loose and, of course, donkeys bucking people off. ("It looks like a group lesson at Knollwood," Scott Matton joked.) With names like Super Stupid, Smokin' Joe, Earthquake, Rigor Mortis and Killer, though, it should've been little surprise.
"You just have to be on when you cross the finish line — it doesn't even have to be pretty," announcer Mark Farrar encouraged the riders.
The donkeys were provided by a Wisconsin company called Buckeye Donkey Ball, and originally Brittany was just hoping the event would make enough money to cover the cost of renting the donkeys. However, it surpassed even her wildest expectations.
First, Elisabeth Goth, Barbara Goodman-Manilow, Linda and Johnny Bowen and Betsy Thomas agreed to serve as the main sponsors for the event. That took care of the expenses. Then trainers fundraised through their customers, similar to company sponsorships in NASCAR. Finally, there was betting that took place during the actual races. All of this added up to an astounding profit of $23,000.
The donkey "jockeys" made out well, too. There were multiple heats leading up to a final performance, and a $1,000 scholarship was given to the youngest trainer who made it the farthest in this process. The scholarship was intended to help the trainer get his or her judge's card, and it went to Constance Young. Ten percent of the profit was reserved for the rider who raised the most money, and this ended up being split between Constance and Mackenzie Lyttle.
However, it was Kelly Hulse who was the overall winner of the final round and walked away with the coveted "Jackass Of The Year" trophy. Sarah Bennett came in second and Rob Kritzler won the Roughest Ride award, while Careen Dubac was presented the Comin' Up The Rear award because she unfortunately was never able to get on her donkey.
Brittany did not compete in the races, but if she had and was able to pick her mount, she knew exactly what donkey she would've wanted … and which one she would've avoided.
"I would've wanted Earthquake because he was fast," she said. "I would've stayed away from Killer; he bucked everyone off. Zach Duffy finally got Killer broke though."
She has many fond memories of the event, but there is one that tops them all.
"My favorite moment was when Sarah Bennett almost won the races backwards until her donkey decided to not go straight anymore," Brittany said.
Brittany plans to hold the races again at next year's Royal, but thinks the event will take a break for a couple years after that to preserve the novelty factor. As for the money, she hopes to raise enough after next year's races to host some kind of event during the 2016 UPHA Convention. And she is excited for the future possibilities.
"I know ten more ways to make more money next year now that I know how it will run," she said.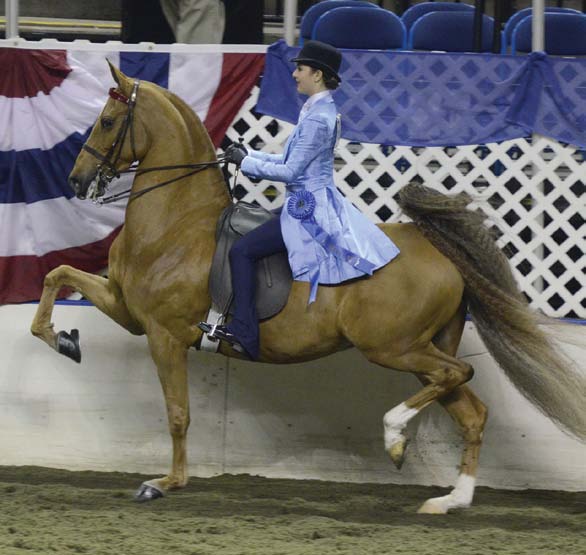 Making their presence known
Kemper Arena, November 15, 2014 and the gate opens for class number three … the Limit Hackney Pony class. And thus, the Hackneys have made their first appearance in this year's American Royal/National Championship Horse Show. In a show steeped with history, rivalries and long awaited debuts — the show serves as the "New Year's Eve" to the horse world. The end of one season and the beginning of the next. And the pint-sized performers were not left out of the excitement.
Returning to the regular schedule this season were the AHHS Youth Medallion National Champions — moved for two years and now returned to the Royal, where they belong. This was indicated in their increase in numbers for all divisions.
Competitive classes: the world's best met up with the world's best and the result was an on-the-edge-of-your-seat-anything-can-happen type of week.
Just the limit!
Limit classes were held on Tuesday afternoon for the cob tails, the harness ponies and the roadsters. A limit pony is one who has not earned more than six blue ribbons from USEF rated shows. Each class held famous names and up-andcoming contenders. The limit division is always one of great interest to watch, as it is another peek into the future of the breed.
In the cob tail division it would be WGC Heartland Majestic and Holli Hayes to make the unanimous win for owner Elisabeth Goth LLC. In just his first year in the show ring, "Magic" has proved he is one of the top cob tails in the country; with his swan neck coming up out of his withers as he pushes off his hocks and marches in front. His brilliance and balanced motion is what makes him one of the very best.
Reserve honors went to former roadster pony contender Heartland Fire And Rain. Dr. Alan Raun was on the lines for Reedannland of Cumming, Iowa. This bright and snappy pony looks ahead to his career as a cob tail.
The harness pony division featured just one entry, but it was a well-known face, with a new driver. Mr. Brightside made his single appearance with Holli Hayes of Majestic Oaks to the blue for owner Helen Rich.
The gate opened for the Limit Roadster Pony class and four entries jogged in to compete for the blue. In 2013 the winner was Sirfistication for Ashlyn Farms, and the Simpsonville based farm made it two years in a row for the O'Brien's with the entry Regal's Perfect Song taking the top spot with Juan Rios on the lines. The Majestic Oaks trained entry just came off a win at ASHAV. Sirfistication has since moved on with Patrice to earn amateur titles — including this year's Reserve National Champion in the amateur division.
Beth B. Jones drove off with the red ribbon for her drive with entry Heartland Electra. This former pleasure pony has been re-tooled as a roadster pony for the 2014 season, and has garnered wins or reserves from Kentucky Fall Classic, Springfield Charity, All American Classic, Boone County Fair, and Dayton with Beth one the lines.
"Nothing less than everything"
Sugarland and Elisabeth Goth have been a force to be reckoned with in the amateur roadster pony division for the past two years and he duplicated his wins here at the American Royal National Championships. The Majestic Oaks trained entry unanimously won the Amateur qualifier as well as the Amateur National Championship in similar fashion.
"Sugar" has had two incredible and undefeated seasons with his pilot Elisabeth Goth including two World's Championships in the 50"-52" roadster pony division as well as two World's Grand Championships in the amateur division. This year at the Royal, Sugar made two of his best performances yet, to earn six first place votes in the amateur ranks.
DeLovely steps in for James Nichols and Iceman
While James Nichols is at home in Louisiana resting from his treatments, he watches the live feed from the horse shows. For the week of the American Royal, he watched his trained Iceman race to the winner's circle in the Roadster to Wagon National Championship with Raymond Shively on the lines.
Raymond stepped in for the championship and Mark Turner did the honors in the qualifier. Iceman was met with cheers from the crowd in support of Nichols. Shively had flown in from Canada and the Royal Winter Fair, where he won two roadster National Championships there as well.
Junior ponies vie for the UPHA Classic National Championship roses
This year there was something very special about the UPHA Classics — the winners received a beautiful blanket of white roses. The highest symbol of championship status, it seemed only fitting that these young stars, who make Thursday night at the American Royal seem like Christmas to us horse enthusiasts, receive them.
The cob tails made the first Hackney appearance for Thursday night's Classics competition, with two Majestic Oaks entries in competition for the honors. When the ponies had park trotted both directions and lined up, it was reigning junior Hackney pony World's Grand Champion Heartland Infinity and Patrice O'Brien to complete their undefeated season as the UPHA Classics National Champions.
Infinity is by Heartland Fire And Rain and out of the Heartland Head Of The Class mare Heartland Laureate. Just a three-year-old, Infinity took victory passes this season at Midwest Charity in the UPHA qualifying class, Asheville Invitational in the open division and at Louisville, claiming the three-year-old cob tail world title as well as Junior World's Grand Championship honors. The Majestic Oaks trained entry is owned by Ashlyn Farms of Simpsonville.
Reserve National Championship honors went back with The Great Gatsby, a new acquisition for Toni Nastali. Juan Rios was on the lines of this very animated pony by X-Treme and out of the Sky King mare Heartland Lasting Love. The 2013 Reserve World's Champion three-year-old cob tail, the now fouryear- old made victory passes at All American and Kentucky Fall Classic before being named the UPHA Hackney Pony Reserve National Champion.
Three contenders made their way to Kemper Arena for the UPHA Pleasure Driving Classics. The division of the pleasure pony is one that is constantly evolving and has many different versions of the definition of a pleasure pony. It's very interesting to note that both the National and Reserve National Champions began their careers as roadster ponies; this can be a challenge as they still have a mindset to go and walking may not always be the easiest gait.
Exotica and Mary Gise were crowned the unanimous UPHA Classics National Champion. By X-Treme and out of the Dun-Haven Awesome Creation mare Seamair's Dancer, Exotica and Mary made their debut as pleasure driving ponies in July, winning at the Oshkosh Charity Horse Show. They claimed reserve honors at Blue Ridge in the limit division and scored wins at the Wisconsin Futurity as well as Mid-America Mane Event. The National Champion is trained by Hollow Haven Farm.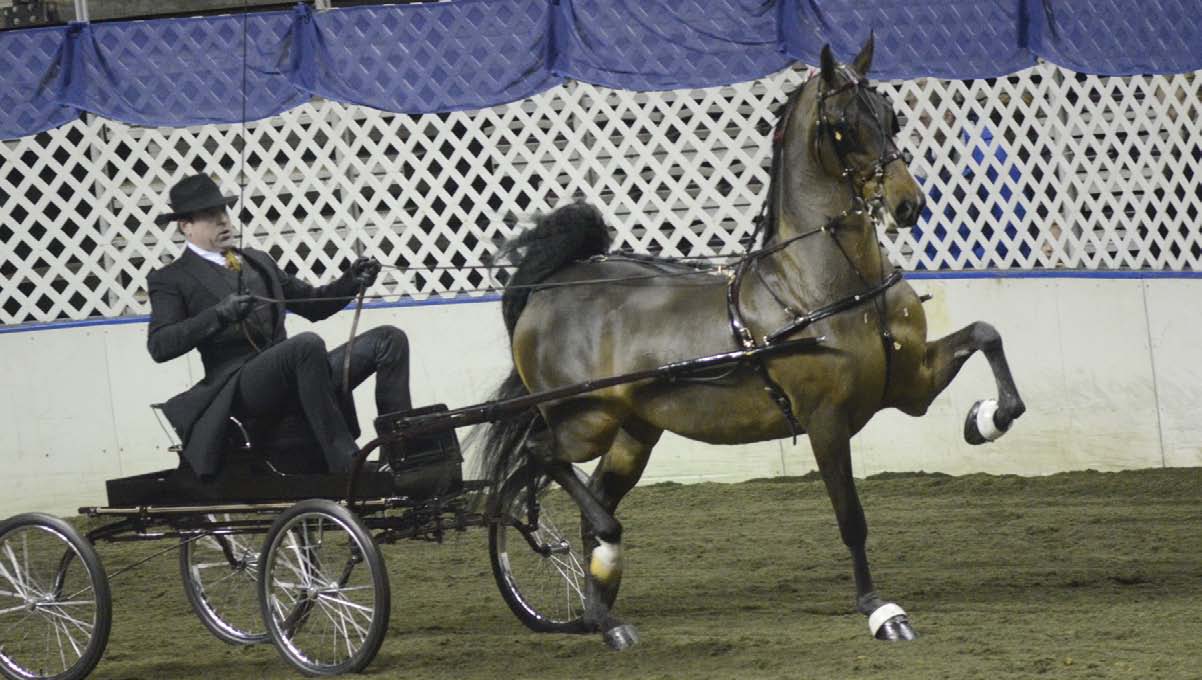 Reserve honors went to yet another convert to the division, Heartland Thunder Crackin'. Sheila Clouse was on the lines for owner Beth Jones. Thunder Crackin' made the pleasure debut at All American, moving to Kentucky Fall Classic where they qualified for the UPHA Classics with a blue ribbon. Trained by Matthew Schuckert, Thunder Crackin' is by Heartland Code Of Honor and out of the Dun- Haven Bandolier mare Heartland Something Sweet.
The harness ponies marched into Kemper Arena for their UPHA Classics and it was another Majestic Oaks three-year-old to top the National Finals. Heartland Copper Illusion, with his red chestnut coat and high animation took the National Championship unanimously. Maureen Lydon Campbell was on hand for the drive for owner Toni Nastali. By Heartland Head Of The Class and out of the WGC Heartland Equality mare Heartland Dixie, Copper Illusion made his debut at Midwest Charity to a reserve in the limit class. Toni subsequently bought the bright pony, who scored wins at Asheville Invitational and Blue Ridge before being named World's Champion three-year-old harness pony.
Radiant Doll and Brenda Benner were named the Reserve National Champion for Susan J. Courtney LLC. By The Extremist and out of the Truly Unique mare Truly An Elegant Rose, Radiant Doll was this year's AHHS National Breeders Futurity Champion in the harness pony division. Benner took over the lines at Mid-America Mane Event, where they won UPHA qualifier honors.
The roadster ponies closed out the UPHA Classics National Finals for the Hackneys and it was as good a class as there had been in many years. Golden Creek Farm rarely brings their ponies to the American Royal, but Tom Lowry showed up in the UPHA Classics National Championship with The Lone Ranger to win the tri-color and the white blanket of roses.
Formerly known as Regal's Fortune Maker LF, The Lone Ranger was bred by Light Farms. By World's Champion producing sire Dun-Haven Regal Attraction and out of the mare Stargazer's Glitter LF, Lone Ranger was purchased by Golden Creek in March of 2013. He was shown at shows like Mercer County Fair where he was the junior road pony champion and at the All American where he was reserve in the AHHS National Breeders' Futurity for the three-year-old roadsters. The fixy pony toured around Kentucky winning at such shows as ARHPA, Shelby County Fair, Mercer County Fair and Kentucky Fall Classic.
Allie Wellington Nunley and Palisades Ladyhawke were the Reserve National Champions. Trained by Majestic Oaks, this team is the reigning World's Grand Champion junior roadster pony as well as the World's Champion four-year-old roadster pony, all with 20-year-old Allie on the lines. Reserve World's Champion as a three-year-old a year ago, this year the four-year-old took victory passes at J.D. Massey, Asheville Lions Club, Midwest Charity and Blue Ridge Classic. Bred By Sandra Surber, Ladyhawke is by Heartland Blackhawk and out of World's Champion roadster pony mare What Luck.
Crystal Creek's Commander wins his fourth consecutive Amateur Harness Pony National Championship
Quality. Manners. Athletic Ability. These are just some of what sums up the stallion Crystal Creek's Commander. It's why he is the epitome of what an amateur harness pony should be and why he has won this national championship four times — the past three with owner Sandra Surber on the lines.
It began in 2011 with Linda Fischer winning the first national title with the elegant stud with Sandra cheering him on from her home in California. 2012 through 2014 Sandra Surber has held up the legacy and Royal domination for this superb pony, and his 2014 National title was a unanimous one. Other notable titles from this year have been two unanimous wins at Blue Ridge Classic and being named Reserve World's Grand Champion Amateur Harness pony as well as Reserve World's Champion Amateur Ladies Harness pony as well.
After her national title win, the gang at Majestic Oaks met her with another surprise: The AHHS had named her the 2014 Amateur of the Year, an honor that will be officially bestowed upon her at the upcoming UPHA Convention in Savannah, Ga.
Heartland High Tech makes a royal return
As Ali DeGray made the turn down the final rail of her victory pass in the amateur Hackney pony National Championship with Heartland High Tech, Peter Fenton announced it had been ten years since the grand stud had graced Kemper Arena. In 2004 High Tech won the UPHA Classics honors with Darrell Kolkman on the lines. The irony there? High Tech was being trained then by Rich Campbell and he's now come full circle and returned to Majestic Oaks.
High Tech didn't just simply win the UPHA Classics in 2004, but returned Saturday night to win the National Championship in the cob tail division. That year he was also World's Champion three-year-old and World's Grand Champion junior Hackney pony. He would return in 2009 with Maureen Lydon Campbell to claim the World's Championship in the Hackney division for stallions and geldings as well as the Hackney Pony World's Grand Championship. He was then sold to Ali and Helen.
Ali showed High Tech this year to double amateur wins at Lexington Junior League as well as a World's Championship in the Hackney Pony stake at Louisville. It all came full circle for Ali as she debuted with High Tech at the Southern Saddlebred Fall Finale under the Majestic Oaks banner. They ended the season as the winners in the amateur qualifier and National Champions here at the American Royal Horse Show. And they have just begun.
AHHS Youth Medallion National Finals restored to the Royal
The AHHS Youth Medallion Finals were established in 1995 and made their home at the American Royal, the National Championships. This history of the finals continued until they were moved elsewhere in 2012 and 2013. They have been restored to the Royal this year and the numbers have been an indication that this is where they will stay. The annual AHHS Youth Medallion Reception was held after the last class on Friday afternoon in the exhibitors' club, where all participants were acknowledged and thanked for their participation in the finals.
The first of the six classes was the pleasure driving division with seven entries — many of them World's Champions all vying for the title of National Champion. Kirstie Buerkley and The Ivy League were the unanimous champions for Elisabeth Goth. The reigning Reserve World's Grand Champions in the junior exhibitor division made an elegant and flawless drive for the win. Kirstie began showing the peppy pony with the white face and ankles at Blue Ridge this season, winning the qualification AHHS Youth Medallion Class there. They also scored the blue ribbon in the junior exhibitor class earlier in the week.
Reserve National Champions this year were also asked to make a victory pass and those honors in the pleasure division belonged to I'm In Heaven, Rose Marie Wheeler whip for owner Patricia Peters of Los Angeles, Calif. The reigning World's Grand Champion in this division, they also sport a AHHS Youth Medallion qualification win from Midwest Charity and junior exhibitor wins from Asheville invitational. As a side note, I'm In Heaven was formerly owned by Ann Marie Knipp, the founder of the AHHS Youth Medallion Finals.
The Hackney/Harness Pony combination final had a record number of entries with four park trotting in to compete. The National Champion was the fixy, leg-waving Twin Willow's Daddy's Girl and Jade Woods on the lines for Melvin Jennings and or Carol Lawson of Altoona Iowa. This was their second time showing together, as they qualified for the finals at the Mid States horse and pony show earlier in the season.
Alexis Lewis and Mi Leonardo were the Reserve National Champions for the Linda Lewis Estate. Trainer and AHHS Youth Medallion chair Mindy McIntosh Preston was on hand to help them make their victory pass. Alexis qualified the prancing pony at Mid America Mane Event as well as Indianapolis Charity this year.
Perhaps the most anticipated and favorite class for spectators is the Youth Medallion for the roadster ponies under saddle. The crowd just really gets into this class. There is something about kids riding the ponies that warms your heart and makes you laugh at the same time. This year was no different as four of the country's best roared into Kemper in pursuit of the national title.
They pin in reverse order, and as the top two were left in the line up — it was very emotional what happened next. Sallie Mason Wheeler was named the reserve national champion, much to her delight. The pair have dominated the roadster pony division for two seasons — winning a world's championship in 2013 and a reserve world's grand championship for two consecutive years. The little black pony won the junior exhibitor class earlier in the week and is owned by Maureen Campbell and trained by Majestic Oaks.
As the reserve was called out, Madison Taylor Pope wrapped her arms around Perfect Offering. It was the fairy tale ending to a dream season. "When we lined up," said her mother and coach Lisa Hillmer, "Madison said, 'that may have been better than our qualifier at Louisville' and I told her 'I think it was!'" The pair had won the second division of the roadster under saddle class at this year's world's championship horse show, but an emotional Madison Pope was beside herself winning the national finals. Unanimously. It will be one ride that Madison won't likely soon forget.
Alex Ververeli and reigning World's Grand Champion junior exhibitor roadster pony for the 14-17 division Kharbon Steele added the 14-17 AHHS Youth Medallion National Championship to their list just in time for the University of Kentucky freshman to age out of the junior exhibitor ranks. Kharbon and Alex have been a team since Blue Ridge of 2013, but it would be a banner year for them in 2014 as they scored wins in the junior exhibitor and AHHS qualification classes at Blue Ridge, Pro-Am Benefit, J.D. Massey, Asheville Lions Club, and Blue Ridge. They only suffered one defeat this season, a season that included a junior exhibitor title from Rock Creek and double wins at the World's Championships and now the unanimous National Championship.
Reserve honors went to a former World's Grand Champion in the 14-17 roadster division, Kentucky Hot Brown with Catherine Wheeler on the lines for Maureen Lydon Campbell. The pair won the 14-17 division earlier in the week as well as boasting the AHHS Youth Medallion win from Lexington and a reserve world's grand championship in the 14-17 division this season.
Six top entries answered the call for the AHHS Hackney pleasure pony or horse under saddle National Championships. Another competitive class with top entries, the National Champion was Once Upon A Time and Nicole Jackson for owner Sally McClure Jackson. It surely was a fairy tale ending for this duo, who also won the under saddle class at the Royal earlier in the week, and boasts AHHS Youth Medallion qualifier wins from UPHA Chapter Five.
Reserve honors went to Neon Deon and Megan Klostermeyer for Stephens College of Columbia Missouri. The pair qualified for the finals at the Boone County Fair, winning the qualification class and taking reserve in the junior exhibitor class earlier here at the American Royal.
The final AHHS Youth Medallion National Final was for the roadster ponies, their drivers just 13 years of age and younger. Five former World's and National champions answered the call and made for a competitive and fun class as the youngsters piloted their speedsters around Kemper.
When the dust settled it was reigning World's Champion Duck Dynasty and Ethan DeVore to be named the unanimous National Champions. The Majestic Oaks trained team earned their qualification at Asheville Lions Club with a reserve, but returned to Kansas City to tri-color honors. Ethan and "Si" even won the 48" and Under division at the Boone County Fair this summer.
Reserve honors went to My Kryptonite and Kate Lewis in her pink silks with her blond pigtails. Don't let her pint size fool you — this kid can drive fast and hang with the best of them. The pair qualified for the finals with a win at Midwest Charity in the AHHS Youth Medallion. With a top three finish at this year's World's Championships and double wins at St. Louis, the pair ended the season with a reserve in the 13 and under class earlier in the week as well as a reserve national championship.
Go Daddy wins Harness Pony National Championship for new owners
The harness pony division has been growing in size and competition for the past few years. The stake class at the American Royal Saturday night was no exception. The winner was the black Go Daddy with Melissa Moore on the lines. The pair has earned blues and tri-colors all season from Lexington Junior League and All American. They were reserve in the qualifier with his owner since March of this year, but as the black gelding made his victory pass it was announced that Golden Creek Farms of Simpsonville was the new owner. They returned to the National Championship honors from a reserve in the qualifier.
Connie Smith wins Hackney Pony National Championship with Heartland News Leader
A graduate of the UPHA Classics Finals, Heartland News Leader was the Classics National Champion in 2010 with then owner Elisabeth Goth on the lines. Goth and News Leader had previously won the junior cob tail World's Grand Championship as well as the four-year-old qualifier. The pair would be reserve in the Kentucky County Fair Championship in 2013, and thereafter the pony was sold to Beth Jones and trainer Connie Smith.
Just a year ago, this pair was the Reserve National Champions and the pony was taken home for the winter with Connie to train him. This season they opened up at River Ridge to earn the blue in the Open qualifier. Subsequently Connie and News Leader have earned wins or reserves from such shows as Heartland Classic, Dayton, The Pink Ribbon Classic, All American, Kentucky Spring premier and even topped the open cob tail qualifier at Lexington this year. All of this led up to their National Championship drive Saturday morning. Matt Schuckert was on hand to help with the victory pass.
Hackney Pleasure Pony division boasts 17 entries; Qualifier divided, National Championship one of the best in years
The pleasure pony division this year has been filled with numerous top entries — the qualifier had to be split at the World's Championship Horse Show this year. The same phenomenon occurred at the American Royal with 17 of the nation's top entries all vying for a spot in the championship.
Division one held numerous World and Reserve World's Champions in the class. Just to name a few: reigning World's Grand Champion Charmed Masterpiece, Former World's Grand Champion and multi-World's and National Champion Heartland Accolade, Reserve World's Champion Night Voyager, multi-World's and National Champion Nashville Cat. It would be a great day for young Brianna Meyer, who was on the lines of Heartland Accolade to be named the winner of the qualifier. In just their first season together, the American Royal is a benchmark in their progress as a team. The Hollow Haven trained team returned for a hardfought National title on Saturday night as well.
Reserve in division one was the black Night Voyager and Meredithe Steinhauer. With his fluid movement and dark coloring, Night Voyager stands out. This season the pair had victory passes from Bonnie Blue, Midwest Charity, and ASHAV as well as a top three finish at the World's Championship Horse Show. The team is trained by Majestic Oaks.
Division two was not without some big names, too. Two-time Reserve World's Champion and defending National Champion Bvlgari, Reserve World's Champion Catch Me If You Can, and World's Champion Heartland Cracker Jack, just to name a few. Linda Fischer made the unanimous winning drive to be the winner of division two. The Sandra Surber owned entry would return on Saturday night to a reserve National title for Majestic Oaks.
Reserve honors went to the bold moving Bvlgari and Kay Marchel. With a chess piece headset and moving squarely off both ends, this pony is one that defines the division. In just his second year in competition, he has two Reserve World's Championships to his credit as well as one National Championship and a Reserve World's Grand Championship. The pony also swept the pleasure division at Lexington Junior League this year. Bvlgari is also trained by Majestic Oaks.
"Tonight ... we are young ... and we'll set the world on fire" - Two 20-something amateurs take the top spots in the Open Roadster Pony National Championship
Ali DeGray and I have been showing against each other since we were juveniles, mainly in the roadster pony division. So it was really fun to end the season with my new friend and barn-mate, Ali, in the Open Roadster Pony National Championship. This was our very first open at a major show.
The name Twin Willow's McDreamy is very well known throughout the pony world. A two-time World's Grand Champion and multiple winner here at Kansas City, he returned to the show ring with just one difference: The driver. Young Ali took over the lines of "Mickey" just about a month ago for the first time at the Saddlebred Fall Finale in Tennessee for a few practice drives now that he is in training at Majestic Oaks. They had their sights set on the open division at the American Royal, just a short month away.
The result was two unanimous wins at the Royal — the open qualifier win and the National Championship for the roadster ponies.
Dun-Haven Awesome Attraction is a name that isn't very well known yet. With really his first season under his belt, "Bucky" has spent time in the limit division with Holli Hayes this year, who won at Midwest and took reserve at Lexington. She handed the lines over to Meredithe Steinhauer at Blue Ridge, where they won the limit division there and placed a respectable third in the amateur under 50" qualifier at Louisville. Together, it was their first Saturday night open class at a major show and they took the Reserve National Championship back to the Majestic Oaks banner.
What was so great to see at this year's American Royal was that the divisions had grown, there was more competition, with both young ponies and young drivers rising up through the ranks to "take over the reins" for the future. New combinations and combinations made new were the talk of the show.
Now, our ponies can go home; we can pull their shoes and let them play until the beginning of 2015, which if this show was any indication of next season, it's going to be pretty darn exciting.