How Michael Arquilla Overcame the Odds to Win the USEF Saddle Seat Medal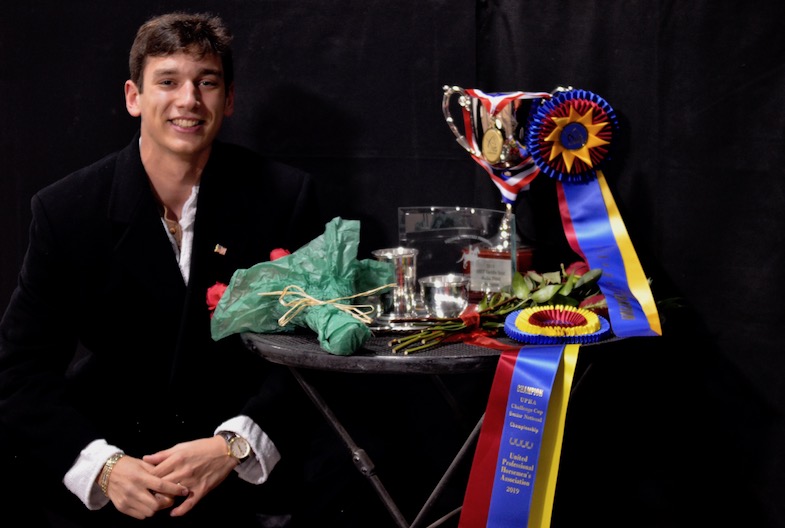 Five minutes before the United States Equestrian Federation Saddle Seat Medal Finals, two horses stood in the warm up ring waiting for a single rider: CH-EQ Mooi Mooi, or "Nelson," the big bay who had been Michael Arquilla's partner since his walk and trot days, and My Sudden Surprise, or "Spike," the chestnut gelding with whom Michael had seen barn mate Ellie Grosspietsch compete countless times, but had only ridden once for a few laps around the day before.
As the clock ticked down the remaining minutes, Michael and his trainers grappled with their decision. Finally, it was Spike who Michael mounted ... and Spike who Michael would ride through his eventual victory pass.
Under the direction of Equitate, LLC, Michael had an excellent 2019 show season, with wins at Des Moines, Madison Classic, Midwest and the 16 Years Old age group at Louisville, but he is a perfectionist, so he was coming into the American Royal hungry.
"I really wanted to win [the Senior Equitation Championship at] Louisville and really wanted to win the Good Hands," he said. "It was hard going home from both of those shows. It just hasn't gone my way for the past few months, but I had to keep doing what I was doing, even if it was getting discouraging."
But at the Royal he began to turn things around. In fact, he took home the Senior Challenge Cup National Championship aboard his longtime partner, Nelson.
"I got him seven years ago," Michael said. "When I got him he did not know how to canter, he had mounting issues, but my family and myself and instructors all saw the potential in him. We knew he had the right attitude."
Winning a National Championship was special enough, but doing it with Nelson made it even more meaningful.
"A lot of people don't have the same equitation horse for seven years," he said. "For me to be on top without having to get a new horse, I feel like our bond is a big part of that."
But Michael's season wasn't over yet. He had also qualified for what is arguably the largest prize of all in saddle seat equitation – the USEF Saddle Seat Medal Finals. He and Nelson competed in the preliminary round on Saturday morning along with 18 other riders, and were called back again for the second round that afternoon. However, Nelson, who had injured himself during the UPHA Finals earlier in the week, grew worse during that preliminary round.
After having a vet look him over, trainers Sheri Brandl and Mark Bodnar decided they would need to come up with a backup plan in case Nelson still wasn't 100% when it came time for the second round. That backup plan came from within the Equitate barn family with the use of Spike.
Michael got the chance to practice on Spike for just a few minutes on Friday.
"We put him on him not even 10 minutes yesterday and he had never sat on him before," Mark said. "He trotted around twice and did a couple of basic pattern elements."
Then, with their back up plan in place, they waited to see if Nelson would improve.
Just five minutes before the class, the decision was made that Nelson would not be competing.
"For the wellbeing of the horse, we couldn't do that to him," Mark said.
Michael took it all in stride as he prepared to ride Spike.
"He's so gifted and so well trained that I knew I wouldn't have to worry about specific elements in the pattern," he said. "I knew he was very strong in the bridle and my biggest concern was not letting the reins slip through my hands."
After spending the majority of his equitation career competing aboard the same horse, Mark believed it was an opportunity to show his skill aboard an unfamiliar one.
"I told him right before we went in, 'This will test your mettle as a horseman,'" he said.
Michael rose to the challenge. Out of 12 riders who were called back for the second round, he was once again named the winner.
The experience was a lot of fun, and he's grateful to the horses who got him there.
"People spend many years looking for equitation horses like the ones I rode this week," he said. "They're a gift. I was really lucky to have both of them."
He was lucky to have a lot of special people in his life as well. In addition to his trainers, his family, and his instructor, Stacy Stackhouse, who has been with him from the beginning, he would like to thank David and Kristen Cater, Kent Swalla, Jay Wood and Catriona Kozijn, and of course, Tiffany and Ellie Grosspietsch.
"Our clients, the Grosspietsch family, were very understanding and were elated that Spike played a part in Michael's success," Mark said.
After school Michael plans to get a job as an apprentice and work his way up to becoming a professional horse trainer. It's a big dream, but the two national championships he clinched this week prove that Michael has ever shied away from dreaming big.
While some people may have had trouble believing that they could accomplish something like that, Michael never doubted it.
"Even when I was at home and no one was watching I always viewed myself as number one even when I wasn't," Michael said. "It's great that it's a reality now."