DesMar's Day: Friday at Louisville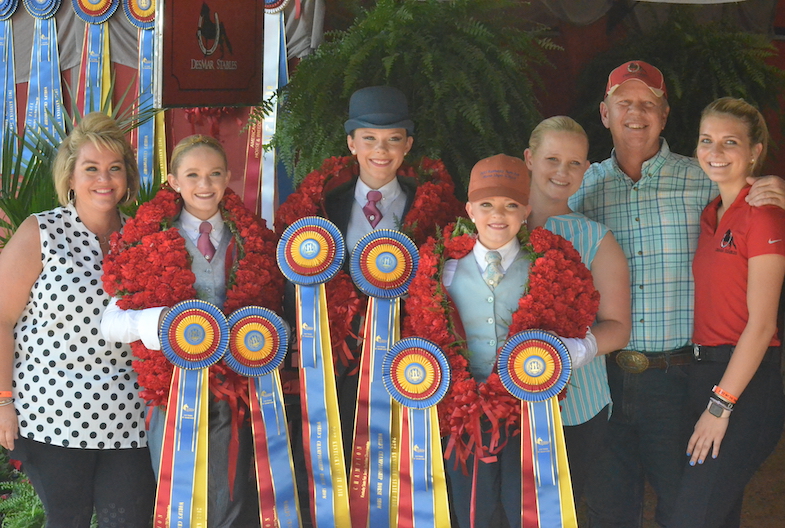 The DesMar team celebrated their winning Friday morning. // Photo by Allie LayosThere were exactly three equitation classes and three new equitation World's Champions crowned during the Friday morning schedule of the World's Championship Horse Show, and all three of these winners shared one very important thing in common: they all ride under the instruction of DesMar Stables. Even more uniquely, two of them are sisters.
First up was Harper Hamby, who made the victory pass in the Walk/Trot Equitation 8 & Under Championship. Next it was her older sister, Addyson Hamby, who took top honors in the Walk/Trot Equitation 9-10 Years Old Championship. Finally, their barn mate Brooklyn Gaskill was named the Junior Equitation World's Champion of Champions.
All three of these riders shared the same goal: to have the best ride they possibly could.
For Harper, who is in her first season showing in a suit, it was her first Louisville win, and she did it aboard her partner Shine Bright, or "Rooster."
"When I went in, I just wanted to have a good ride and didn't care which ribbon I got," Harper said.
Addyson had made prior Louisville victory passes in 2020 and 2021. This year she returned to the Green Shavings aboard Nutcracker's Man At Arms, or "Zeus," and was delighted with her unanimous results.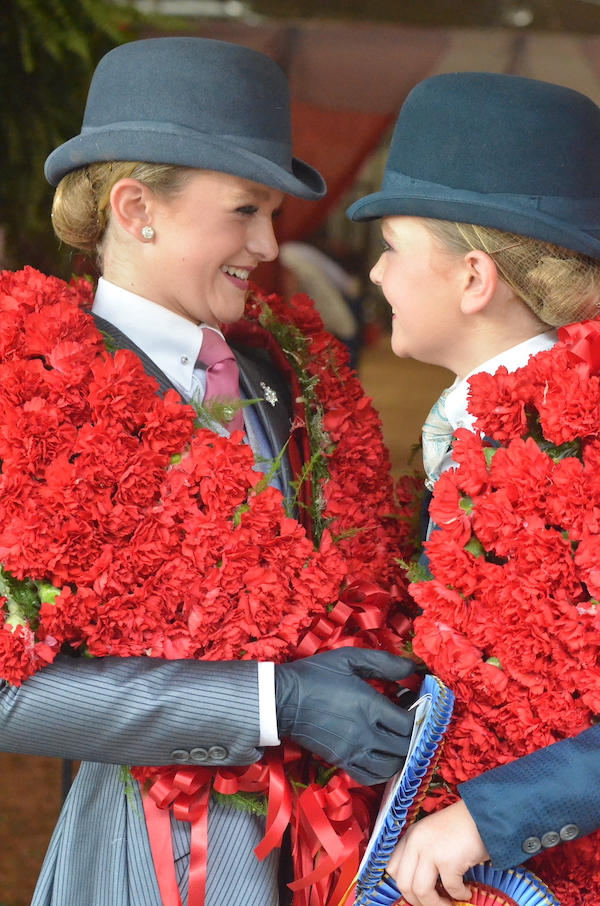 Addyson and Harper Hamby. // Photo by Allie Layos."I thought I did pretty good, but I didn't think it was unanimous," she said.
According to their mother, Laura, the girls are "each other's biggest fans and each other's biggest critics." But on Friday morning at Louisville, they had only praise for each other and their rides.
"I thought Harper had a good ride; I thought her passes were really good," Addyson said.
"I thought she looked great," Harper said of Addyson's ride.
The girls might be only sister duo to win both walk/trot championships in the same year.
"I think it's pretty cool," Addyson said. "I'm super excited. We can look back in 10 years and say, 'Oh, remember that?'"
Preparing both girls for the show ring in the same session made for a very overwhelming morning for Laura.
"I just prayed for them to have good safe rides, and for their horses to take care of them," she said.
She didn't expect the immense success that followed, but she did know how hard the girls had worked to get to this point.
"They gave up their whole summer and spent their whole summer in the barn," she said. "Their team has worked really, really hard to get them here as well. They're very deserving."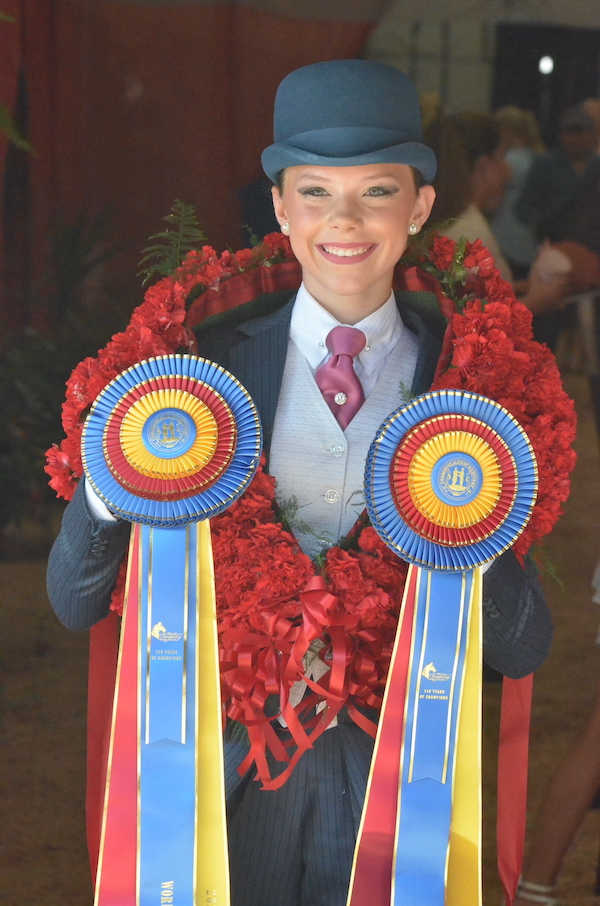 Brooklyn Gaskill. // Photo by Allie Layos.The DesMar success continued later in that same session when Brooklyn Gaskill rode CH-EQ Altar Of The Sun, or "Sunny," to win the Junior Equitation Championship. Being paired with a Triple Crown-winning equitation horse like Sunny came with a little bit of pressure, but Brooklyn worked hard this season to rise above that pressure.
"I just tried to believe in myself and him because I knew that he knew how to do it," she said.
And she enjoyed the process.
"It's been a lot of fun," she said. "He's a really great horse."
The pair won the 12 & 13 Years Old class earlier in the week, but in the championship they had to complete a pattern. The hardest part for Sunny, Brooklyn knew, would be taking the first canter lead out of the center, so she made sure to visualize exactly what she needed to do.
"I just thought of what I was going to do," she said.
While waiting for the class to be pinned she was still thinking about her pattern, so she was stunned when her number was called out first.
"I was so excited and shocked and so happy," she said.
And she wasn't the only one. According to DesMar instructor Brooke Applegate, it was a magical morning for the entire DesMar team.
"These special young ladies have worked incredibly hard, and I could not be more proud to be a part of their journey," she said. "It was an absolutely unbelievable morning!"