Star Shows, Monarch Shows: What does it all mean?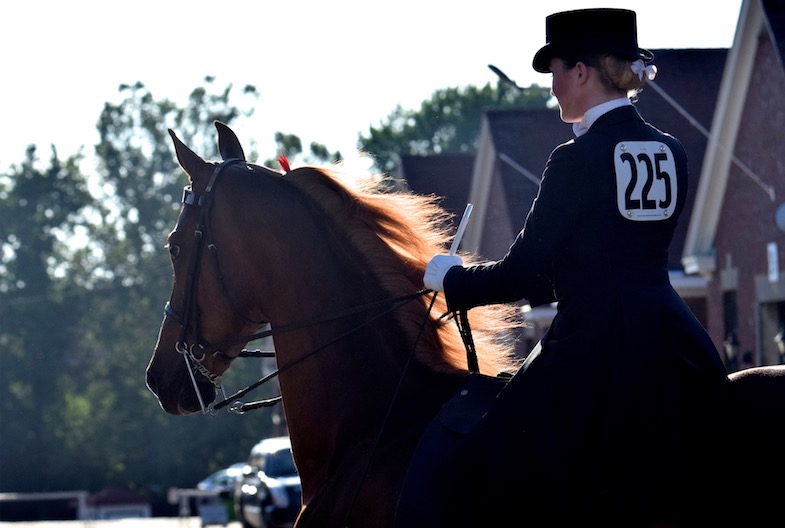 With a new decade comes new changes for the Saddlebred community with the introduction of the ASHA's Star Show program as well as with the Monarch Show Series and its Monarch National Championship.
Both are designed to make equestrian sport more accessible and to help renew what might be considered waning interest.
The last few months have been a whirlwind for Monarch Show Series National Championship Co-Chairs Carol Matton and Donna Pettry-Smith, as well as Executive Secretary Kristen Pettry.
"We are trying to provide an event that's unlike anything else in the horse industry, and we want it to be very inclusive of everyone," Donna said. "We want to provide everybody with great customer service, we want everyone to feel important in the horse show, and that they're valued, and that they're valued in the American Saddlebred industry. Everyone's going to get the royal treatment. We're going to have great trophies and parties; we're going to roll out the red carpet."
Donna and other members of the committee, prior to the creation Monarch Show Series and Monarch National Championship, were discussing a topic they feel is plaguing the sport – that there is plenty of competition available at the academy level with the National Academy Championship, and the elite level with the World's Championship Horse Show, but there is a gap in between the two.
"There just isn't a great middle ground that's networked toward a crown jewel, that people can work toward," Donna said. "We're trying to build that experience for people. Some people may never aspire to show at the elite level of the sport, so we're hoping to build that middle ground."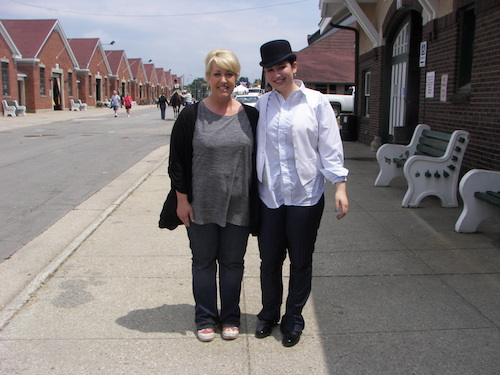 One evening, while Donna was walking her beloved senior (about 15 years old, she's a rescue) pug Audrey, she thought about what to name the series.
Donna had made the conscious decision to forego bringing her cell phone with her on their walk along the property while brainstorming a name for the series, and she saw something amazing – more 50 than monarch butterflies had chosen her farm as a safe landing while on their fall migration.
While she came back from the walk without any photos to commemorate the sighting, she came back with a lightning bolt of inspiration – call what Donna, Carol and Kristen had been discussing the Monarch Show Series.
Kristen, a graphic designer, skillfully created the series' majestic gold and royal purple logo and color scheme, the team began putting together details, and the location for their crown jewel, their national championship, was secured.
The Monarch Series National Championship will take place from Oct. 1-4 at the Illinois State Fairgrounds.
In order to qualify for the Monarch National Championship, riders have to compete at four Monarch shows; however, at the national championship, they will have the opportunity to compete in many classes throughout the show.
As of late January, more than 70 horse shows across the U.S. had enrolled (free, through an online form available at www.monarchshowseries.com) to be part of the Monarch Series Network.
"Really, the only criteria to enroll is that it's 400 horses or under," Donna said. "It's really easy to join, because we want it to be inclusive, so people have many opportunities to get their qualifying classes."
For Donna, the Monarch Show Series and Monarch National Championship is a dream come true.
"It will be something I can contribute to the horse industry that will have a lasting, positive impact," she said. "Maybe I can see positive results from it before I retire. I want to leave something positive for the next generation to come up."
Also in January, the American Saddlebred Horse Association announced a new class of shows for the year, called the Star Show program. It is the culmination of the ASHA Horse Show Task Force's efforts to support and benefit shows currently unaffiliated with the United States Equestrian Federation.
"The whole goal of this task force was to find proactive ways to support existing shows and find a find ways to create new shows," ASHA Executive Director David Mount said.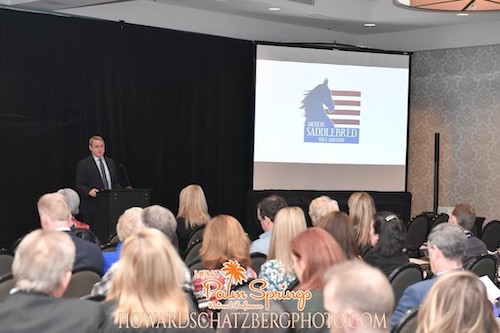 The task force included multiple committees, which focused on the support of existing shows and creation of new shows, the transition from Open Shows to Star Shows, how to better market horse shows, the grant program and how to support underrepresented areas.
"We studied what the Morgan Horse Association did and what the Arabian Horse Association did with their similar shows," David said. "We took the Morgan horse model – they have their own Star Shows – and customized it for the Saddlebred world."
By borrowing different aspects from the Morgan Horse Association's Star Shows, the Arabian Horse Association's One-Day show and the Arabian Horse Association's Value Shows, and combining that with feedback received from two surveys for members and horse show management, the ASHA has been able to evolve in a way that meets and exceeds the needs of its members nationwide.
"The way our open shows worked previously," David said, "it's basically the same thing – we just rebranded it, and offered increased financial support through the grants and increased marketing support through the classes, direct marketing and indirect marketing. It's mainly a way to better support our shows. That was the whole premise behind this. It's been well received."
An example of one of the newer guidelines, David explained, is that there were often complaints about too many shows at the same time, in the same place. As a result, existing shows are grandfathered to continue, however, new shows must follow a 100-mile rule.
Additionally, there have been instances where shows needed additional support – perhaps it was a bad check, or an issue that was difficult to resolve. Now, the ASHA has a plan in place to support the horse shows when complications arise. Star Shows will count toward Saddlebred Record "CH" points, ASHA High Point Awards, and serve as qualifiers for the World's Championship Horse Show.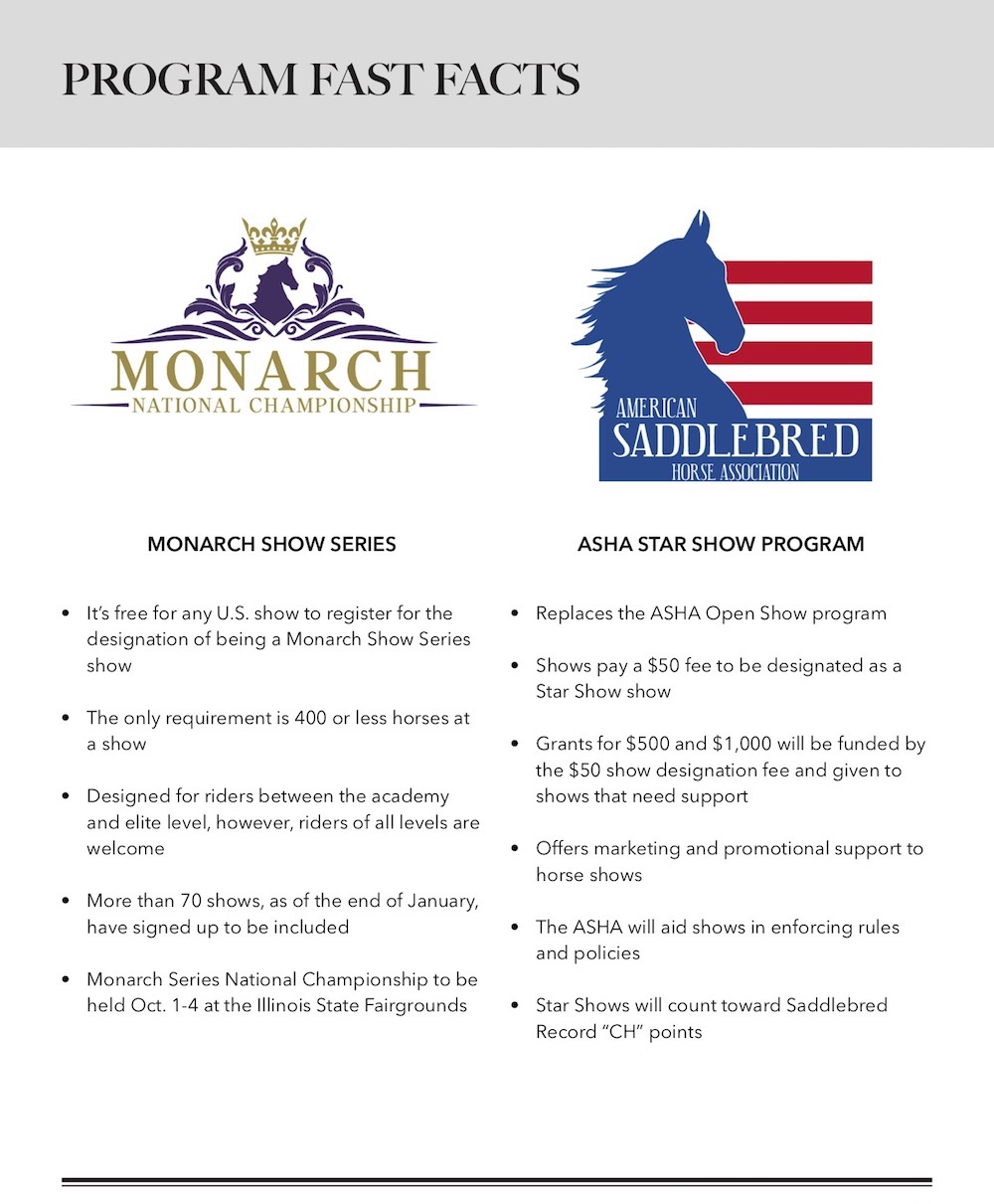 "We're trying to do right by our shows and our members," David said. "This is something that they wanted, and something we could do, and that's why we're doing it."
Last year, there were more than 230 competitions recorded with the ASHA; Mount estimates that 200 shows will sign up in 2020. For the new Star Show program, shows have a one-time $50 application fee, with 100 percent of the money going into the grant program. Grants, either $500 or $1,000, will be presented to horse shows.
The first show to receive the $1,000 grant is the Silicon Valley Horse Show (May 2020, https://siliconvalleyhorseshow.com/), which, Mount explained, had been on hiatus for two years before returning in 2019 with approximately 100 horses. The show was successful, though it lost money, and after the show, organizers learned that they had also lost the opportunity to use the facility.
"We are really proud to announce that they are the first recipient of our $1,000 horse show grant," David said. "They are very well deserving."
The ASHA has a genuine, real interest in supporting shows in underrepresented areas, like California which has become underrepresented, though it used to have a thriving Saddlebred market. One bad year can have a lasting impact on a show, and for small shows, a grant of $500 or $1,000 can really make a difference. ASHA shows can range from 1-8 days long, and with 100-2,000+ horses.
"The Star Show program," David said, "was developed with our members and our horses in mind. We will continue to developing programs. This is one of many programs we hope to launch that will continue to grow and support our industry."
Show managers and riders are invited to learn more about the Star Show program by visiting the ASHA website (www.asha.net) and calling the office at (859) 259-2742.