3 Treat Recipes to Help Celebrate the Season With Your Show Horse
No matter your walk of faith, there is definitely no denying that the winter holiday season is upon us. For many of us that means parties with cookies, snacks, and all kinds of delectable dishes, but what of our equine companions? They work hard all season long and undoubtedly deserve a few treats during the off season, too. If you're looking for something more than the healthy carrot, apple or sugary peppermint to spoil your horse, you're in the right spot.
Just like us, winter comes with its own set of challenges and dietary needs for horses. That's why the recipes below are laced with salt to encourage healthy drinking, and most contain healthy fruits or vegetables to provide some vital fresh nutrients our horses miss out on during the brown days of winter. As an added plus, two of them are warm treats you can serve your steed in even the coldest of temperatures to help him stay warm from the inside out, and are made from ingredients found in your very own well-stocked pantry.
Horse Chow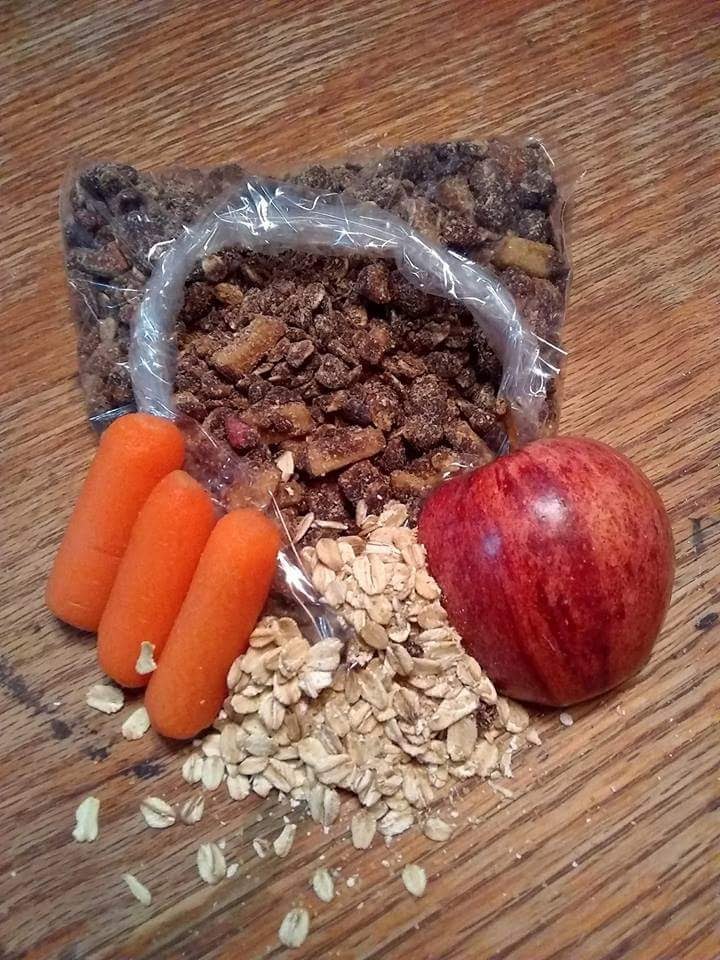 Ever wanted to make the equine equivalent of puppy chow? This is how!
What you'll need:
1 c rolled oats
1 c whole wheat flour*
1 ripe apple, chopped
2 large carrots, chopped
¼ c molasses 1 t Himalayan salt or Orsa real salt
Directions:
1. Mix oats, apple, carrot, salt, and molasses in a medium sized mixing bowl.
2. Add flour ¼ cup at a time, until mixture reaches the consistency of puppy chow and is a sticky crumble.
Feed promptly or keep refrigerated if it will be more than a couple hours before you serve your horse this treat. Serving size is approximately 2 servings, depending on just how much spoiling you wish your steed to receive. Stores well in a baggie tied with ribbon or a small storage container.
*As a variation to this recipe, you can also make snack balls by lowering the flour amount to approximately ½ - ¾ cup. When the mixture resembles a coarse, sticky dough, stop adding flour and shape into balls.
Holiday Mash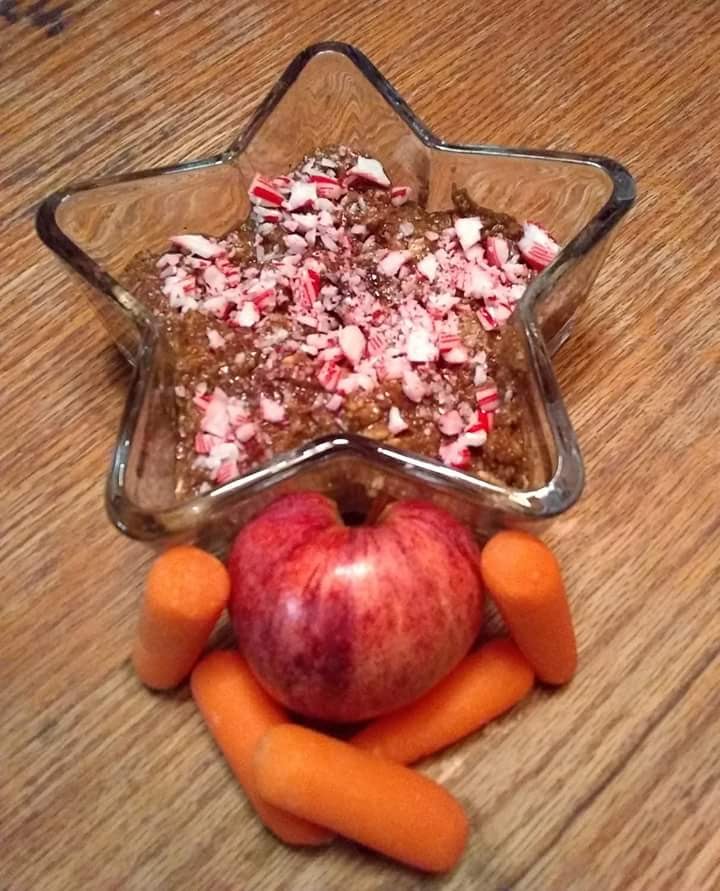 Bran mashes have long been utilized for their tasty nourishment, providing an excellent source of warmth, nutrients, and hydration in a palatable, easy-to-digest form. Suitable for even the most toothless of seniors, this recipe can be altered to treat most any horse.
What you'll need:
½ c rolled oats ½ c wheat or oat bran
¼ c wheat germ 2 t Himalayan salt or Orsa Real salt
2 T molasses
1½c water
Peppermints, carrots, apples, bananas, or pumpkin for flavor
Directions:
1. Mix all ingredients in the order given, except chosen "flavor ingredient," in a microwave safe bowl or small sauce pan.
2. Microwave for approximately 2½ minutes or cook on the stove top until all ingredients have softened and resemble a mash.
3. Add your chosen ingredients for flavor, as is suitable to your horse's dietary needs and preference. Mashed bananas or pumpkin puree are great for senior horses who have difficulty chewing. Apple or carrot slices are welcomed by most horses, and peppermints can be crushed and allowed to dissolve before feeding if chewing is a concern.
Keep this mash warm until feeding -OR- mix all ingredients, reserving water and flavor ingredient(s), and take to barn. Before feeding, pour hot water over dry ingredients and let sit 5 minutes, then mix before serving, making sure to check that it is not too hot for your horse beforehand.
Beer Cookies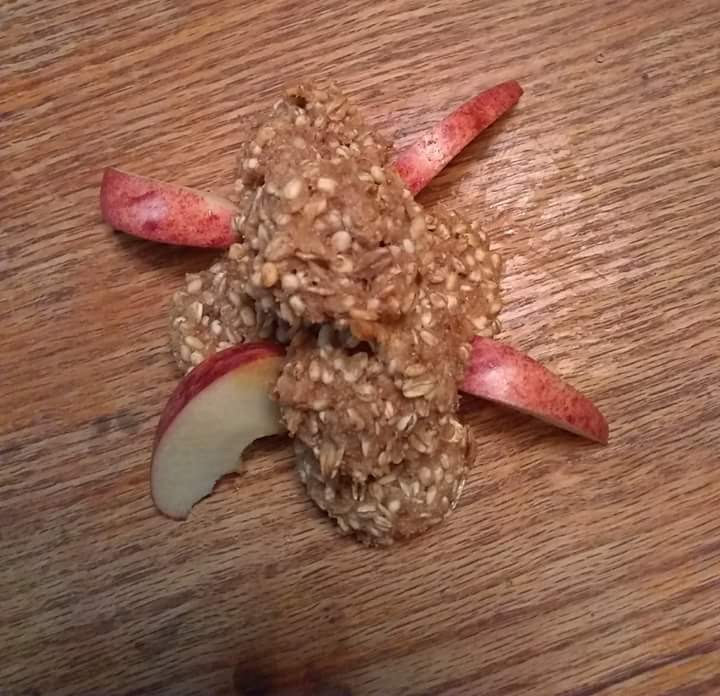 Most horses love beer, so or those equine ages 21+, or those underage rebels entrusted to your care, these cookies are often a favorite treat. As an added plus, this bartender special doesn't use the entire beer, so naturally somebody has to drink it while the cookies are being made and that somebody might as well be YOU, right?
What you'll need:
½ c rolled oats
½ c pearled barley
1 c beer or your (and your horse's) choice
1 t Himalayan salt or Orsa Real Salt
3 T honey ½ c whole wheat flour
Directions:
1. Preheat oven to 350°F.
2. Mix ingredients in order listed in a microwave safe mixing bowl, reserving the honey and flour.
3. Microwave for 2-3 minutes on high heat until liquid is mostly absorbed.
4. Add honey while mixture is still warm and immediately stir in, then add flour to mixture.
5. When mixture resembles a coarse cookie dough, drop by tablespoons onto a parchment lined cookie sheet and bake at 350°F for approximately 15 minutes, or until lightly browned.
Feed warm from the oven or room temperature. Cookies can also be microwaved before feeding for that "fresh from the oven" experience. Yield is approximately 16 cookies.
No matter what holiday you celebrate, here's hoping you celebrate it in the very best of ways – with your horse! From our barn to yours, we wish you the merriest of festivities this season and the very best that 2018 has to offer!