A Rare Partnership: CH Reedann's Rare Mystery and Juliette Dell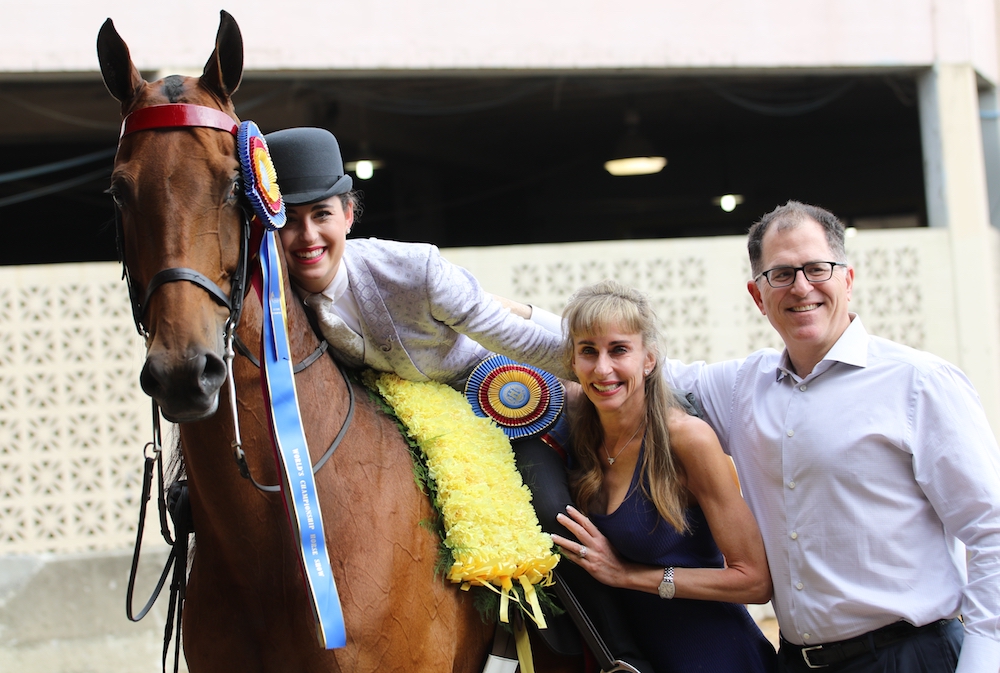 When Juliette Dell rode CH Reedann's Rare Mystery out of Freedom Hall Saturday afternoon laden with flowers, she could hardly contain her emotions. She was choking back tears because, after years of trying, what many would call her "heart horse" had finally been named the Adult Country Pleasure World's Champion Of Champions.
Juliette has been partnered with CH Reedann's Rare Mystery, or "Myster," since her family's 6D Ranch, LTD purchased the horse in May of 2012. At the time, he was just four years old.
"This is my first Saddlebred, and when I first got him I didn't even have the goal of winning at Louisville, because I didn't think it was possible," she said.
But it wasn't long before that changed.
"The second year I was here I won in the show pleasure division, and it was a huge shock," she said. "It gave me the hope that maybe someday I could win a championship here ... I've always been super happy with how he's done, but the ultimate goal was for him to win roses."
Yet that goal seemed elusive. She and Myster won at shows all across the country, but over the past four years, each time they arrived at the World's Championship Horse Show, they would fall short of their goal, sometimes coming as heartbreakingly close as reserve.
"So many times I would come back to the stalls and have to decide if I was going to take him home or give him one more year," Juliette said.
At first, this year's Louisville experience seemed like it was going to be more of the same, as they placed seventh in the Adult Country Pleasure Div. I qualifier.
"We just thought, 'Well, this isn't going to be our year,'" Juliette said. "We almost didn't show back."
But in the end she did, and this time the results were completely different – after so many years of trying, they finally left the ring with tricolor ribbons and flowers. The win was particularly meaningful to Juliette because, out of all her horses, Myster has been the most special to her.
"When I first got him it was a huge learning curve," she said. "Coming into a new breed and learning equitation at the level of this industry, there were a lot of ups and downs, and he was always my shoulder to cry on."
Through all of this, the two of them formed an extremely special bond.
"We just connect on a level I never connected on with any other horse," she said. "I know it sounds weird, but we breathe together, and we can feel each other's heartbeats. He listens to me. I love all my horses endlessly, but I've never felt so loved back by one."
More than anything, Juliette wanted the win for him.
"It was our seventh time here, and you never know how many more years he has left," she said. "He's been so good for so many years and I thought he deserved it ... I just didn't want his career to end without roses. I think he really is a true representation of what a country pleasure horse should be. So many people love him and so many people have been rooting to him for so long, and I think it means a lot to not just me, but everyone that knows him."
After so many moments when Juliette was right on the edge of giving up and retiring him, their World's Champion Of Champions win is one that she will never forget.
"It's something I've pictured every single day for seven years," she said. "Even this morning I didn't think it was going to happen. I know it's cliché, but don't stop trying."
Of course Juliette is no stranger to the Louisville victory pass. In addition to her show pleasure World's Championship, she was also named the Saddle Seat Equitation 17 Years Old World's Champion in 2014. However, she found this year's experience to be completely different than any of her previous wins.
"I've always wanted to win a championship here, but nothing compares to winning it on him," she said. "It's a whole different level of emotion seeing roses on him."
With their biggest dreams now realized, they will be traveling back to Stachowski Farm in Ohio, where Myster's shoes will be pulled and he and Juliette will spend their time enjoying bareback rides – at least until next season.