Sugar Knoll Farm's Marvelous Monday at Louisville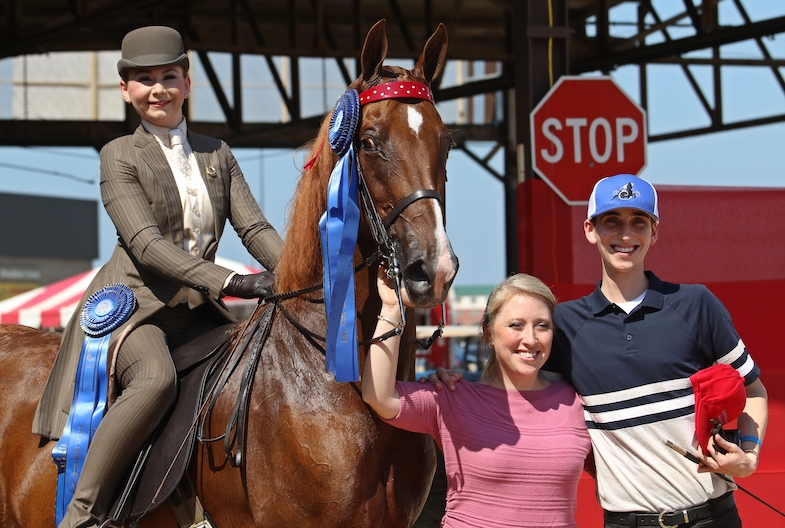 Shelley Fisher's Sugar Knoll Farm has had many good days, but it would be hard to beat Monday, August 19, at the World's Championship Horse Show. During the morning session, junior exhibitor rider Isabelle Fischer showed three times, and was victorious two of those times. Then, during the evening session, adult amateur rider Piper Bordegon showed twice, and won both her classes.
Isabelle, known as "Izzy," moved into canter classes last year. This year she has been nearly undefeated in the equitation ranks aboard CH-EQ Madeira's Fame, or "Thomas," and at Freedom Hall the pair won the Saddle Seat Equitation 12 & 13 Years Old class. Izzy began showing CH His Supreme Reflection at the end of last season, and just a few classes after her win with Thomas the pair continued their success by winning the Junior Exhibitor Three-Gaited Show Pleasure 13 & Under Div. 1 class.
Trainer Shelley was thrilled with the way Izzy handled her rides.
"My goals for her were to trust herself and try and go show her horses like she has been practicing," Shelley said. "I think she's been successful with both of them in different divisions because she rides each horse the way they need and like to be ridden. She works a ring well and has spent enough time getting to know their personalities, strengths, weaknesses and needs. She just tries to keep them happy and allows them to do their jobs."
On top of her two wins, Izzy also rode Kiss Goodnight to a Reserve World's Championship honor in the Junior Exhibitor Five-Gaited Pleasure Div. 2 class. But there was still more in store for the Sugar Knoll team. They had hardly begun to come down from the excitement of Izzy's success when Piper Bordegon entered the ring during the Monday evening session.
Piper has ridden with Shelley for 19 years, so Shelley knows her very well.
"My goals for her at Louisville were to ride each of her horses to the best of their ability – to get the best performance from her horses she could on that night and keep growing and improving from previous shows and rides," Shelley said.
This is Piper's third year showing CH Undulata's Sweet Sister, and experience paid off when the pair took home the top honors in the Ladies Amateur Five-Gaited Mares class, clinching a third win of the day for the Sugar Knoll team. Then, just a few classes later, Piper was back in the ring aboard a newer mount, The Great Oz, for the Amateur Three-Gaited 15.2 & Over Div. 1 class. She won yet again, making the day even more unbelievable.
The whole experience was very surreal to Shelley.
"I'm still not sure it has sunk in yet," she said. "Winning those classes was a dream and unexpected for sure, but honestly I was just so proud of each horse and rider for putting their whole hearts into each performance. The horses and riders are true athletes and have put in the time and work to get where they are. It was rewarding to see their hard work pay off. I'm just so proud of them and happy for them."