Undercover Makes ASB Hunter History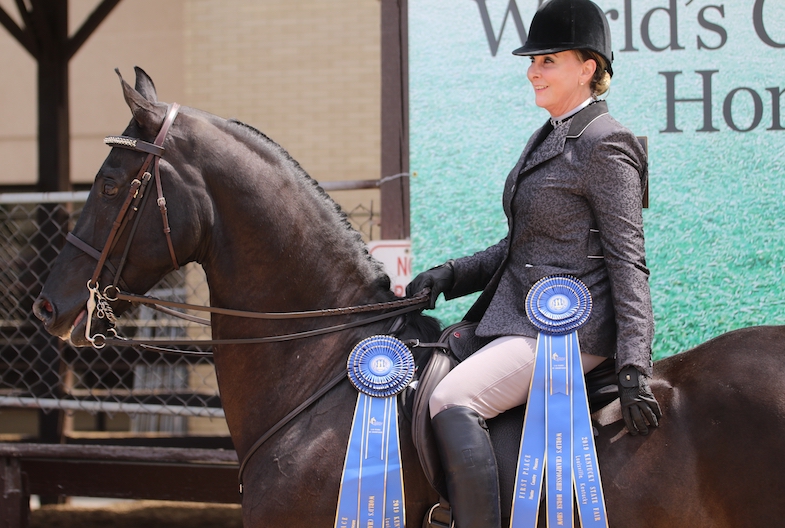 On Sunday August 18th during the final class of the day session, Undercover and Marie Gwinn made Saddlebred history by being the first-ever team to be named ASB Hunter Country Pleasure World's Champions.
This inaugural class at the World's Championship Horse Show saw 20 hunter horses hit the Green Shavings. And it wasn't Marie's first time being a trailblazer at Louisville.
"I was in the first western class, too, so I just wanted to have a great ride," she said.
Marie and Undercover have been competing together since 2017 and are under the direction of Dena Lopez. Last year the pair was named Saddle & Bridle's Hunter Seat Classic National Champions. This year they enjoyed wins at IASHA Spring Warm-Up, Southern Saddlebred Spring Fling, Asheville Saddlebred Classic and Blue Ridge Classic before their debut at Louisville.
There were many top contenders in the class. CH Harlem's Sweet Success took reserve with Caitlin Brannon; third went to Thia Magia; fourth to Pull Up Your Socks; fifth to Jolly Mon Sing; sixth to CH Lovin' Louie; seventh to Vamoose and eighth to She's Extra Charming.
The ASB Hunter Country Pleasure Championship is scheduled as the last class of the Wednesday day session.