Two Riders and One Great Horse: What happens when you trust your trainer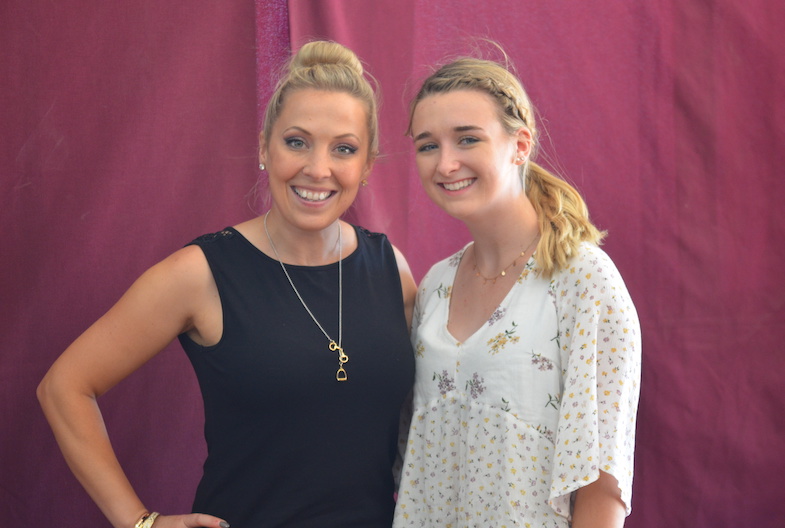 Heir Highness and Renna Russo were having a fantastic 2019 World's Championship Horse Show. The pair had taken third place in the Three-Gaited Pony Div. 1 qualifier on Sunday evening – their highest Louisville placing yet. Everyone at Scottfield Stables was excited for the pair to show back on Friday evening.
But sophomore Renna, who also plays high school tennis, had made third singles on the varsity tennis team, and there were a number of matches starting that same week. Since there were four full days between the classes, she and her mother, Ashley, thought it should be no big deal to fly home, get some rest, play some tennis and then fly back in plenty of time for Renna's championship class. When their Thursday flight back to Louisville was cancelled, they were worried, but rebooked for Friday morning and went to bed hopeful. By the time that Friday flight was cancelled as well, it was too late to start driving. Renna would not be able to show "Princess" back in their championship. But Scottfield trainer Alicia Owens thought someone still could.
Greysen Fors, who graduated high school in June, is living at Scottfield Stables.
"She is going to Kutztown University, and chose to go there so she could also apprentice at the farm through college with the hopes of being a professional once she graduates," Alicia said.
Greysen comes by her love of horses naturally.
"My mom had a training barn when I was a kid, so I've been riding since I was able to sit on a horse," she said.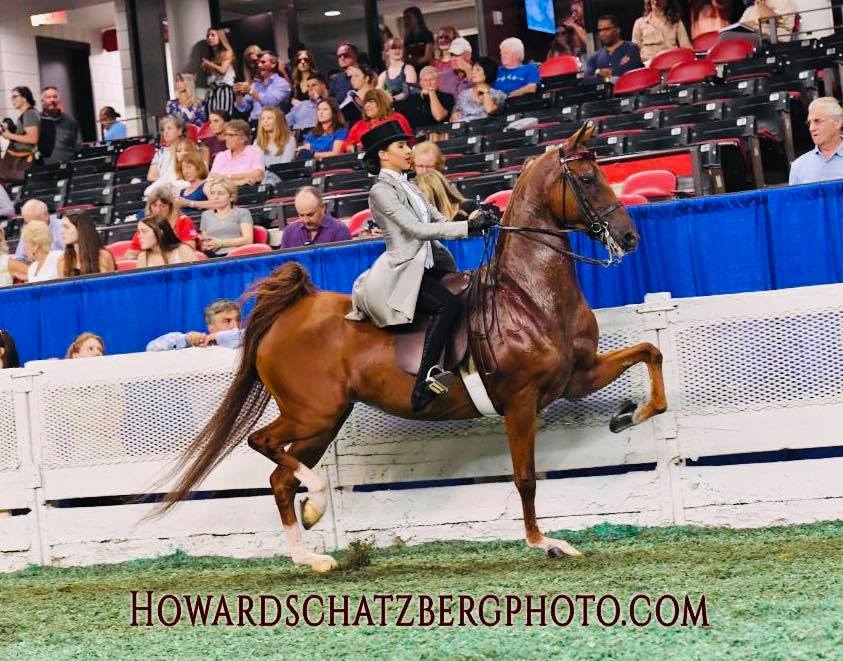 The barn, Boulder Ridge in Pittsfield, Pa., trained both Saddlebreds and Morgans, as Scottfield does. Alicia knew Greysen was an excellent rider, so while she was working horses late Thursday evening, she was also on the phone discussing with Princess's owner and Renna's grandmother, Candi Aversenti, what they could do if Renna didn't make it back.
"She was on the phone a long time, so I wasn't sure what was up," Greysen said. "When she got off, she said, 'Saddle up Princess.' She said, 'If you rode this horse, do you think you could show her Friday night?'"
Of course, Greysen said yes. She had never ridden Princess before, and only got about five minutes of a practice ride that night. But when she dismounted, she had a pretty solid opinion of Princess: she was perfect.
"She's so nice," Greysen said. "She feels fancy. She knew her job."
Candi shares a similar opinion of Princess, and after having horses in training with her for seven years, trusts Alicia implicitly.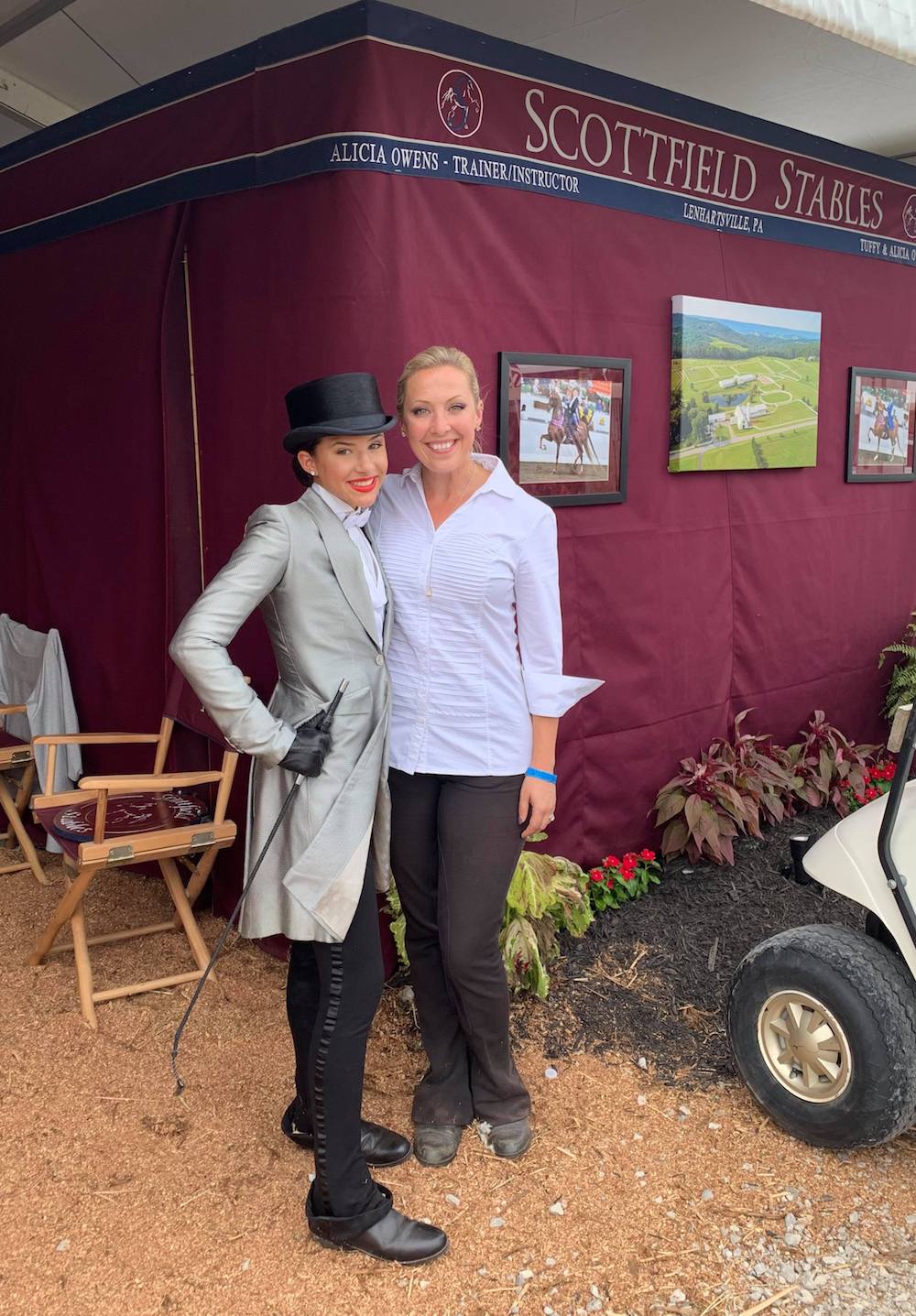 "Alicia brought up Greysen and I said, 'That sounds fine to me,'" Candi said. "It was just very, very spur of the moment. The mare had done so well with Renna in the qualifier we really wanted to see how it would turn out." Candi, however, had never even met Greysen. "I didn't even know what she looked like," Candi said. "I had to go up to her and introduce myself to her that [Friday] night."
Renna did know Greysen, and was on board with the plan, too.
"I knew that my inability to show Princess could be made better by having someone I know and respect, who would appreciate the ride, showing her," Renna said. "I knew Greysen would do well, and I am so glad that she got to do something I know is the best, which is show at Louisville! We both got to ride at the best horse show of the year, on an amazing pony, which I am beyond grateful for."
Greysen had only shown at Louisville once before, when she was in the walk and trot division, so taking Princess in the ring was going to be a whole new experience for her.
"Alicia told me that this was part of my job," Greysen said. "So my deal was I had to go in and do a good job, since this was part of what I wanted to do with my future. I had to have fun, but it was mostly a job."
Greysen's goal was to do that job well, despite all the distractions.
"It was hard to keep composure with all the people yelling in there," Greysen said. "It was exciting but crazy."
Candi thought she managed all the craziness perfectly.
"That ring is very intimidating for anybody and I thought she handled it beautifully," she said. "She really handled her ring well, horse well, the pressure, everything. I think she has a bright future if she wants to be a trainer."
Renna agreed.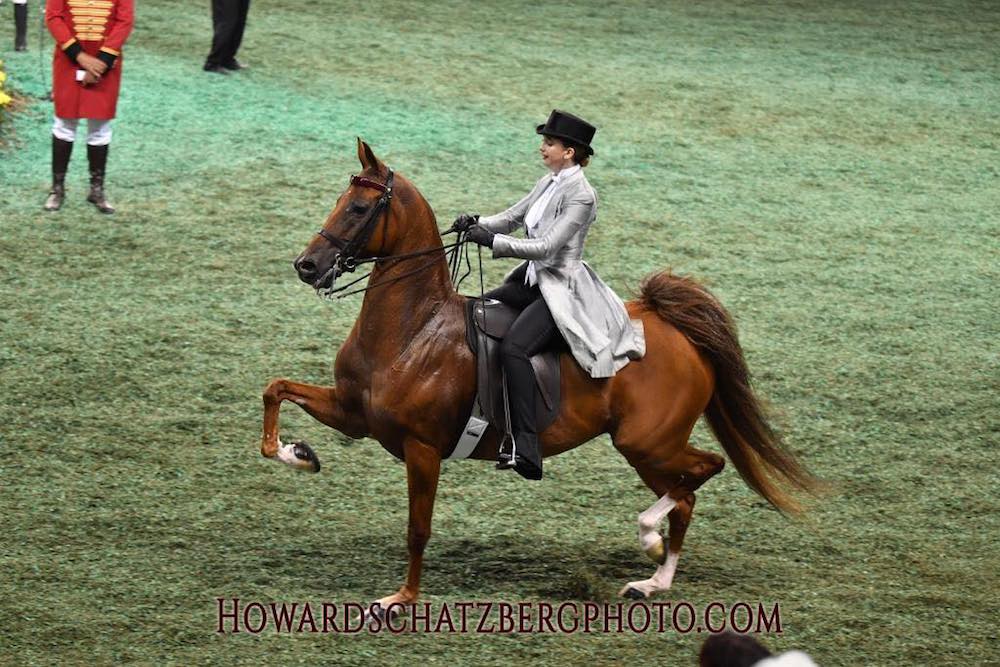 "We were able to watch every step of the whole ride on FaceTime thanks to my barn friends," Renna said. "It was so exciting! I know Greysen is a great rider and was hoping she and Princess would click, and they did! Princess looked beautiful and I was glad she was happy and trusting with Greysen."
The entire Scottfield crew was even more thrilled when Greysen and Princess received a ribbon in the large competitive class – eighth place. They later learned that the pair had even received a first place vote.
"I was shocked," Greysen said. "I was just happy to ribbon. I would've been happy if I got all eighth place votes, honestly. I'm very grateful for the opportunity that Candi and Alicia offered me – the opportunity to show a nice horse like Princess."
Of course it won't be long before Renna is back in Princess's saddle herself. She is looking to the future, and is excited to take Princess to some fall shows before giving her some time off this winter. But this Louisville memory is one that will stick with her for a long time.
"Princess has a huge heart and I'm always so grateful to ride her, and sharing that was even better than I could have imagined," she said.
As for Greysen's future, she's not sure she is ever going to want to leave Scottfield, and if she doesn't, that would be just fine with Alicia.
"I want to do this with her," Alicia said. "I told her if she wants to stay here, I wouldn't just make her an assistant, I would love to give her a string."