Jacqueline Schatzberg on Her World's Championship: "It's so amazing"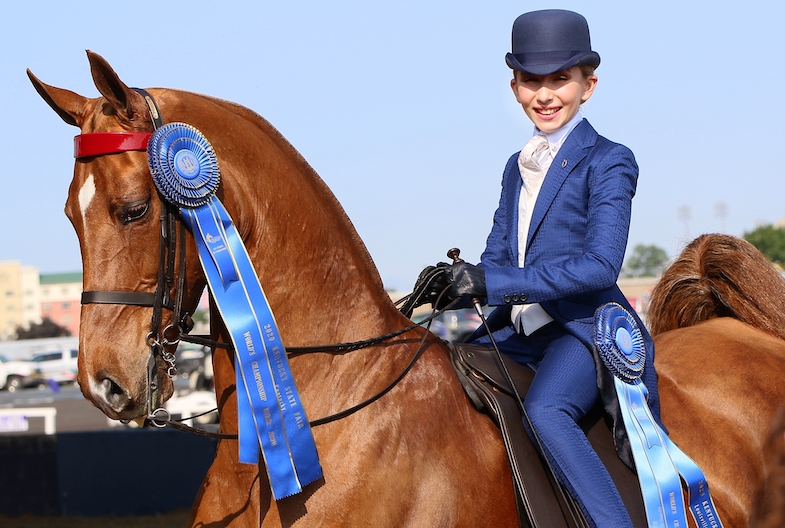 An undefeated show season is a rare feat, but that is what Jacqueline Schatzberg had achieved in the walk/trot division prior to arriving at this year's World's Championships – a record that is still in tact after her Walk/Trot Saddle Seat Equitation 10 Years Old World's Championship.
Jacqueline was born into the show horse industry due to her show ring photographer father Howie Schatzberg and mother Megan. When she began showing she started with Morgans, but recently added showing Saddlebreds and Hackney Ponies to her repertoire. At this year's World's Championships, she earned top ribbons with both.
Monday morning she made her show ring debut with Gilcrest's Billy Doux, driving him to Top Three honors in the Junior Exhibitor Road Pony 13 & Under class for owner Walter Lee and Majestic Oaks. Then Wednesday morning she returned to the walk/trot division – which she had dominated all season with nothing but wins at Carousel Charity, Bridlespur and Lexington Junior League before arriving at Louisville – to be named the Walk/Trot Saddle Seat Equitation 10 Years Old World's Champion.
Her partner for many of these wins, and the horse she rode onto the green shavings Wednesday, was CH Heir's Halo, or "Angel." Owned by Isabella Privitera, Angel is trained by Julianne Rafferty of Fire Stables and Jacqueline is instructed by Macey Miles and the team at Milestone Stables.
Here is what Jacqueline had to say about her incredible experience.