All American Cup: New look, old roots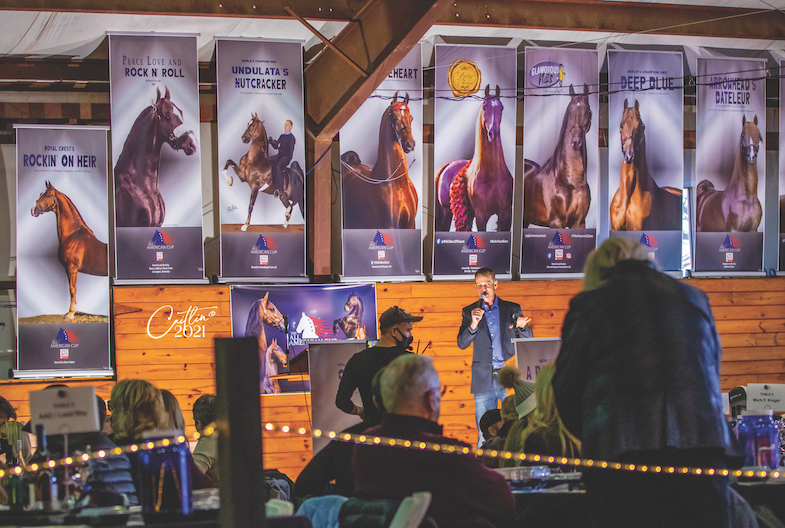 Photo by Caitlin Design LLCDespite the effects of the COVID-19 pandemic, this year's All American Cup Stallion Showcase & Auction was one of the most successful in recent years, raising a total of $160,000 – $50,000 more than last year, and the event's highest total since 2016.
As it was in most aspects of life, 2020 had been a year of loss for AAC, and with the passing of both AAC founder Jim Aikman and longtime event host Dr. Scott Bennett, exhibitors Jeff and Kristen Wells were worried about the future of the program.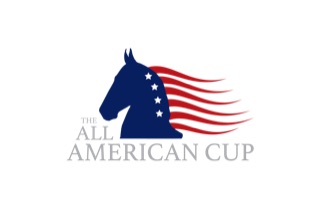 "I grew up in Indiana and watched Jim Aikman build and develop the amazing All American Cup program," Kristen said. "My husband, Jeff, and I were honored to have our first foal in the Cup this past year, and we saw both enthusiasm, and numbers of entries, diminishing."
They reached out to longtime friend Dawn Kendrick, who had spent years helping John Hale and Jim Aikman with the AAC.
"We said we had some ideas, and if we could help, we would love to get involved," Kristen said. "We understood it was an established program, but they welcomed us with open arms."
Just two months before the auction was scheduled, the volunteer team got to work, rebranding the program with a new logo, new messaging and a brand new website with individual stallion pages.
"As owners ourselves, it was important to us to provide a platform that was so beneficial to stallion owners, that they would essentially be missing out on huge marketing and revenue-producing opportunities for their stallion(s) if they didn't participate in the Cup," Kristen said.
The next step was securing a venue.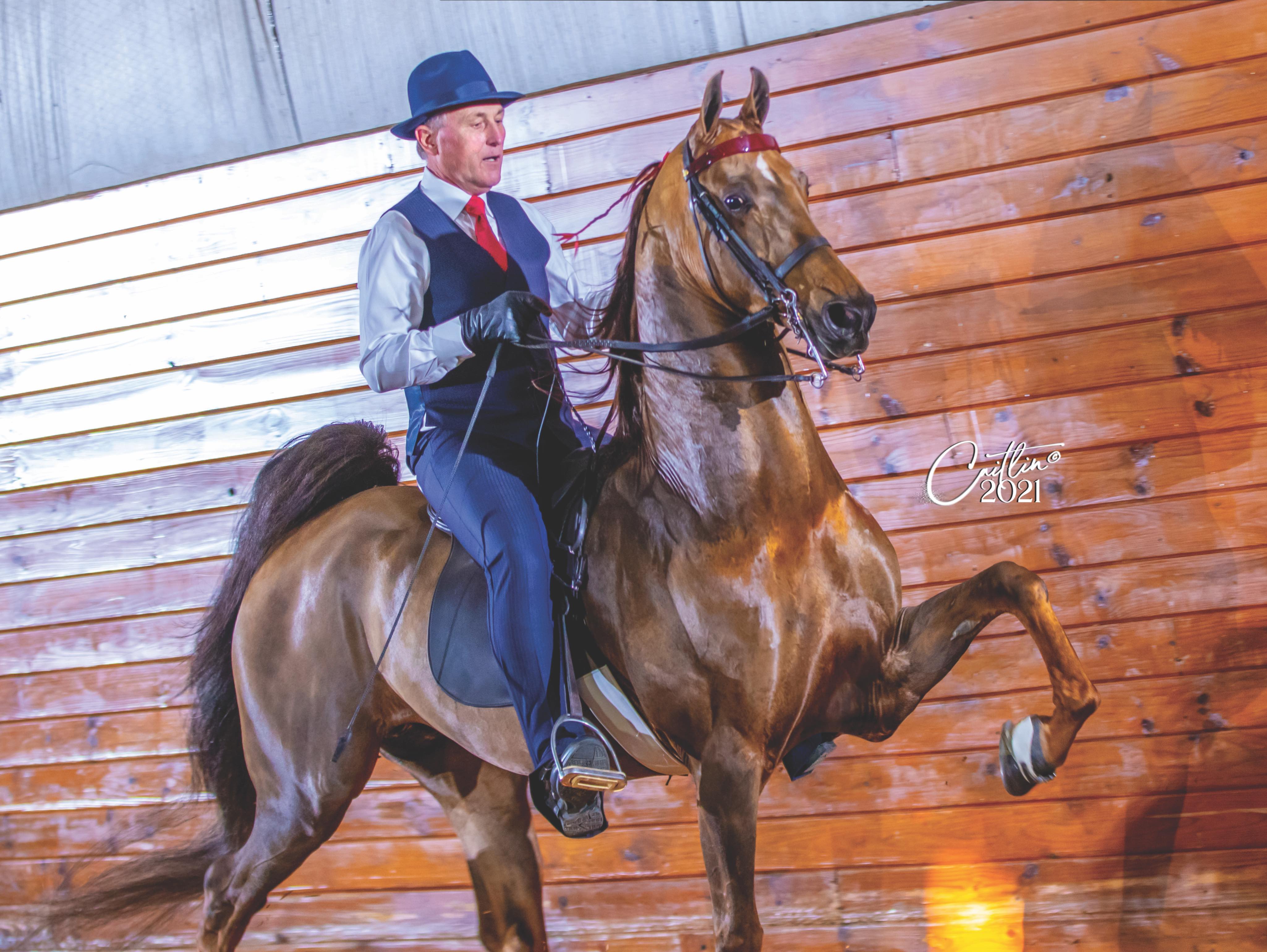 Noble Braveheart received the second highest bid at $10,000. Photo by Cailtin Design LLC"We wanted to figure out a way to have a COVID-safe, in-person event, so we could start 2021 off on the right foot," Kristen said. "After losing both Mr. Aikman and Dr. Bennett last year, we felt the best place to hold the event was back at the former farm of Dr. Scott and Linda Bennett, known as Alliance Stud, where the event had been held for many years."
There were just a few complications. Alliance had recently been purchased by Andre and Caitlin van Schalkwyk of Lead Way Farm, and Andre and Caitlin had only been on the farm for a week before Jeff and Kristen – who were essentially strangers to them – reached out. But they agreed to the plan, and things continued to move forward.
"The response we received from people wanting to attend was astounding," Kristen said. "We sold over 100 tickets in the first 24 hours! Due to COVID restrictions we put in place, we capped the event at 250 people, and the event completely sold out in just a few weeks time."
And so, on the evening of January 23, breeders and stallion enthusiasts descended on Lead Way in Simpsonville, Ky. The evening included a showcase highlighting many of the industry's top stallions, and some of their offspring, as well as a live auction of stallion services, all of which was live streamed by Richfield Video.
Nearly 100 stallions participated in the AAC this year.
"We had some of the nicest stallion owners and trainers offer or agree to haul in their stallions (and offspring) for the event, and we ended up with an amazing array of quality horses," Kristen said.
The highest auction bids of the evening were:
#1: Undulata's Nutcracker: $14,500
#2: Noble Braveheart: $10,000
#3: Arrowhead's Bateleur: $7,500
#4: Arrowhead's Unlike Any Other: $7,000
#5: Glamorous Nuts: $5,000
#6: Samur: $5,000
On Monday, February 1, an online auction will be available for any of the services that did not sell during the live event.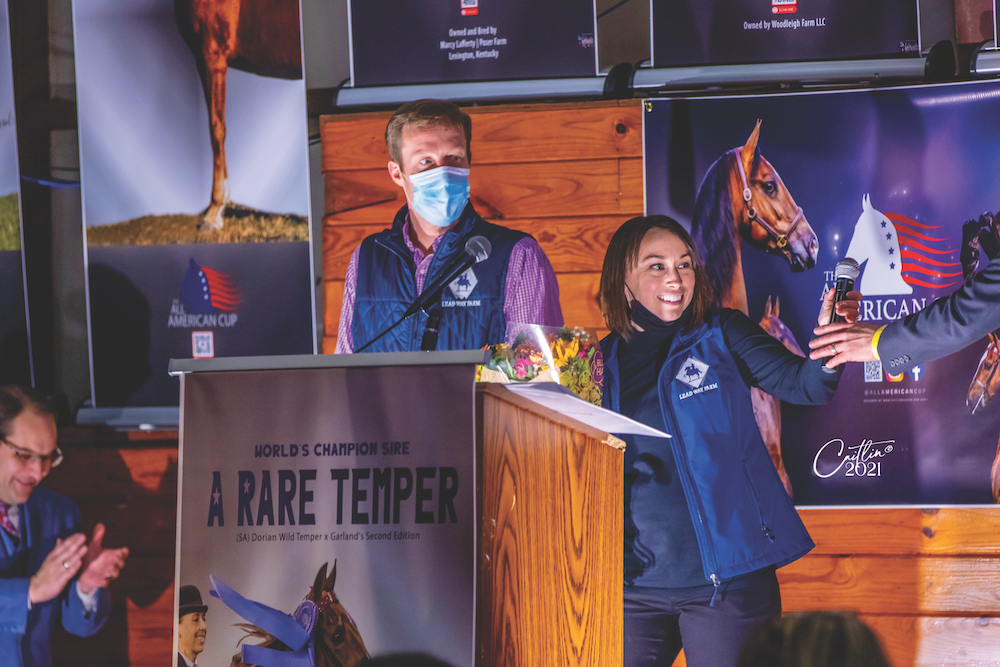 Andre and Caitlin van Schalkwyk hosted the event at their Lead Way Farm. Photo by Caitlin Design LLCThere are many people who deserve credit for the success of the event, first and foremost the volunteer committee.
"I took on all the marketing and rebranding, and a lot of the communication with stallion owners, Jeff (Wells) developed the website and planned the detailed logistics of the event, and Dawn Kendrick and John Hale continued to handle the auction and time-consuming administrative responsibilities, which they had managed expertly for so many years," Kristen said.
The event would not have been possible without its sponsors, including Devils River Whiskey, Forefront Equine, Horse Lingo, Magic Media, Caitlin Design LLC and Richfield Video.
And of course, Kristen is extremely grateful to Andre and Caitlin van Schalkwyk for hosting the event, and doing it on such short notice.
"Our hats are off to Andre and Caitlin of Lead Way Farm for allowing us to host the event at their beautiful facility," she said. "After losing both Dr. Bennett and Mr. Aikman last year, we couldn't imagine having the stallion showcase and auction anywhere else. It was truly back where it belonged."