What Makes Our World Go 'Round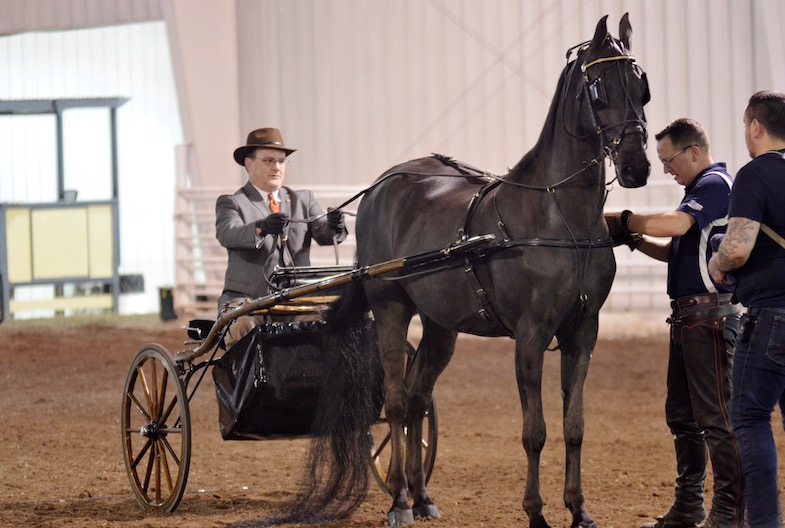 Did you ever stop to think about why we do what we do? For me, a recent experience drove that thought home.
It was actually an experience long in the making, starting with a trade of the horse Winsdown Day Trader for advertising. The plan was to take this three-year-old and sell him quickly.
My friends Louise Gilliland and Randy Waller agreed on the horse, and he showed up in Missouri to begin his journey. But then Randy moved to Orlando and retired from the business, so off to Reiser Stables Day Trader went, also a trade for advertising owed. After a year on the Kentucky circuit, we sent him to friends Scott and Carol Matton at Knollwood, thinking pleasure was his calling. Then, since my young teen daughter had fallen in love with him (okay, maybe we all had) after about a year there he came home and settled in as my daughter's pleasure equitation horse at Star Galaxy Stables.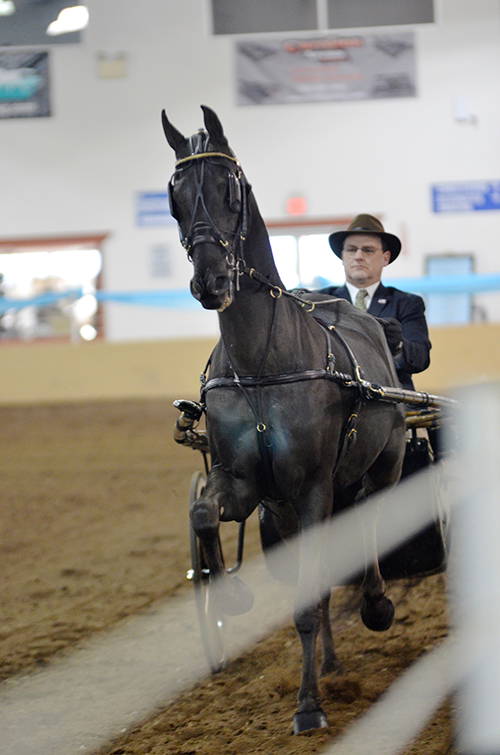 Those were fun years, close to home, great people … until that barn closed. So off to Glendale Stables and the talents of Kent Swalla we went, which was convenient, as my young teen was now a college student at Truman University, making Glendale Stables the exact halfway point between Kirksville, Mo. and our home in Creve Coeur, Mo. Day Trader was regularly ridden by my daughter, Kari, and shown locally. All was good. Daughter happy, dad could see daughter regularly, great new barn mates that were already friends…
"Dad, I'm going to study abroad this semester." Those words instantly crushed my happy coexistence of having a college student that was still showing. There is no taking a year off from training in the show world, at least not for Day Trader. So what's a dad to do, owning a horse, paying for its training, but not having a rider? Kent Swalla had the answer (of course)!
"Why don't you ride him?"
"I have no suit," I exclaimed, "and I'm not paying for a 48 portly suit for two shows!"
Kent was unflappable, and said, "Can you get a hat?" That I could do! Next thing I knew I was taking weekly driving lessons. Though I had never driven before, it was seemingly easy. I felt ready. Then came the Bridlespur Horse Show and an actual pleasure cart, meaning actual tanbark was being flung at me and hitting my gigantic smile right in the teeth. It was all a blur. I noticed that an old Patsy Cline song that was playing for some reason, and then I noticed Laura Logan had a very nice horse in the ring with me. I was in a real class, the first class, in fact, for the Missouri show season, and I had a competitor!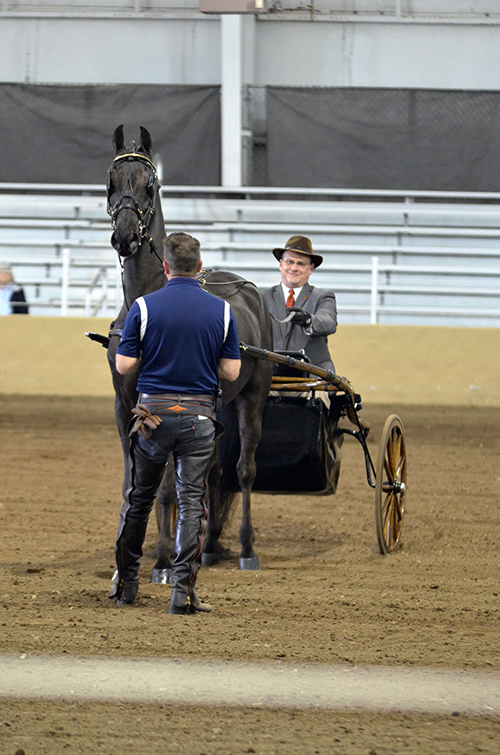 As John Frye guided me into the line-up, I thought I'd done well; it had been 40 years since I had last been in the ring and I survived. Laura Logan was the winner, for whom I was thrilled … so thrilled that I forgot my reserve ribbon. But I had survived, and it seemed like a dream.
So that is the odyssey of how I found myself in the show ring after a 40-year hiatus. I will say it's different as an adult. I'm a rookie. I didn't see anything but a set of ears in front of me the whole time, but I was happy for Laura, and she was gracious in complimenting me as well. On the way back to the stalls, and especially walking back to the ring, the congratulations from friends, customers and associates (many of whom are one and the same) made me realize why we catch the show fever. I knew about this fever, but I remember thinking I was cured of it when I went off to college. Apparently it never goes away. I think I'll try again at Nebraska, but my daughter will probably feel differently about sharing her horse. Plus she has a new Frierson suit that also must be worn!
I don't know how long it's been since a publisher of Saddle & Bridle actually did an ad for himself, but I did in what I'm now calling our Commemorative May Issue. It's a crazy world, this horse show business. But advertising is so affordable to make these memories last; I'll have that issue on the coffee table for some time. As my daughter sarcastically pointed out I'm not smiling in the picture. For the record, I was concentrating, and I was keeping the dirt out of my mouth.
But I'll try to smile next time, as it was a fun weekend, and I think that's what makes our world actually go around. Fun with the horses, fun with the barn mates, fun with the show officials, fun with the family, and mostly fun with all my friends. Thanks for clapping!