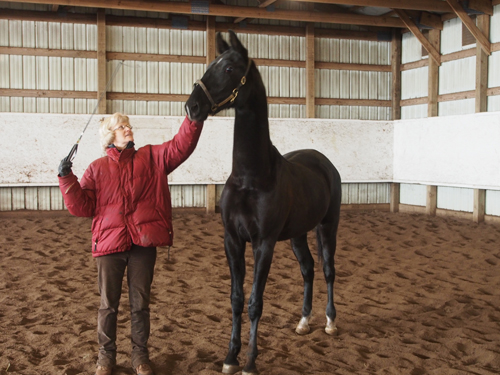 There is a reason for the saying, "If Kentucky made the Saddle Horse, then Missouri made him better." The Show Me state has a long history with Saddlebred horses; among others, Missouri lays claim to horse trainer legends Art Simmons and Tom Bass, as well as the renowned breeding establishment Callaway Hills Stable, from which hail many of the champions of both today and yesteryear. While The Kentucky Horse Park has its American Saddlebred Museum, the Audrian County Historical Society in Missouri had one first with its American Saddlebred Horse Museum; in fact, the great horse Rex McDonald is buried on the grounds. And while Kentucky may be home to the World's Championship Horse Show, Missouri is home to the National Championships, at Kansas City's American Royal. And, of course, it is of particular interest to us at Saddle & Bridle Magazine as we also call it home.
Yet it has been a struggle lately to keep the Saddlebred legacy alive in Missouri; the loss of the horse show facility at the Boone County Fairgrounds was a tough blow, and the future of the American Royal, too, remains uncertain. And, as always, it seems that as many of the great trainers pass away, it will be impossible to find others to fill their shoes. Luckily, though, there are some who are keeping the torch burning, and on a recent trip to the Columbia area I got the opportunity to witness their work first-hand.
Brenda Benner Stables
Columbia, Missouri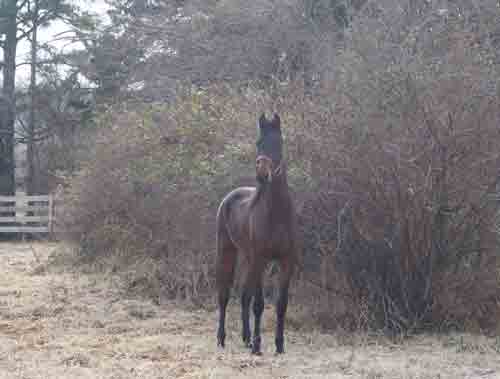 Before I saw the horses I saw the dogs. There were three of them, and they came barreling toward me as soon as I cracked open the door at the end of the barn aisle. I ignored them and marched past the stalls in search of Brenda, and just as I suspected the barks slowly subsided as they trotted alongside me; maybe I was all right after all.
It only took a minute for Brenda to appear (the ruckus caused by my entrance may have tipped her off) and as she gave me a tour of the facilities she told me her story. The dogs, it seemed, were the product of her work with the Humane Society. She fosters many dogs, and subsequently falls in love with and keeps a number of them; it was my first indication as to Brenda's character, and my initial judgment continued to be proven accurate throughout the visit.
Brenda built her Columbia barn in 1992, after leasing a barn at a different location since 1988. She is an area native through and through, attending the nearby William Woods University for college and teaching at Stephens College from 1987 to 2000.
A horse trainer's philosophy can often be gleaned just from walking through a barn aisle, and at Brenda's it became quickly apparent that her training philosophy is one of mutual respect, as her horses were friendly but not pushy, and bright-eyed but not fearful, from the training horses to the babies, and even her breeding stallion.
Brenda is very proud of the stallion, Globetrotter's Ally Oop, who she raised and stands at her farm, and rightfully so. The gorgeous black Harlem Globetrotter stud is reminiscent of his sire in everything from his looks to his exceptional attitude, both of which he is passing on to his own offspring.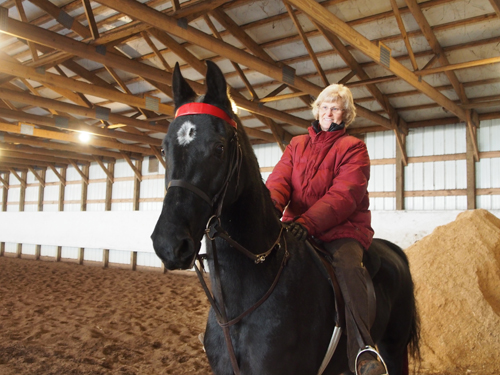 One of his 2013 foals was turned out in the front pasture when I arrived – a bay colt, all neck and ears, flaring his nostrils at my camera and striking a pose. He is out of the mare April McGayle by Radiant Sultan. His name, Keepondreamingtilyourdreamscometrue, may be one of the longer ones in the ASHA registry.
Globetrotter's Kissin' In The Dark, another coming two-year-old, looks more like Ally Oop in the color department. He is pitch black with a small white star and snip, and is out of Merry Missouri, by Callaway's Northern Kiss. "Hootie," as he is called, already has a successful show record, taking eighth place in the Indiana Futurity and winning the Missouri Futurity Yearling Colts and Yearling Championship. When Brenda turned him loose in the indoor arena and then subsequently stood him up and stretched him out, it became obvious why. Brenda is happy with Ally Oop's success so far, and is excited for foaling season, as she has three more mares due this year.
It was a quiet day on the farm, but when we finished viewing the babies, I was able to watch Brenda work Fortunate To Be Me or "Toby," the five-year-old western horse owned by Becky Petteway. Becky bought him right before show season last year, and he had only been shown a few times in the park pleasure division.
"He was not western so we had to use our imagination a little bit," Brenda said. "But we're both a sucker for a pretty horse."
Brenda showed him at Central States that July and took second out of six in the Open Western Pleasure class his first time out. At the All American Horse Classic a few months later he took second again, this time in the Western Country Pleasure Prospect class, earning $1,370 in prize money.
He is just one example of the talent tucked away in Brenda's barn, and it comes in the form of a couple of different breeds. In addition to the Saddlebreds she has in training, Brenda also trains a couple of Hackney ponies, including the pleasure driving star, CH Velvet King, and American Royal UPHA Harness Pony Classic Reserve Grand Champion Radiant Doll, both owned by Sue Courtney.
But this is classic Brenda. Regardless of the breed or discipline – Saddlebred or Hackney, saddle seat, western or driving – her main goal is to introduce people to the horse industry and hopefully find a spot for them where they are comfortable.
"Whether they own, lease, or take lessons, we need to keep them in our industry," Brenda said. "Things have changed a lot in the past few years and we need to have happy customers in the business."
After visiting Brenda's barn, I'd be willing to be that hers are.
Virgil Helm Stable
New Bloomfield, Missouri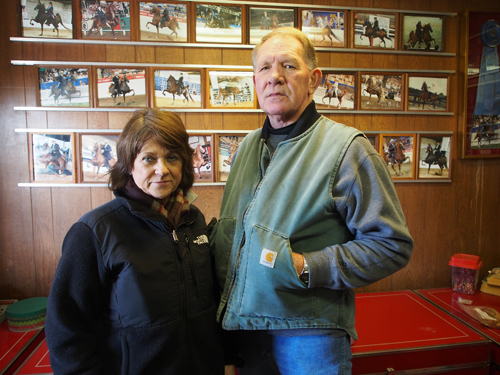 "We'll show you our breeding stallion, Arizona," Sandra said happily.
I had just arrived at Virgil Helm Stable and Virgil and his wife Sandra both kept talking about this horse called Arizona. I was interested, but not exceptionally excited, as I knew Virgil Helm Stables had been home to the great Desert's Supreme Memories, and I had some severe doubts that this replacement could stand up to him.
But as we made the short walk back to the stud barn, I received a bit of a shock; Arizona wasn't a replacement for Desert's Supreme Memories. He was Desert's Supreme Memories, still very much around.
I had made the assumption that, because he had been a legend to me during my childhood, he would be gone by now, along with so many other greats of the breed. But at 23 years of age, Arizona, as he is apparently called by those who know him best, is living the high life at Virgil Helm Stable, still siring a number of offspring each year.
How I missed this crucial bit of information is anyone's guess, but my excitement level had skyrocketed when I figured out what was really going on. We stepped into the stud barn and in a roomy stall at the end of the aisle, there he was. Even with his winter coat he was handsome, and stood calmly as I admired him and snapped a few pictures. Both Virgil and Sandra filled me in on his story.
When Virgil first saw him as a weanling he was impressed, and he never forgot the horse.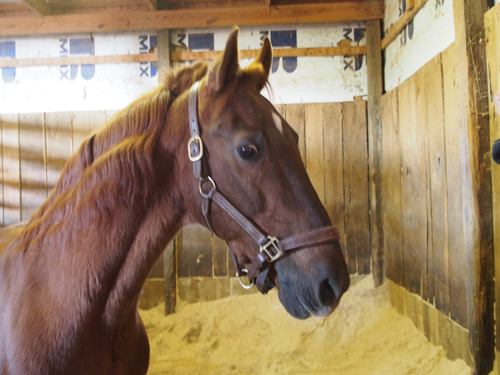 "He was such a pretty colt, and really stuck in your mind," he said.
It was in 1995 that customer Sydney Eden Smith bought him, and the pretty colt, now almost four years old, finally came to Virgil's barn. He hadn't done much yet in the breeding shed and had never worn tack, so Virgil broke and gaited him. When they hit the show ring together, it was clear that Virgil had been right about his talent. He took the Five-Gaited Stallion Stake at Louisville in 1999 for new owner Roberta Rassieur, and went on to win the same class at the Royal later that season. He repeated his Royal win again in 2000, after taking reserve in the Stallion Stake at Louisville. A few years later, in 2004, he would reclaim his Louisville honors, once again being named the World's Champion Five-Gaited Stallion.
In the breeding shed he was just as much of a success, siring good-thinking horses with game, go-forward attitudes, that hook up and wear a bridle well. Some of those horses include WGC CH Real Action, CH The Evangelist, CH So Audacious, CH I'm Goin' Out Tonight, CH Desert Supreme Kid, CH Bono, CH Can You Hear Me Now, CH What Was I Thinking, Re-Energized and Pass With Care.
It is Sandra who names most of the babies, of which there are many, including a full sister to Real Action, Real Attitude, and the ASR National Three-Year-Old Five-Gaited Futurity winner Man On The Move, owned by Gayle Lampe.
Virgil has a special touch with the young horses, and it became obvious when I returned the next day to watch him ride, long line and even free-lunge colts in the bullpen. I also noticed that he spent more time on each horse than trainers often do.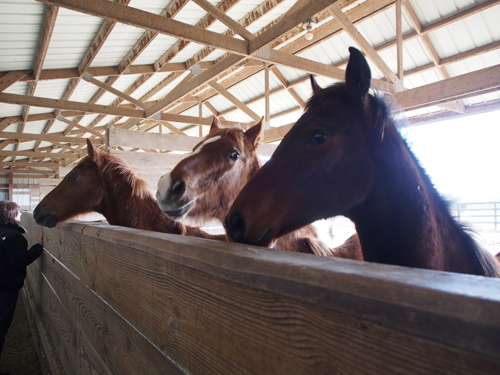 "With a broke horse all you need to do is exercise them," Virgil said. "But we have so many colts you need to take a little more time with them."
And the time he's taken is apparent. One quiet word under his breath can move a colt in the bullpen from a strong trot to a walk and then a halt in just seconds, the youngster stopping calmly and turning to look at Virgil for his next direction.
The bullpen itself is of interest, as it is just one of the innovative features the barn offers. Virgil and Sandra designed the facility, adding on to it through the years as needed. The main barn includes an aisle wide enough for riding, with a large turn around at one end, and the bullpen situated halfway up the aisle with stalls on either side of it. There is also a heated indoor wash rack, separate barns and pastures for the babies and Arizona, and a beautifully manicured stretch of fence line for riding outside.
"We were originally going to have 18 stalls and now we have 52," Sandra said.
It's a story that's not uncommon, at least when you're a success.