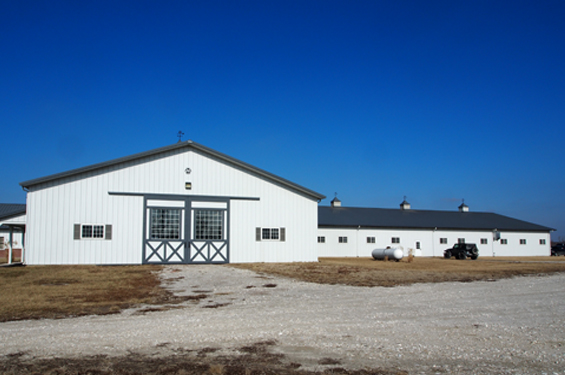 Part 1 discussed the history of Saddlebreds in Missouri, and how much had changed since the old days. It is a sad fact that one faces in every aspect of life; nothing is ever how it used to be.
Yet as I began my journey, wandering from barn to barn, first witnessing the work of Brenda Benner as well as Virgil and Sandra Helm, it became clear that all was not lost. A number of dedicated trainers are protecting the legacy of Saddlebreds in Missouri, and my next two trips solidified this belief: there are still amazing things happening here in our "home state" and there is still much to celebrate.
High Spirits Farm
Ashland, Missouri
Robert Gardiner is not from Missouri originally, but when he arrived in November of 2011, he made it his own. He had already been training Callaway's Blair for owner Anna Marie Knipp from his previous location in Illinois, and when she asked him to come train for her full-time, he surprised her by taking her up on the offer. Since then, he's made the most of it, enjoying much success in the show ring and making a number of exciting changes to the facilities at High Spirits.
"I'm into old, traditional stuff," Robert said as he showed me around.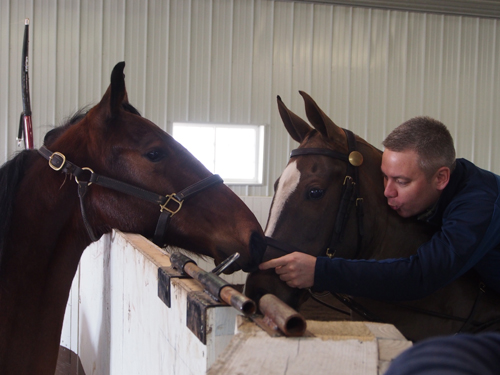 He loves formal tack rooms at horse shows and even has one at home; it is impeccable, with bridles hung in identical fashion on the wall, and the harnesses stored inside glass cases to escape the dust. Halters have two hooks at High Spirits, so they sit straight on the doors rather than flopping over themselves. Robert sees and cares about the details.
The barn has two aisleways, both of which lead to the indoor arena, and the whole facility is heated to a steady 60 degrees – a blessing in January. A solid bullpen sits inside the arena, along with a couple of stalls. On the other side of the arena is a gorgeous lounge as well as Robert's office, but you'll rarely find him there – you'll find him with the horses.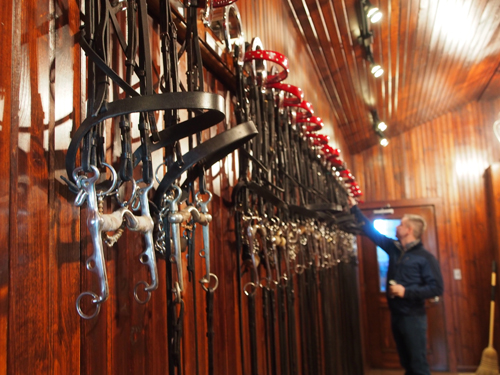 Most of the current show string was let down for the winter and, in fact, when I first pulled up to the barn I spied Robert's special mare VHF Belle Epoque, the harness horse Magical Promises and the Hackney pony Manitou, all turned out in the front pasture together, looking happy and content. The two horses began to walk toward me as I approached the fence, but when I pulled my camera out to take a picture they stopped suspiciously. Heads came up, and Belle Epoque snorted, spun and did a little dance. Belle Epoque, or "Sweet Pea," was retired at the American Royal a few short months ago, but Robert is excited for her future as he has four of her babies due this year, three by At Night and one by Kalarama's Ultimate Choice.
The first horse I saw Robert work was a sensational gaited colt called Attitude Blue, a full brother to WGC Bravo Blue. He was unable to show last season because he ulcerated his eye on two different occasions, but Robert is excited for his debut this year. He is gaited, just like his famous brother, and seems to have the same exceptional ability.
I watched a number of other talented prospects perform as well, under saddle, in the jog cart, and in long lines, brought out by both Robert and his team.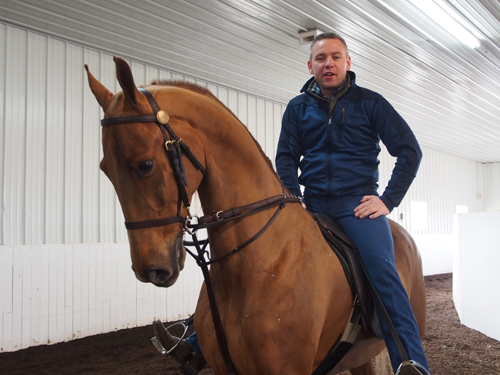 Assistant trainer Juve Turrubiartes has been with Robert for ten years, and been an invaluable asset to his training program. He jogged many horses that day, often while Robert rode one, and the two of them have been working together for so long that they seem to know exactly what the other needs or wants, without even having to say it.
Another assistant, Bryce Smithwick, has been on the job less than a year, having graduated from William Woods University in May, but he has already proven that he has an excellent touch with the young horses. He loves being the first to get on the youngsters, and on this particular day he was getting on a two-year-old filly for just the second time, with Robert's help. It was perhaps the most telling moment of the visit, as I was able to witness two horsemen in full concentration, doing what they do best.
They worked the filly in the bullpen first, to get out any excess energy, and then halted her. With Robert cupping her left eye to prevent her from spooking at the sight, Bryce carefully climbed aboard. The filly was a little nervous and walked off, but Robert followed calmly at her head. In a moment he moved back into the center and asked her to trot.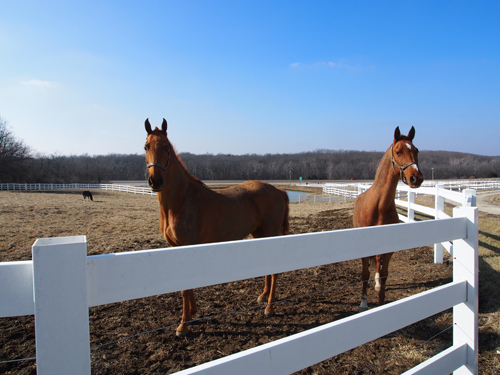 Bryce rode quietly and efficiently, and Robert guided her from the center of the bullpen with the lunge line, watching the filly's every move. You can do lots of groundwork leading up to it but, in the end, training a horse to be ridden is something that can only be done by riding, which means it will always be at least slightly dangerous. But, just like the day before, the filly made no offer to misbehave, and everyone was pleased.
When Robert halted her after her first couple trotting laps, he walked up to her and began stroking her neck and talking to her – "throwing her a party" for her accomplishments.
"Good girl. What a smart girl," he said. "What a beautiful filly."
His words and touch calmed the anxious filly; she gazed at him with trusting eyes.
This was the moment I felt I really understood Robert and his connection to his horses. This is what High Spirits is built around. And this is what keeps them in the top ribbons at horse shows and, perhaps more importantly, in the hearts of their horses.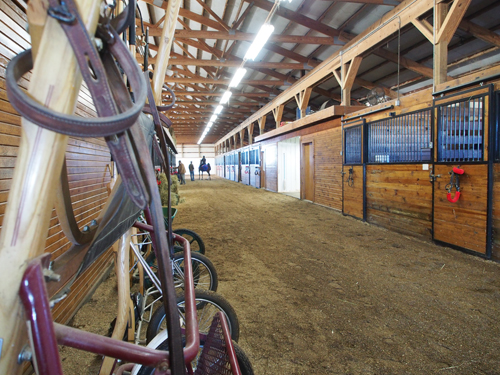 Mike Roberts Stable
New Bloomfield, Missouri
I got lost on the way to Mike Roberts; it was one of those situations where, even though I had a vague idea of where I was going, I relied too heavily on GPS, which failed me miserably. I drove in circles for almost an hour before calling the barn and getting help from Mike himself. Well, for starters, you're using the wrong address, he said, and cheerfully gave me directions.
As I sped toward the barn as fast as I could on windy country roads, I worried that by the time I finally arrived all the day's activity would be over. The thought is laughable now – Saturday mornings at Mike's are a party, and even as late as I was, it was well-worth the trip.
The set up at Mike Roberts Stable is all under one roof, like one giant indoor arena, with a lounge, tack room and stalls in the center and more stalls down one long side. I entered through a small door on the turn, and was greeted by the sounds of laughter and friendly banter, and a dozen or so people gathered around the lounge at the barn's center. Saturday, it seemed, was customer day.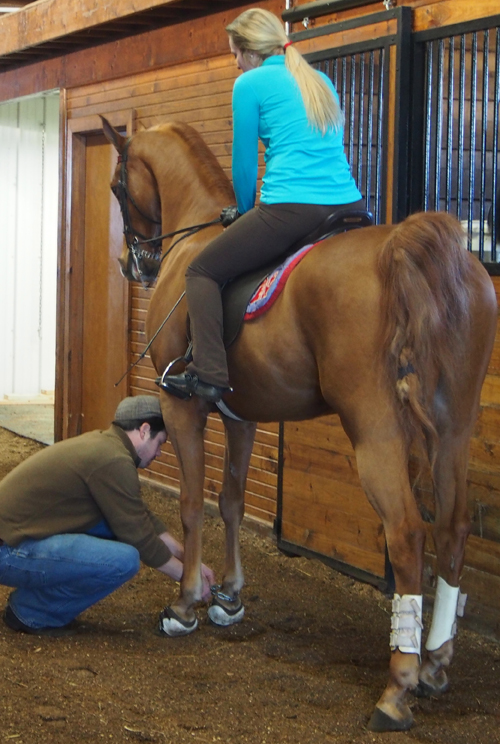 They visited while others rode, encouraging each other and telling stories. Though they were clearly a close-knit group they were welcoming, and I was quickly assimilated into the conversations. It was during this time that I got to talk to Mike and learn some of his own story.
He got his start with Missouri Fox Trotters as a child, but it was the walk/trot horse Jack B. Nimble who first introduced him to the American Saddlebred; he never looked back. After attending college at the University of Missouri, he became a schoolteacher for a number of years. It was only later that he entered the horse world professionally.
Now, teamed with Jeff Vogel and Zach Duffy, he has a perfectly balanced trio, and the three of them make a truly unbeatable team.
"Jeff seems to have his niche with the juvenile and amateur riders, Zach is the consummate trainer who is exceptional with the young horses and maintaining the finished horses and I truly enjoy supervising the operation and going out and finding the next great one for us," Mike said.
The truth in this statement was made obvious that very day – the quality of horses a reflection of Mike, their condition and ability a reflection of Zach, and the knowledge and skill of the riders a reflection of Jeff. Perhaps most impressively the three of them work together seamlessly, each knowing when to step in and when to leave the job to another.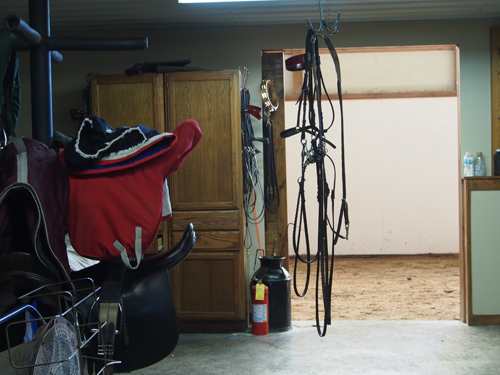 A number of horses were presented, including the striking three-gaited mare Talk About Luck, ridden by owner Lauren Osborn, and the handsome western horse, Best Beau, with owner Carolyn Hardaway.
Carolyn was working to master the circle at the lope, and while Mike, Jeff and Zach were all present, when she had a moment of trouble everyone knew to allow Jeff to take over and coach her through it; he did so with patience and clear instructions. It is this orchestrated dance that makes the place run so smoothly, and in the end, makes it such a success.
Even at this time in mid-winter the horses looked show ready, clipped and coats shining, bright, fresh and ready to hit the in-gate. Mike is ready, too. He is particularly excited for the 3-year-old gaited colt, Back At It, and the junior mare Callaway's CeCe And Seven, by Callaway's Cranston. With all the talent in the barn, there is much to look forward to.
But, whatever else show season is this year, there is one thing you can bet on with this crew – it will probably be a party, and the Mike Roberts Stable group will be enjoying it every step of the way.