Kelly Hulse: Directing the Stephens College Saddle Seat Program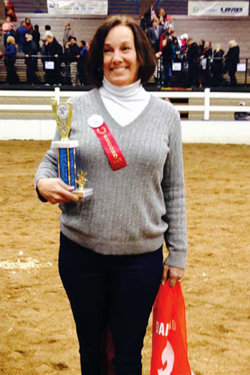 When she took over heading up the Saddle Seat discipline of Stephens College's equestrian program in July 2014, Kelly Hulse was already an Adjunct Professor there since the Fall of 2013.
"I was so excited and happy to be able to continue working with the girls I had come to know well."
After Stephens College advertised in a national search for the full-time position, Adjunct Professor Kelly applied. Following the review of all the applicants, the school's selection committee offered the job to Kelly.
In her Stephens job, Kelly teaches "three riding/driving classes, currently using 16 American Saddlebreds, Hackneys, and Morgans," she said in our December interview.
"I never have more than eight student riders/drivers in a class. I usually break down my classes into groups so I can spend more one-on-one time with the combinations," she said. Kelly also does classroom lectures.
"I currently teach the Stable Management class," she said.
"This course deals with the in's and out's of operating a barn. I spend time covering such topics as daily, weekly, monthly, and yearly tasks. We go from seeking out property to constructing a facility from scratch. I also spend time on insurance for business as well as for horses. I discuss finding and purchasing such things as hay, grain, and sawdust, and seeking out respected needed professional service providers such as veterinarians and farriers. My experience running and operating our own business for the last 25 years has been a huge asset in the course."
Her reference to "running and operating our own business" comes from Kelly's role as Mrs. Mark Hulse. She married horseman Mark in October 1990.
Since their marriage nearly 25 years ago, Kelly has served "as owner, trainer, instructor, breeder, and business manager for Mark Hulse Stables," which is located in New Bloomfield, Missouri, just across the Missouri River from the State Capitol in Jefferson City.
Now, with her full-time job at Stephens, Kelly said, "We are in the process of moving to Columbia and selling our farm. Mark is currently working at Middendorf Farms so we could downsize our operation with me now working full time" in Columbia. The farm of long-time show horse people, Sydney and Garland Middendorf, is in nearby Harrisburg, which is a short drive from Columbia in eastern Boone County.
Another course Kelly teaches is Methods of Teaching.
"This course has five levels and is used as a tool to help the young ladies learn to incorporate methods of teaching riders. Depending on the level they are enrolled in, their involvement in riding class varies. I spend time each week with each student, one-on-one, discussing options to use for each rider in her appointed riding class. It is exciting to experience the growth of their teaching skills as they journey through the teaching tech levels."
Kelly meets with those in her Horse Keeper class three days a week.
"I assigned each student in this class a string of horses at the beginning of the semester. Their strings include horses from all the disciplines. This is a great learning experience for the ladies as each is dealing with the daily care of horses inside her string. This includes management of health, exercise, grooming, and general all around responsibilities for each individual to her string for the entire semester. This is an upper level course and the girls must be fully committed to their horses," Kelly emphasized.
What is a typical work day for Kelly?
"I am at the Stephens barn all day. When I am not doing lectures or teaching riding/driving classes, I am meeting with girls about daily activities in the barn. I also attend many meetings and functions with other faculty members and staff. Here at the school, we spend a lot of time collaborating to make Stephens a well-rounded journey for all of our young ladies."
She also is involved with her "Saddle Seat students' participation in the school's Prince of Wales Club." Started on October 12, 1926, the Club is the country's oldest continuously active riding club in America."
Stephens College itself is the second-oldest women's college in the United States. It was originally opened in 1833 as the Columbia Female Academy. In 1855, it was re-named the Columbia Female Baptist Academy. Stephens College got its current name in 1870 after James L. Stephens endowed $20,000 to the school.
Today, the school is continuing to upgrade and expand its equestrian work.
Kelly revealed the Stephens equestrian "curriculum currently is being revamped."
Starting this month, January 2015, Kelly teaches a new course — Saddle Seat Training Techniques.
"I am super excited about this new course Stephens is letting me teach," Kelly told me.
"I am going to touch on many topics of Saddle Seat training that include specific long lining and jogging techniques, horse show tail-bracing, tail sets, and switches. Also, I would like to touch on motion enhancers and specifics of farrier science pertaining to the length of a hoof and the weight of shoes. Also, I want to cover bits and colt training."
The class "is full and I am super thrilled that I have many young ladies from other disciplines enrolled in my class. The ladies have been asking me to spend time on some of these things, but I have not wanted to take time out of their riding classes to address these issues."
Another class Kelly teaches is Horse Show Preparation.
"This course is designed to help our ladies get proficient in techniques used to prepare and compete in the prospective disciplines. Many of the ladies have not had the opportunity to actually do the preparation on horses going into the show ring."
Kelly said her students "really soak up the information and love all the time we spend out in the barn practicing what we learn in the classroom. Stephens is not your ordinary college. We spend an extraordinary amount of time individually with our students. We all have a lot of respect for each other."
Kelly knows first-hand how Stephens approaches its students' education.
She entered Stephens in 1982. In 1984, Kelly served as the Head Instructor for Stephens' Saddle Seat Summer Camp.
In 1985, she "began an internship at Barry Marshall Stables in Scottsdale, Arizona." From there, she "went to work for Kelwood Stables from 1986 to 1987" in Oregon City, Oregon.
This was a return to "home" for Kelly.
"My family had moved to Oregon in 1978 when my dad, Fred Baltz, retired from the military. He was in the Air Force for 30 years and retired as a full Colonel. My father was born in Oregon. My parents purchased property with a barn in Oregon City where my mom, Peggy, operated a boarding facility. There I showed in juvenile three-gaited and equitation under the guidance of Dick Boettcher of Seattle, Washington."
Earlier in her life, Kelly got "hooked immediately on horses" with her first horse that her parents bought for her "after my dad was transferred to Scott Air Force Base in Illinois from Washington, D.C. where he had worked in the Pentagon for six years." They actually lived in the D.C. suburb of Clinton, Maryland.
Of those six years, Kelly said one of her "greatest memories was going out to Andrews Air Force base and getting a private tour of President Nixon's Air Force One plane. I still have a deck of cards they gave us as a souvenir."
Before Kelly's father was transferred to D.C., he was stationed in Taipei, Taiwan. My dad met my mom in Mississippi and I was born in Denver, Colorado. While a baby, we moved to Taipei. My mom tells me that before I spoke English, I spoke Taiwanese learned from our maid named Kay. I do not remember any of it," Kelly noted.
"I was age nine when my parents bought my first horse. They also got a horse for my brother, Van, and my sister, Stacy. I was in about the third grade at the Mascoutah school located just outside of Scott Air Force Base. I starting taking lessons from Ruth Palmer. My mom would drive me after school for my lessons on the other side of St. Louis. I rode there only briefly but I did have the opportunity to show one time that, I think, was at the Emerald View Stables show."
Over the years, "I grew more involved with horses and my parents were very supportive of me. They purchased several horses for me throughout the years. We attended several shows but the highlight of the year was always to go as a family down to Arizona for the Phoenix A to Z show each Spring," Kelly said.
In 1989, Kelly became the instructor at Sea Beauty Farm in Chesterfield, Missouri, where she worked for a year before getting married in 1990.
Since her marriage, Kelly's work with Mark Hulse Stables horses has helped to rack up "42 World or Reserve World Championships, while serving as trainer/instructor."
She is a licensed Large R USEF judge in Saddle Seat Equitation, Saddlebreds, Roadsters, Hackneys, and Friesians.
Kelly instructed Scott Pisarik, the 2003 & 2004 Missouri Horse Shows Association Saddle Seat Medallion Finals Champion. She was the instructor of Brittany Rock, the 2004 & 2005 National UPHA Exceptional Challenge National Champion.
In 2006 and 2009, Kelly was honored as the Missouri Horse Shows Association's Horse Person of the Year. Yes, she did win it twice.
From 2003-2010, Kelly was a board member of the Missouri Horse Shows Association.
In 2010, Kelly trained and rode WC El Matrero, the Ladies Five-Gaited Gelding World's Championship.
This past Fall, Kelly guided Stephens riders in their show efforts at the American Royal National Horse Show in Kansas City, Missouri, at the Kemper Arena.
Here are some of the results of their showing:
Senior Taylor Bernstein and Undulata's Health Nut (Peanut) - 4th in the Open Park Missouri Kansas class and 1st in Open Park Missouri - Kansas Championship
Senior Cara Wolf and A Silver Charm – 2nd place in Missouri Kansas Amateur/Junior Exhibitor Three-Gaited; 2nd place in Missouri - Kansas Amateur/Junior Exhibitor Three-Gaited Championship
Junior Delynn Uttecht and Arrowhead's Dreamcatcher – 2nd place in Missouri - Kansas Amateur Five-Gaited and 2nd place in Missouri - Kansas Amateur Five-Gaited Championship
Sophomore Erin Cummings and Cool Down Papa – 2nd place in Missouri - Kansas Five-Gaited Show Pleasure
Sophomore Juliana Himmel and Just Special – 2nd place in Missouri - Kansas Three-Gaited Show Pleasure Adult and 4th in Missouri - Kansas Show Pleasure Adult Championship that had a class of 18 riders
Freshman Rachel Cummings and Sir Steve – 8th place in Missouri - Kansas Five-Gaited Show Pleasure
Freshman Gabrielle Zimmermann and Uptown New Yorker – 4th place in Missouri - Kansas Amateur/Junior Exhibitor Three-Gaited
Freshman Megan Klostermeyer and Neon Dion - 2nd place in Hackney Pleasure Horse or Pony Under Saddle and Reserve National Champion in the AHHS Pleasure Horse/Pony Under Saddle National Championship
Also at the Royal last fall, Kelly rode in the annual donkey races.
"All week long at the Royal, the girls kept telling me they were going to raise the $200 entry fee for me to ride in the donkey races on Friday night. The races are a benefit to raise money for the UPHA Young Trainers program. They kept telling me they had gotten the entry fee and that I had better be there. I have to admit I had a bit of anxiety about it. They had worked so hard, though, to come with the money, I felt I could not let them down."
The donkey races had several heats. "If you got first or second in your heat, then you had to ride again in the championship. Lo and behold, I was second, so I rode again. My mount was Earthquake. We triumphed in the championship."
Of her win in the 2014 Donkey Races at the Royal, Kelly summed it up this way: "It was super fun and I was glad I did not let the girls down."
Another horse-loving girl in Kelly's life is 21-year-old daughter Megan.
"Mark and I have an amazing daughter who currently is a junior at the Missouri University of Science and Technology in Rolla, Missouri. She is majoring in Petroleum Engineering. Megan has ridden all of her life and loves showing. Her favorite horse of all time was actually a Stephens College horse, Callaway's Golden Wonder, AKA Happy. Megan showed her with much success in Juvenile Five-Gaited. Happy is retired now and living at our farm in foal to Callaway's The Gipper." They are expecting the colt in late May.
"Our farm, pending our complete move of our Stables closer to Columbia, is located on State Road BB in New Bloomfield. Many years ago, Mark's dad, Don Hulse, had a barn there. In fact, the front of his old barn is still there; the back of the barn was moved piece by piece to the family farm in Center, Missouri. When we moved to New Bloomfield, Don would come visit and we always went back to see his old barn. Mark is a third-generation horse trainer. His grandfather was Dyas."
At Stephens College, Kelly emphasized, "are customized career paths which are offered in our School of Interdisciplinary Studies for those interested in the equestrian program."
Stephens offers the following degrees: (1) Bachelor of Science in Equestrian Studies: Business Management; (2) Bachelor of Science in Equestrian Studies: Equestrian Education; and (3) a Bachelor of Science in Equestrian Science. "And there are many related minors from which to choose," Kelly pointed out.
The equestrian program is just one of many under the leadership of the Stephens College President Dr. Dianne Lynch who accepted the post in June 2009. She became the 24th President of the school. Educating women since 1833, the school only got its first female President in 1983 with the selection of Patsy Sampson.
Kelly said that "Ellen Beard held my job for nine years before me, starting back in January 2006. The nine years include two years that Ellen was here in the late 1980s. She then returned in January 2006. Others before Ellen included Sharon Backer, Lynn Frazee, and Brenda Benner. Prior to Brenda and Lynn, the instructors were Liz McBride-Jones, who served under Department Chair Cecile Hetzel-Dunn, preceded by Karen Shelton Rader and Karen Minnick. Both Karen Shelton Rader and Karen Minnick taught under Department Chair Shirley Hardwicke."
In the Stephens equestrian program are three other disciplines, in addition to Kelly's Saddle Seat one:
Hunt Seat is currently headed by Sara Linde-Patel. Previous instructors over the past few years have been Deborah Booker and Michelle Smith.
Reining is under the direction currently of Jim Dudley.
Western, currently under the direction of Karen Craighead, was directed previously by these three instructors: Sharon Ward, Amy Doran, and Becky Clervi.
Over Stephens' four equestrian disciplines is a Program Coordinator. This job was held many years back by Deborah Booker, then Michele Smith, Ellen Beard, Becky Clervi, and now Sara Linde-Patel.
Sara told me that the school's admini­stration asked her to "take the role of Program Coordinator in December 2013 when Western discipline director Becky retired after serving as Program Coordinator for 13 years. I must say I had some very big shoes to fill."
Sara explained that "each faculty member manages the string of horses that pertains to their discipline. We work as a team to assure that each discipline is represented equally and in so doing we also set forth a positive example of teamwork and this means our students learn to be a good horsewoman regardless of the breed or discipline."
Sara Linde-Patel is a 2002 graduate of Stephens College and has "been riding and competing since 1986. In my youth, I competed in various divisions of the Hunter/Jumper Divisions of the Greater Arkansas Hunter Jumper Association and the U.S. Equestrian Federation — formerly known as ASHA — including the Young Rider Division. I then moved on to various shows around the country at the local and national level "
During her years of competition, she has won "various year-end awards in various divisions of the Hunter/Jumper discipline. Today, I try to help my students work toward the same success all the while insisting that the horses' care and well being come first and foremost."
Her knowledge ranges from training and teaching Hunter/Jumpers to assisting at Prospering Farm, a top Hunter/Jumper and breeding facility in Prosper, Texas just north of Dallas. As assistant trainer, I also helped manage various aspects of the lesson program. I was also a veterinarian technician for a small and large animal practice in Little Rock, Arkansas. I have been successful locally, as well as on the "A" circuit, as a coach and competitor," Sara told me.
Kelly emphasized that "every instructor who has taught at Stephens since the '70s has been a prominent horse person and continued their involvement either as a professional or a highly accomplished amateur."
Some of "our new changes will move the program forward to create well-rounded young professional ladies. With new assessment programs in place as well, I feel there will be a new emphasis on helping our ladies transition from amateur owners to competent leading professionals in the equine industry. This is just another example of how well trained our ladies are when they graduate," Kelly said.
"After years of working in our business, Mark Hulse Stables, I am thrilled to be teaching at Stephens College. My goal is to make a difference in the girls' lives through their education. In the time I have been at Stephens, the impact the students have had on my personal and professional life has been enormously positive. These are memories I will cherish forever."
You can contact her by writing: Kelly Hulse, Saddle Seat Instructor, Stephens College, Equestrian Studies Program, 1200 East Broadway, Columbia, MO 65215 or call her: (cell) 573-590-2557 or via email: khulse@stephens.edu.