Five Going on Four: The Denver Junior Class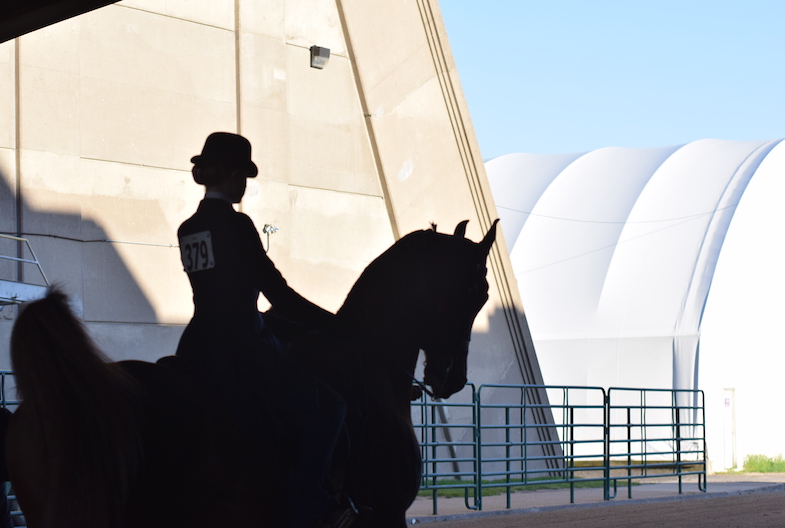 We've all seen him. The five-year-old horse who, through no fault of his own, got a late start.
Maybe he was born long after the first foal of the season hit the ground, maybe he had to deal with an injury, or maybe he was just a late bloomer, but for whatever reason, when his junior year came around, he didn't get the chance to travel the horse show circuit and get the valuable show ring experience most colts need before they're ready to perform like a finished horse. Enter the Denver Junior class – a class that may become more important than ever in 2021.
While Junior classes are restricted to horses 4 years old and under, the Denver Junior classes are for 5-year-old horses who need more experience before going up against their finished rivals or moving on to show in the amateur division.
Because over 65 horse shows were canceled or postponed in 2020 due to COVID-19, a lot of junior horses missed a significant part of their all-important junior year show season, meaning that next season's Denver Junior classes will take on added significance.
Denver Junior classes originated at the National Western Stock Show in Denver, Colorado, a livestock, rodeo and horse show with over a century of history behind it. It's held in January, so it's the first livestock, rodeo, and horse show of the season for livestock exhibitors, Western equestrians, and draft horse enthusiasts, with a USEF open show, too.
A major event that attracted over 700,000 spectators in 2019, the National Western is a hub of Western culture and a huge tourist attraction. Saddlebreds used to compete there regularly, but they don't anymore. According to an article written by event archivists Cheryl and Keith Chamberlain to commemorate the show's centennial, the show featured Saddlebred classes from the mid-twentieth century all the way through 2006. However, it's unclear when, exactly, Denver Junior classes first appeared on the schedule.
Mitch Sperte, a trainer and judge who works with Arabians, Half-Arabians and Saddlebreds, has been in the industry for 40 years. He got his start on the Rocky Mountain Circuit in Colorado, so the Denver National Western Stock Show loomed large in his early career.
"I believe the Denver Junior classes were just for Saddlebreds," he said. "Due to the early time of year, many horsemen [at the Denver National Western Stock Show] felt their 5-year-olds weren't quite mature enough to graduate to open amateur competition."
He remembers these classes also appearing at the Phoenix A to Z Show and the Houston Livestock show, two other shows held early in the year. Mitch went on to advocate for Junior classes in the Arabian industry and lobbied to have them added to their National Championship events. Eventually, he said, "The Arabian community opted to change their Junior horse division from 4 and under to 5 and under … the thought process was at 5 years old they were a little stronger and more mature and this would hopefully prolong their careers."
All horses automatically turn another year older on January 1, whether they were born in February or July. This streamlines record keeping and show entries, but could leave some of those late-season colts and fillies behind their buddies lucky enough to be born earlier in the year. No matter when they're born, all horses mature at different rates and have different needs when they're starting their show career.
Since they first appeared decades ago, Denver Junior classes have become a regular fixture. Many major horse shows such as the American Royal, Bonnie Blue, Indianapolis Charity and the Gasparilla Charity have featured Denver Junior classes on their schedules.
Co-owner of Spring Acres Farm and Show Chairman of the Denver Queen City Horse Show Stacey Kipper-Perrelli is "willing to bet" that the Denver Queen City Horse Show hosted some of the first Denver Junior classes outside of the Denver National Western Stock Show. She reminisced about the days when Saddlebreds used to perform there every January, with major trainers like Tom and Donna Moore shipping their horses to Colorado by rail.
The Saddlebred presence in Colorado has dwindled since then, and unfortunately, the effects of the pandemic hit the industry hard.
"We haven't had a show all year," Stacey said. She thinks they'll definitely need Denver Junior classes at the Queen City show in 2021, because many junior horses in the area didn't have a single chance to show in 2020.
But it's not just Colorado horsemen and women who are looking forward to these classes in 2021. Kentucky trainer Kyle Peel has a 4-year-old mare, who will be a Denver Junior horse next year.
"She's a homebred mare, the last baby we'll get out of her mama," he said. "She was a late bloomer, and then I just got behind on her, especially with everything happening this year."
She hasn't been off the farm yet, not even to work at a show. He thinks he'll trim her and show her in the three-gaited division, hopefully in some Denver Junior classes.
"It's always nice to get them in the ring a couple times and give them a few shows before they have to go against the seasoned campaigners," he said. "You never know how they're going to be in the ring, and even in the novice or limit classes, some of those horses are seasoned campaigners."
Wendy Winstead of Aloha Stables in Bagdad, Kentucky, also hopes to see more Denver Junior classes in 2021.
"We need them, more than ever," she said.
Winstead has "a barn full" of 4-year-old horses who "aren't ready to meet the big boys." Due to the shows canceled due to COVID-19, these youngsters didn't get enough – or any – opportunities to hit the ring in 2020. Without Denver Junior classes, "I'll have to end up showing them in divisions where they don't really belong," she said.
Show manager and announcer Peter Fenton supports the Denver Junior classes, especially for five-gaited horses.
"I do believe in protecting the young horses, especially the gaited ones," Peter said. "Starting these horses into the show ring is a difficult thing to do, and smart trainers take them to a number of shows just to get them the experience. I think we need to do everything we can to promote getting those young horses in the ring. Some of the good ones are just slow, and the junior year is important for the horse."
However, he cautions against too readily adding these classes to every show schedule.
"I honestly believe we offer too many classes at horse shows," he said.
While he can get behind a Denver Junior class for five-gaited horses at an early-in-the-season show, "sometimes," he said, "we need to show against each other."
"We have limit options, we have novice classes at some shows," he said. "I'd rather get second or third in a good class than first in a bad one."
Overly-filled class schedules are a real concern, but so are the maturity and experience differences among young horses. Some 5-year-olds are carrying an amateur, while some are still learning to wear a show bridle. Just like humans, horses all need to grow up on their own time.
While nobody wants to see show schedules get too bloated with classes, especially in the wake of 2020, it makes sense to give young Saddlebreds their best shot at show ring success. And for some, that shot may be in a Denver Junior class.