Written by Allie Layos
Category: Events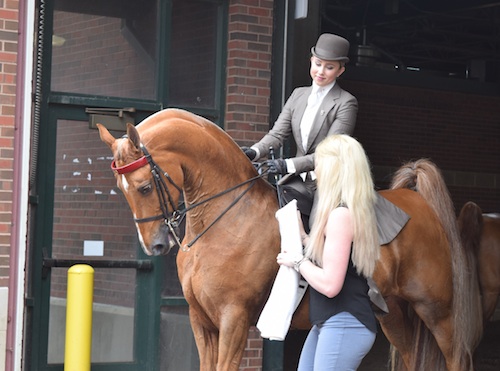 Cameron Kay topped all four of her classes. She won the Good Hands and Saddle Seat Equitaiton Senior Championship aboard CH Reedanns Heir To Glory and had two winning performance rides aboard Mystery Magic as well. By Allie Layos and Meredithe Steinhauer.
Horse shows can be known for the fun, the parties or the location. They can be spring shows, used to test new teams, or championships and finals, in the late summer and fall. But, in this world of practice shows and those that are practiced for, Midwest Charity stands uniquely alone.
Midwest offers fun, great nightly parties and a convenient location, but if one thing defines the show, it is the fact that it is consistently used as a bridge between the shows of the spring and early summer and what is thought of as the heart of show season. It is the first look at the excitement we might see at Louisville, and the first time many exhibitors across the country get to test their skills against the competition they will see there. It is where you spot future champions, too; for some, it is their only stop before lighting up Freedom Hall.
This year Midwest saw a large number of entries. Rather than just filling the barns along the main street, exhibitors were stabled in every building that could suitably house a horse. The competition was intense, and, if past years are any indication, the summer and fall will only get more and more exciting.