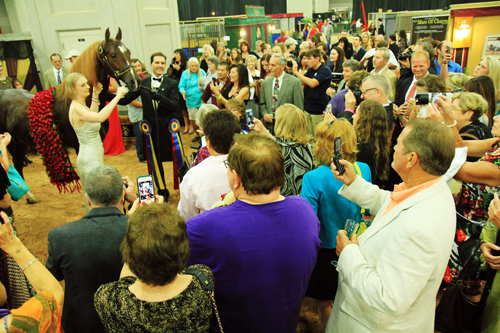 The crowd presses in around Marc Of Charm after his World's Grand Championship win. Photo by Julia Shelburne-HittiStory by Allie Layos and Sarah White Thielmeier; Photos by Avis
For all those who missed out on the "glory days" of horse showing, this year's Stake Night gave a glimpse into how it must have felt, and we have an indomitable stallion named Marc Of Charm to thank for it. Saturday night's session was one of the most exciting on record, with breathtakingly competitive classes from start to finish, but it was Marc's win in the Five-Gaited World's Grand Championship that clinched it — this one was going down in history as the night that the magic returned to horse showing.
The attempts began in 2011. He won the Three-Year-Old Five-Gaited class, the Junior Five-Gaited Stallion/Gelding class, the Junior Five-Gaited Championship, and even the Five-Gaited Stallion Stake. But that World's Grand Championship kept eluding him. In 2011 he placed fifth, but it wasn't too unusual — he was still young. In 2012 he placed fourth. At least his fans could console themselves with the fact that he had moved up a notch. But in 2013, in the prime of his life and after placing second in the stallion stake, he didn't even make the workout and was pinned fifth again; to those who loved him, it was a huge shock. In 2014 he returned to win the qualifier, made the workout, but once more finished fifth.
Yet, through all this and despite all the highs and lows suffered by his fans and caretakers, the chestnut stud himself remained unperturbed, returning each year with Vedic calm and entering the ring with the same gusto to try his heart out on the Green Shavings again. And finally this year, in a storybook ending that brought tears of joy to many, after a six-horse work out, he won. It was a story that couldn't have been invented had one tried.