Written by Allie Layos
Category: Events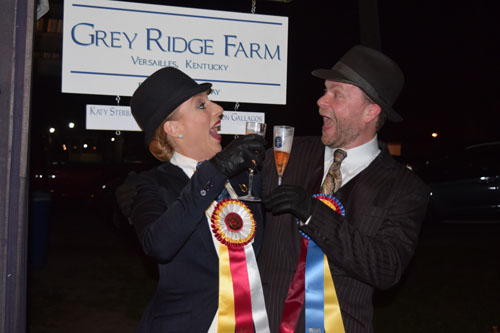 Michael Petty and Michelle Partridge toast each other after taking champion and reserve in the Adult Show Pleasure Championship.
Tampa Charity may have been a testing site for dozens of new horse and rider teams for 2016, but it was not a warm-up show. Instead, it was like jumping right into the heart of show season, with ultra-competitive classes and barns that came from as far away as Kentucky.
For example, the Junior Exhibitor Five-Gaited classes contained five exceptional horses, all of which had a chance at the victory pass. King's Carma and Nissa Sultan took the blue in the qualifier, with Tango Mango and Emily Candelaria earning the red ribbon. In the championship, however, Belle Reve's So Photogenic and Rose Marie Wheeler took the tricolor and The Hathaway Man and Victoria Robinson earned the reserve.
Grey Ridge was one of the barns that made the long trek to Tampa, and it was well worth it for them. Among other wins, the barn dominated the eleven horse Adult Show Pleasure Championship when CH Mighty Thor and Michael Petty took the tricolor and Michelle Partridge rode Takin' It To The Street to the reserve honors.
Besides the impressive level of competition, there was plenty of time for fun as well. One of the most interesting events took place on Thursday at Helen Rich's property, just thirty minutes from the show grounds. Helen welcomed attendees off the chartered buses, and invited them to enjoy brunch as they watched a demonstration with her German Shepherd dogs. Afterward, everyone was free to walk around the grounds and visit her menagerie of animals.
The following night was the show's exhibitor's party, which included a live and silent auction, 50/50 raffle and a delicious dinner of chicken, mashed potatoes, green beans, salad, cake and more. Exhibitors also had the chance to meet and greet a number of NFL players who were on hand, and even hold a Super Bowl ring.