Written by Allie Layos
Category: Events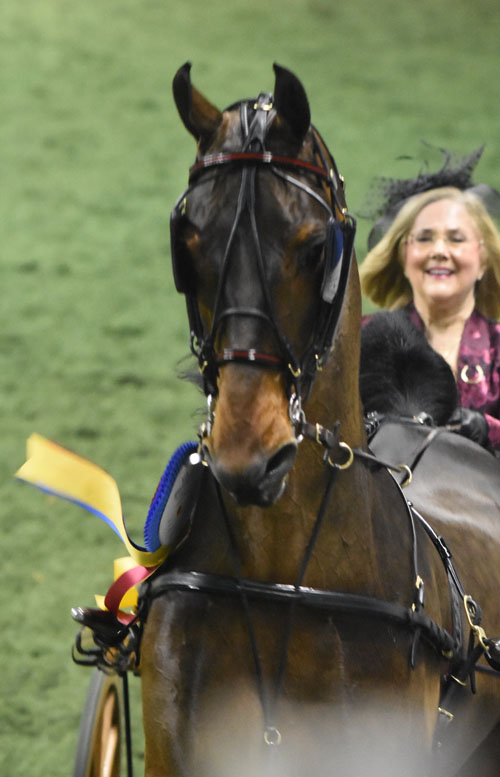 CH Who and Cathy Rogers-Holmes had the winning drive in the Show Pleasure Driving qualifier and championship. Photo by Avis.The Royal always brings with it a mix of emotions. For many it marks the end of show season or the end of a rider's junior exhibitor career. Home to two national equitation finals, as well as many other National Championship classes, it comes with an immense amount of pressure. But there is a lighthearted side to the Royal, too, and this is seen most clearly in the ever-popular Donkey Races, hosted by the UPHA Young Professionals, and a well-attended exhibitor's party where tables are set up all along the vendor hall for exhibitors to mix and mingle.
This year's show saw beautiful fall weather, and a number of touching presentations. Since Wednesday of the show was Veteran's Day, announcer Peter Fenton introduced veteran and exhibitor Dr. Alan Raun to center ring for the opening ceremonies, and "Doc Raun" read the names of many professionals from the show horse industry who have served in the military, whether in the United States or other countries.
Another moving presentation took place on Thursday night, when Solomon Gallagos was presented with the UPHA Caretaker's Award. Through the years, Solomon has taken care of horses such as World's Grand Champions CH Sky Watch, CH Wild Eyed And Wicked and CH Memories' Citation, along with many others. He received a standing ovation from the crowd.