Written by Allie Layos
Category: Events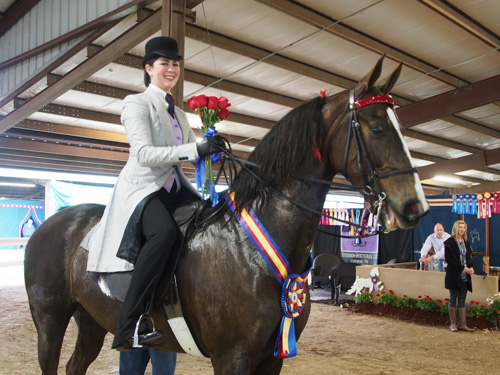 The opening ceremonies had just finished Friday night, and the leadline class was entering the ring – a single child clad in hunt seat attire aboard a dark colored pony of uncertain breeding. I was sitting patiently, waiting for the Saddlebred classes that were to begin next.
Behind my seat, a mother and her two children, a boy and a girl, stood watching what was presumably their barnmate being led around the arena.
"Can we go sit?" the little girl asked, excitedly.
"Well, I think we're about to go to dinner as soon as this is over, honey," the mother replied absently, her attention obviously on the child in the ring.
In a turn of events that must have surprised even the mother, the girl wailed her displeasure, and her response sent my heart soaring even as she cried behind me.
"But we wanted to watch the Saddlebreds!"
Something that sets Pin Oak apart from other shows is that it is a multi-breed competition – one of the last of its kind. Along with the saddle seat contingent, hunters, jumpers and Andalusians populate the show, and the effect is exciting, with many rings in use and classes running all day. There are other benefits, too – sharing a show arena with the Andalusians provides the saddle seat exhibitors with less stressful sessions, as they buffer what could otherwise have been two back-to-back classes for a trainer or rider. It provides saddle seat riders the ability to watch and learn about the other disciplines and, perhaps best of all, it allows them the opportunity to watch and learn about us. In fact, the Five-Gaited Championship took place right before the Grand Prix Saturday night, the stands full of spectators who came to watch the Grand Prix but got caught up in the excitement of five-gaited horses putting on a show, and the cheers were proof of it.